If you're looking for kitchen island design ideas, you're in the right place. At the heart of the household, the kitchen is where all the action happens. Despite homework piles, opened mail, scattered wine glasses from two nights ago and folded laundry, dinner at 7 must go on. Part of keeping a kitchen comfortable and running smoothly throughout the day regardless of all the activity is utilizing the space you have available and having the best layout for your household. If not, a kitchen renovation has probably already crossed your mind. Even if your kitchen may "work" for you now, why not make the heart of the household more efficient, easier to keep clean, and eye catching too? One of way of making an impact, not just in design but in function, is adding a gorgeous kitchen island to your space.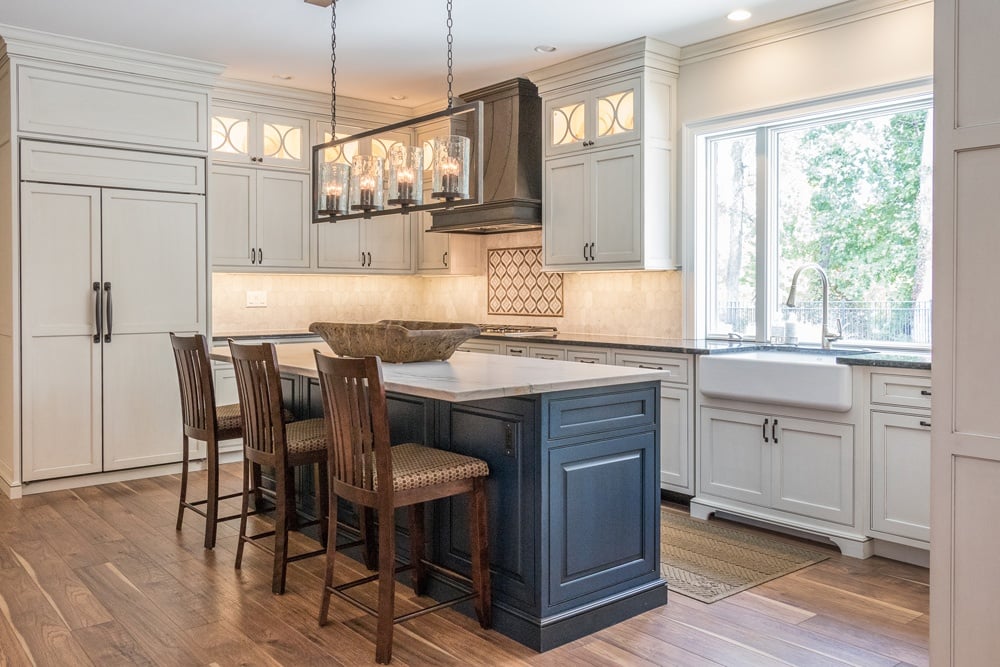 At the very top of any kitchen renovation's wish list, is a beautiful and functional kitchen island. It's a must-have due to added property value and a transformation to how your family functions daily in the most important room of your home. An island doubles by adding cabinet space and counter space in a key area where you cook, serve and clean. Also fitting an island with appliances, sinks, lighting, and range hoods makes this fixture the centerpiece of action. Adding bar stools makes for a prime casual seating area as well. These utility options alone are exactly why adding or renovating your kitchen island is easily the best investment for your money with several beneficial outcomes, too.
There are several types of island shapes, but each kitchen is unique to style, character and layout.


Galley Kitchens
When you're looking at kitchen island design ideas, galley islands are very straightforward. Given a kitchen has room for an island, this island shape can fit and enhance any layout. Depending on how big or small your kitchen is, you can accommodate the size of the island depending on what you choose to house the island with. Cabinetry, wine racks, sinks, dishwashers, stovetops, you name it. A galley island is a safe and customizable choice that can also add bar seating and prep space as well.
L-Shaped Kitchen Islands
L-shaped islands are great for filling a large, open kitchen, spacious enough for seating and very ideal for elbowroom while prepping. They are a great focal point shape, however can go against an open-concept layout as well.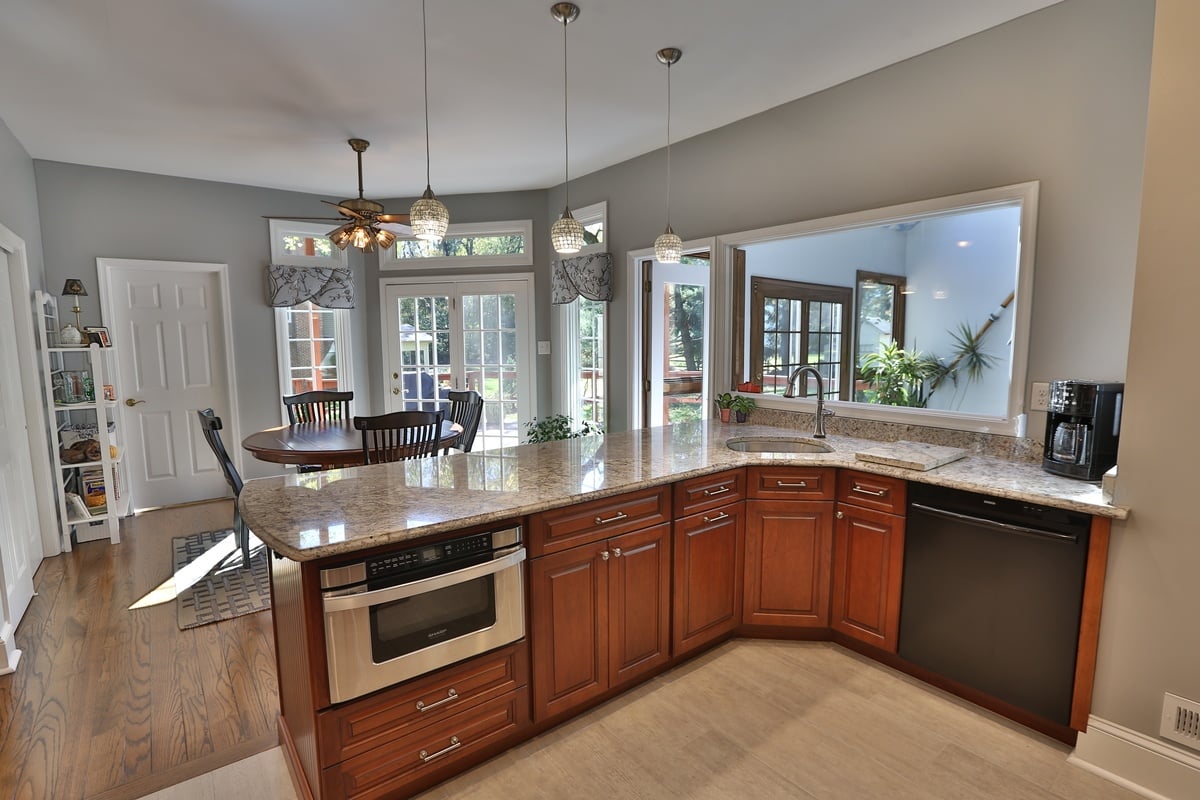 ---
Question Checklist: What to Consider Before a Kitchen Remodel
5 Components of a Long-Lasting Kitchen
---
U-Shaped Kitchen Design
U-Shaped islands, similar to L-shaped but more symmetrical, are also a dream for any chef. Even multiple chefs in the household have such a large working space they can contain mess and clutter to one central area. It is also large enough to house an appliance or two and center a sink and/or range hood as well. However, this design is best for very spacious kitchens, and also goes against an open-concept floor plan.
Circular Islands
Circular islands are a great choice for high-end look as a grand centerpiece. This shape is wonderful for entertaining guests. A two-tier countertop makes for a wonderful bar-seating feel, great for serving and entertaining guests. A two-tier countertop also serves as a great partition to guest seating and prepping on the other side.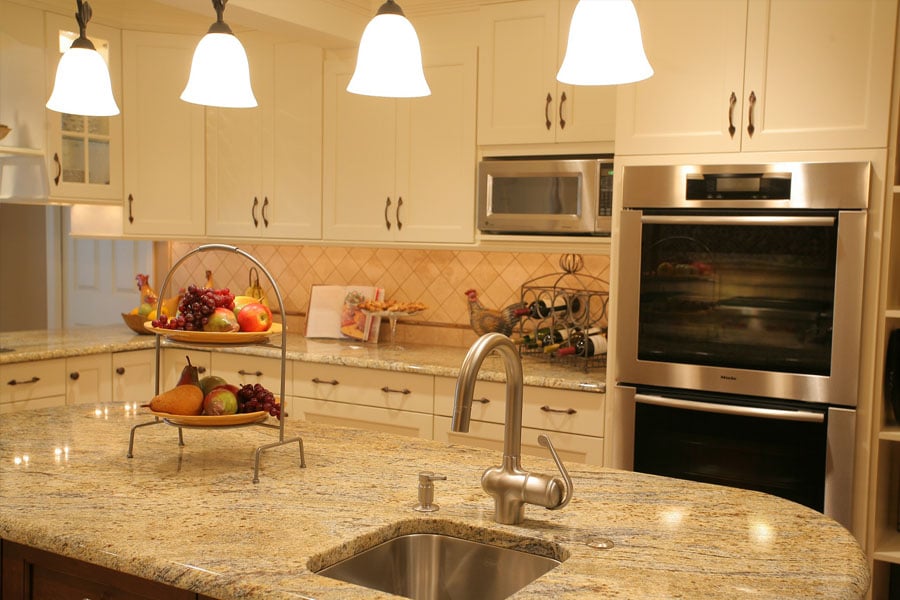 Rolling Kitchen Islands
Rolling islands are ideal for a limited space kitchen layout. They function perfectly for smaller kitchens that lack adequate prepping or storage space. If the island is small, it may also double as a serving tray or hosting stand while entertaining. Rolling islands are not for everyone, but are an affordable and classic option to add functionality and style to any kitchen, big or small.
---
Check out these related topics:
Beautiful and Durable Materials to Use in Your Custom Kitchen Remodel
High-End Kitchen Finishes for the Home Chef
VIEW OUR KITCHEN PORTFOLIO

---
Beautiful Kitchen Island Design Ideas
Adding or renovating a kitchen to include a kitchen island center could be the best change you ever make to your household! If your kitchen already contains an island, maybe the shape or style is not the best for your space. Perhaps your kitchen needs a rearrangement of appliances or an additional stovetop. If you lack cabinet space, prepping space, or need a grand focus to your kitchen, a new kitchen island can solve all of these problems.
Interested in other high-end kitchen design ideas? We've got you covered!