This blog was originally published on December 10, 2018, and was updated on November 12, 2021, for context and clarity.
If you're looking for kitchen island design ideas, you're in the right place. At the heart of the household, the kitchen is where the action happens. Despite homework piles, opened mail, scattered wine glasses from two nights ago, and folded laundry, dinner at 7 must go on. Part of keeping a kitchen comfortable and running smoothly throughout the day, regardless of all the activity, is utilizing the space you have available and having the best layout for your household.
Even if your kitchen may "work" for you now, why not make the heart of the household more efficient, easier to keep clean, and eye-catching too? One way to make an impact, not just in design but in function, is to add a gorgeous kitchen island to your space.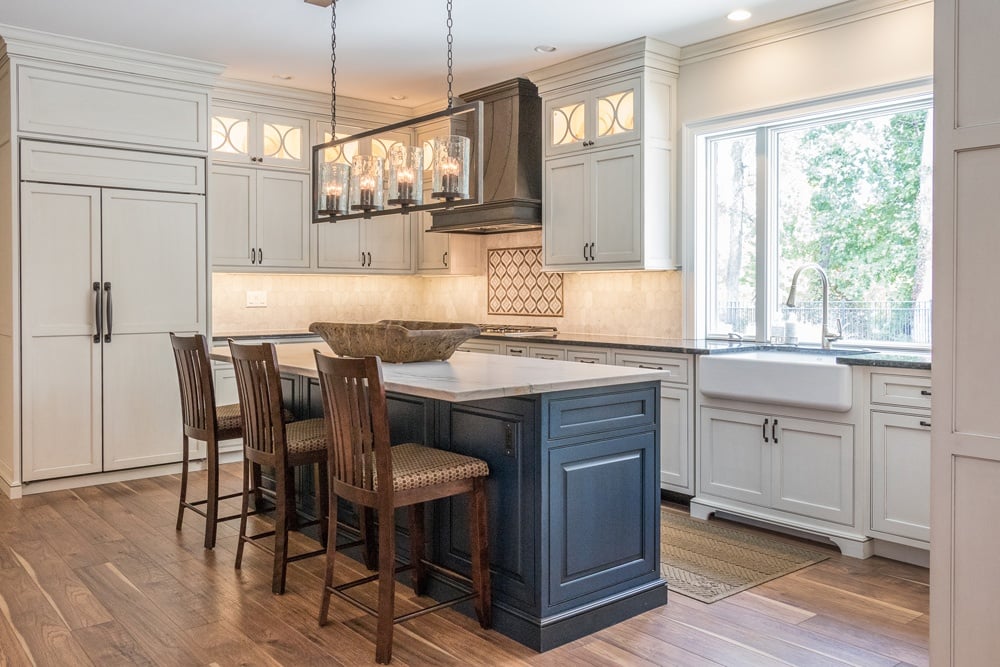 At the very top of most kitchen renovation wish lists is a beautiful and functional kitchen island. It's a must-have due to added property value and the transformation of how your family functions daily in the most important room of your home. An island doubles by adding cabinet space and counter space in a key area where you cook, serve, and clean.
Also, fitting an island with appliances, sinks, lighting, and range hoods makes this fixture the centerpiece of action. And adding bar stools creates a prime casual seating area. These utility options alone are exactly why adding or renovating your kitchen island is easily the best investment for your money with several beneficial outcomes.
Varieties of Kitchen Designs with Islands


Galley Kitchens
When you're looking at kitchen island design ideas, galley islands are very straightforward. Given a kitchen has room for an island, this island shape can fit and enhance any layout. Depending on how big or small your kitchen is, you can accommodate the size of the island depending on what you choose to stock the island with. Cabinetry, wine racks, sinks, dishwashers, stovetops, you name it.
A galley island is a safe and customizable choice that can also add bar seating and prep space as well. We recommend extending one of your countertops out past the wall to provide an open feel, while also creating a space for family and friends to congregate.
L-Shaped Kitchen Islands
L-shaped islands are great for filling a large, open kitchen and are spacious enough for seating and ideal for elbow room while prepping. They also make a great focal point.
What you will love with an L-shaped kitchen island is the visibility to other parts of the room. With this counter shape, you can feel included in conversation without feeling like you're tucked away at the stove.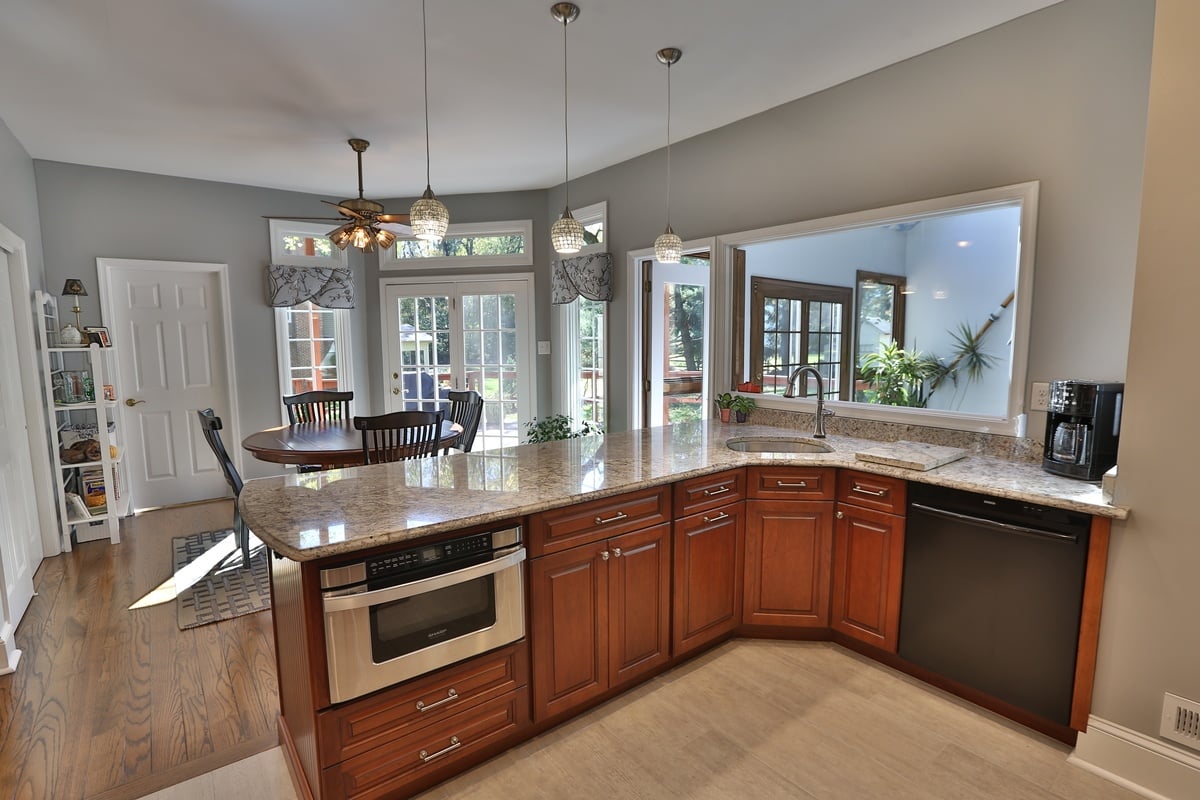 U-Shaped Kitchen Design
U-Shaped islands, similar to L-shaped but more symmetrical, are also a dream for any chef. Even multiple chefs in the household have such a large working space they can contain mess and clutter to one central area.
This kitchen design also allows room to store a countertop appliance or two. In addition to the space provided for a center sink, you'll also have a place for the range hood. However, this design is best for very spacious kitchens and usually prohibits an open floor plan.
Circular Islands
Circular islands are a great choice for a high-end look as a grand centerpiece. This shape is wonderful for entertaining guests. Adding this island to the end of an existing counter can help set the line between prep area and entertainment area, giving your guests a clear place to gather while the cook continues preparing the meal.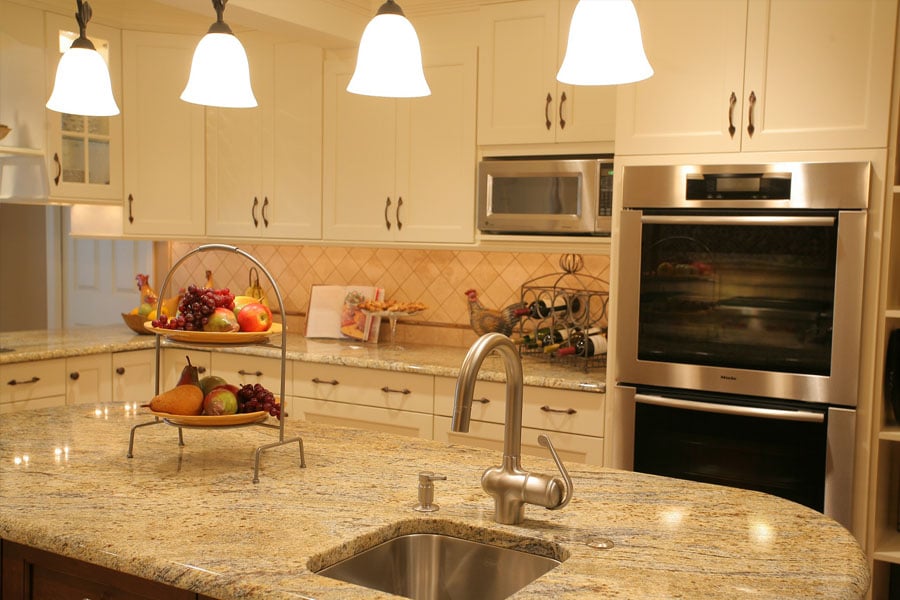 Movable Kitchen Islands
Movable islands are ideal for a limited space kitchen layout. They function perfectly for smaller kitchens that lack adequate prepping or storage space. If the island is small, it may also double as a serving tray or hosting stand while entertaining. Rolling islands are not for everyone, but are an affordable and classic option to add functionality and style to any kitchen.
Pro tip: you can usually have these islands customized to match your kitchen, or be a very similar complement. Try adding the same color hardware, metal accents, stone color, or wood color. It will go a long way in helping your kitchen feel unified.
Beautiful Kitchen Island Design Ideas
Adding or renovating a kitchen to include a kitchen island could be the best change you ever make to your home! If your kitchen already contains an island but you feel it isn't right for your space, consider changing the shape or style.
Perhaps your kitchen needs a rearrangement of appliances or an additional stovetop. If you lack cabinet space, prepping space, or just want a grand feature, a new kitchen island could be the solution you need. Your guests will also thank you with a practical space for socializing and snacking!
Interested in how an island can transform your kitchen? Let's talk about your next home renovation project and how we can make your vision come to life! Contact us and we will be happy to answer any of your kitchen renovation questions.