The kitchen, for many, is the heart of the home, and the right design style isn't always an easy decision. Things like budget for appliances, creating functional space, and of course, finding a style that everyone in your household can agree on are all important factors to consider when making a design commitment. At the end of the day, your kitchen should reflect warmth, family, and a love for food and cooking. No matter what style you choose, just remember to have fun with the design.
We've compiled a list of 9 popular kitchen designs; take a look and see which one works best with your taste and style.
French Country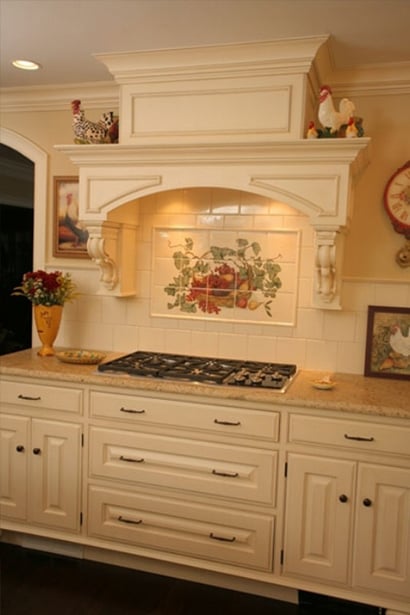 Elegant and warm with decorative features, this design style is known for soft coloring and elaborate touches. This style is appealing to many looking for a classic, beautiful style that never grows old. If you are a fan of deep earthy tones from the french countryside, and elaborate accents (think carved woodwork, tile inlays, decorative hardware, and aged finishes), then this kitchen style may be what you are looking for.
Design elements to consider:
Color Palette: Off-white,, soft golds, ivory, robin's egg blue, warm reds, mustard yellow, earthy tones, olive
Walls: Crown moulding, brick, wood ceiling beams
Flooring: Stone tiles, hardwood
Accents: Floral-skirted cabinetry, toile fabrics, rooster artwork
Backsplash: stone and decorative tiles
Countertops: Granite
Lighting Fixtures: Pendant lights, iron scroll lighting
Contemporary Farmhouse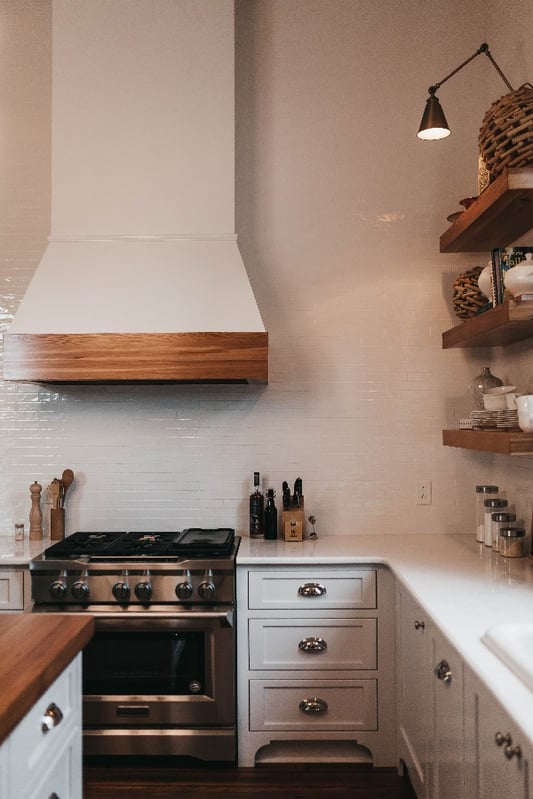 Not a Tilghman Builders Project
This fresh take on country living incorporates both elements of rural charm and modern efficiency. Natural elements like stone, exposed brick, galvanized steel, and natural wood beams add texture and variation. Accent your Edison lights with some mason jars, and decorative tin additions and you will have the charm of the farm in your home in no time.
Design elements to consider:
Color Palette: Cool or warm neutrals, white, black, wood tones
Appliance Style: Stainless steel
Walls: Stone, exposed brick, natural wood beams, galvanized steel
Flooring: Distressed wood
Accents: Mason jars, apron sink
Backsplash: Subway tile, neutral brick
Countertops: Concrete, Quartz
Lighting Fixtures: Edison lights/antique lightbulbs
Cottage Charm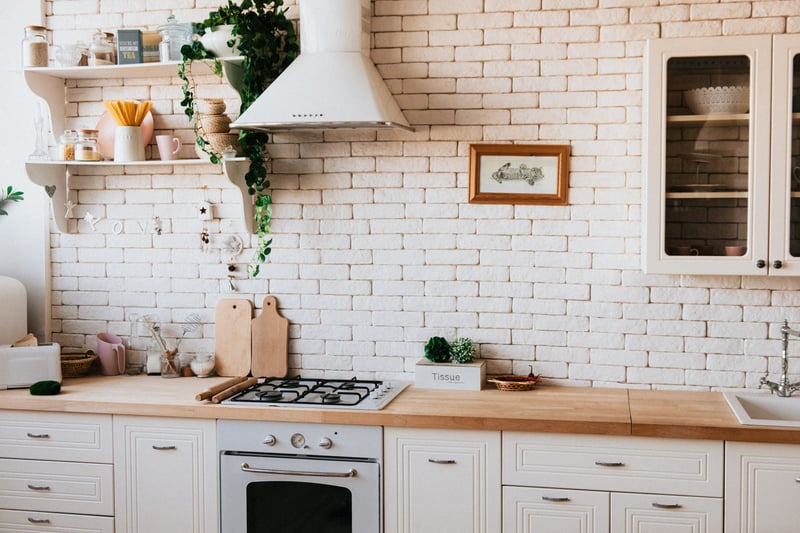 Not a Tilghman Builders Design
Charm is in the name and that is exactly what you are going to get. Often compared to the Contemporary Farmhouse kitchen design (listed above), this particular style is generally reserved for kitchens of a smaller scale (hence 'cottage') and really epitomize the word 'quaint'. This style is brought out through vintage accents and furniture and by incorporating eclectically whimsical additions and oddities (think cuckoo clocks, old school signage, and more). No matter how you approach this quaint design style, it packs a lot of warmth into a small space.
Design elements to consider:
Color Palette: Popping colors
Walls: White finished walls, Exposed structural beams (natural, painted, stained, distressed depending on preference), wood trim
Flooring: Stone tiles
Accents: Patterned valance curtains that bring out the earthy hues of natural elements like wood and stone, whimsical pieces, glass cabinet doors
Lighting Fixtures: Geometric pendant lights
Modern/ Contemporary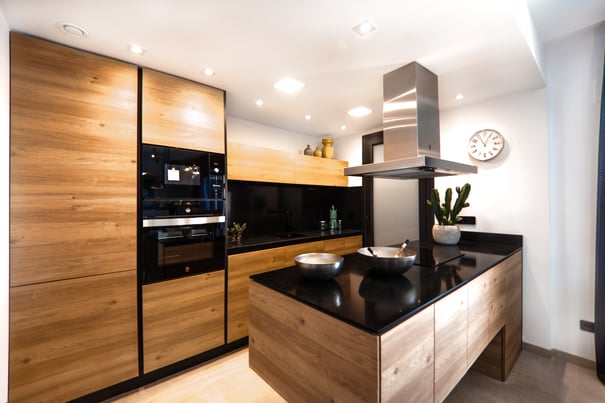 Not Tilghman Builders Designs
Sleek, simple, and functional, this design style is all about modern efficiency. If you are interested in incorporating high-tech appliances and keeping the decor to a minimum, this may be the approach for you. This kitchen style focuses on the present and generally gives off a bold and stark appeal. To align with this style, you should choose materials that have only recently become available, rather than incorporating vintage accents. If you are looking for a minimalistic style, this ones for you -- chic simplicity and new technology.
Design elements to consider:
Color Palette: monochromatic, white, grey, black, neutrals, browns
Appliance Style: High tech, modern, stainless steel
Cabinets: White, grey
Walls: White
Flooring: Subtle, slate grey tiles, simple white stone or marble
Accents: White, metallic
Backsplash: White Subway tiles
Countertops: Granite
Lighting Fixtures: Hanging Silver Pendant Lights
Vintage/Retro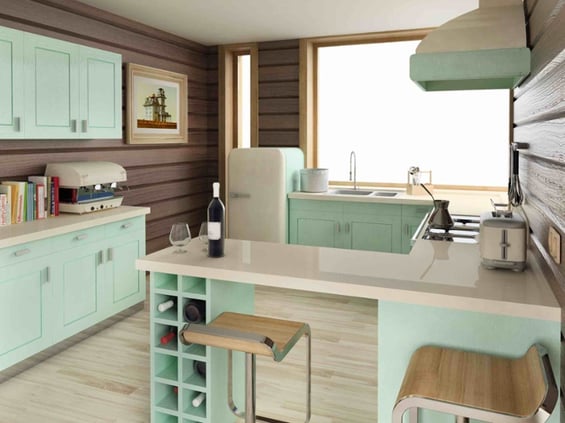 Not a Tilghman Builders Design
This kitchen style is a nod to the classic look and homey feel of times long past. While many opt for modern appliances to replace the authentic, vintage versions, there are collector types who don't mind old-school tech if the aesthetic is authentic. Think painted cabinets in sunny colors, with vintage art and patterns.
Design elements to consider:
Color Palette: bold and popping
Appliance Style: Vintage/Retro
Walls: Wallpaper with bold, busy prints and beadboard
Flooring: Checkerboard
Accents: Milk glass, chrome applinaces
Backsplash: Colored glass, wallpaper, beadboard
Lighting Fixtures: Astro shaped or diner style lights
Rustic
Not a Tilghman Builders Project
There is something beautiful about a well-used kitchen, and this idea is prominent in the rustic style. Through the use of weathered and distressed-looking design elements including beams, cabinetry, flooring, and accessories, rustic kitchens offer an authentic, rugged, and antique feel to your kitchen space. As a popular design element, many people like to incorporate real antiques into the room to add an air of authenticity. The real beauty of the rustic style is that it often reflects the local history, culture, and geographical features of the surrounding area.
Design elements to consider:
Color Palette: Neutrals, earth tones
Walls: Wood ceiling beams
Flooring: Wide-plank wood flooring
Accents: Antique Brass and hammered-copper hardware, tin and vintage accessories, primitive linens
Backsplash: Wood
Countertops: Raw wood, reclaimed wood, butcher block
Lighting Fixtures: Regional: ex: coal-mining lanterns
Furniture: Reclaimed wood, antique metals
Mediterranean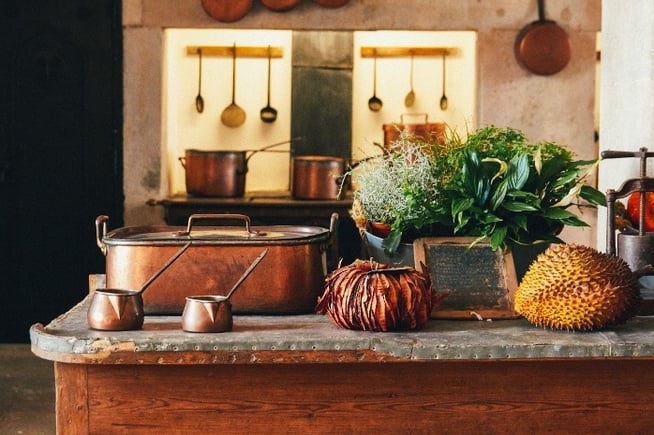 Not Tilghman Builders Design
If you are looking for a kitchen that radiates a sunny and relaxing, well-used, and well-loved vibe, then a mediterranean-inspired kitchen design may be for you. Many iterations of this design style use pots, pans, and kitchen implements as decoration, showcasing a love of cooking. The warm hues and homey feel of textured walls and a stone oven make this an inviting place to cook, laugh, and enjoy your company.
Design elements to consider:
Color Palette: ocher, burnt orange, terra cotta, soothing yellows, sea blues, beige, tan
Appliances: Stone oven
Walls: Brick
Flooring: Light hardwood
Accents: bronze cooking implements
Backsplash: Artistic tile work, mosaic, terra cotta tile
Countertops: Granite (warm tones)
Lighting Fixtures: Linear pendant lights, oil-rubbed bronze chandelier
Furniture Finish: Quality hardwood, unfinished wood, distressed wood
Traditional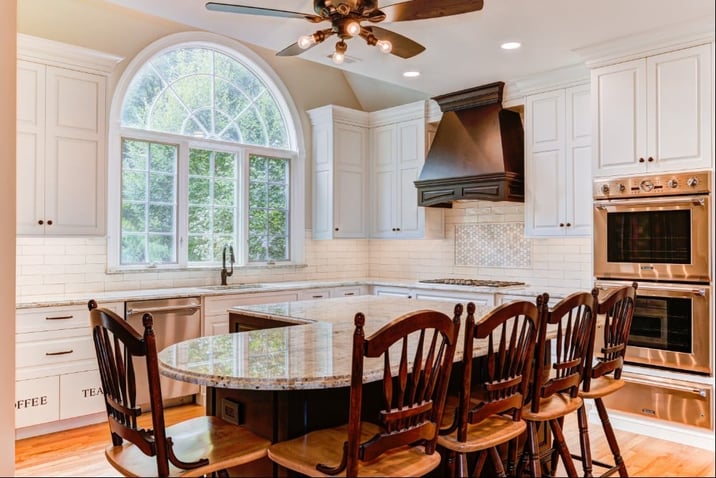 If you are looking for a functional, clean, and decorative look in your kitchen space, consider a traditional design. This style incorporates many different elements that add charm, functionality, and personality. The elegance is in the details with this design. From elaborate and stylish backsplashes, to crown moulding and wainscoted islands, the decorative embellishments offset the simplicity of the neutral color pallet.
Design elements to consider:
Color Palette: whites and neutrals, cream, light grays and greens
Walls: White tiles or smooth neutral paints, crown moulding,
Flooring: Neutral flooring
Accents: Glass cupboard doors, decorative embellishments
Backsplash: Marble, brick, stone, wood
Countertops: Quartz, granite
Lighting Fixtures: Pendant, island lights
Now that you've seen a few popular kitchen styles, it's up to you to choose a kitchen design that fits your home. Don't be afraid to mix and match and make your own style either!
Looking for more inspiration? Take a look at our Kitchen Remodel Portfolio for some ideas.
Let Us Help
No matter what kitchen design you choose, we can help you bring your vision to life. Tilghman Builders is a premier home remodeling contractor and renovation company serving homes like yours in Bucks County and Montgomery County. We look forward to bringing your kitchen to life!
Excited to get started on your dream kitchen? Check off your kitchen must haves with our free wish list below!