HOME IMPROVEMENTS with high ROI
Master Suite Addition
A master suite addition typically returns more than half your investment. Need inspiration? Check out these master suite trends. If you don't have the cash for a functioning addition, consider reconfiguring your existing footprint if possible to make more space to expand your master closet or building a master suite over your garage.
Evaluate your house for a master suite addition here »
Family Room Addition
A new open space for family gatherings makes your home much more livable. Although a family room addition could be expensive, especially if you're adding exterior footprint, you'll recoup more than half your costs in added home value.


Window Replacement
Replacing your old windows will return as much as three-fourths of your initial investment. You'll also get a boost in energy efficiency, especially if your old windows are single-panel glass or excessively drafty. Another important benefit of window replacements is safety. Learn more about the benefits of window replacements here.


Deck or Patio
Increase your home's livable footprint by adding a wooden deck — and recoup around 80% of your investment. Patios and decks add usable square footage at a fraction of the cost of a family room addition, but also give you great space for family and friends to enjoy together.


Vinyl Siding Replacement
Contemporary siding represents a huge upgrade over early versions that didn't perform very well. Plus, it's a sound investment because you'll recoup around 80% of your project costs in added home value. And don't forget the added bonus of curb appeal!


Manufactured Stone Veneer
Modern versions of stone veneer are durable, beautiful and natural-looking. Adding veneer around the bottom third of your home's exterior will return nearly your entire investment.


QUESTIONS TO GUIDE YOUR BUDGET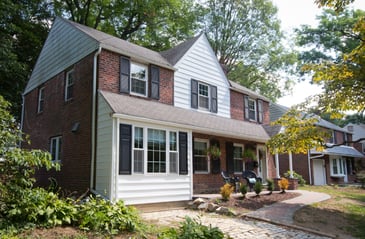 How much can you afford to spend?
Take a look at your finances to determine this limit for your project. Work with a financial advisor to figure out what funds are available to you realistically so you can plan your project priorities.
How long do you plan to stay in your house?
Only spend what you think you will get back when you sell the house. If you plan on living in your home longer than five years, you should do a remodel that will make you and your family the most comfortable and will compliment your lifestyle.
What is your neighborhood like?
Is it modest, or upscale? Don't over-improve unless you plan to stay in your home for a long time.