Choosing the right type of siding for your home is tricky. Whether you're giving your entire home a facelift or making an addition to your home, you need to find a balance between curb appeal and functionality. There are a few things you need to consider when making a siding selection, don't worry, we have you covered with this blog.
The Tilghman Builders team has been improving homes for more than 30 years in Montgomery County and Bucks County. If you're in your forever home, it needs to be properly protected against everything Mother Nature has to offer, which includes harsh winters and hot summers in Eastern Pennsylvania.
The 5 Best Siding Materials For Your Home
What's important to you? How much are you planning to spend? Make sure your contractor knows your priorities so you end up with the right type of siding. Once you've got your priorities sorted, let's look at your siding options. There's a lot to choose from! Each has their own pros and cons.
Vinyl Siding

Vinyl siding is the most popular siding option, and for good reason. It's the least expensive and it's low-maintenance.

Vinyl has improved over the years to mimic the look of natural siding material. You can find vinyl siding in every color imaginable and it can be installed vertically, horizontally or a mixture of both for added personality.

Wood Siding

The biggest positive with wood siding is that authentic-look so many homeowners search for. However, that look comes with a heftier price tag compared to vinyl but that's up to your personal preference.

Natural wood siding is great for long-term exposure to elements and is available in endless combinations of treatments and finishes.

Engineered wood siding may be a better option for you. It's cheaper, it looks like natural wood and its more durable than other synthetic material options. However, maintenance is extremely important with this material. It's vulnerable to moisture if the coating is damaged.

Fiber Cement Siding




Fiber cement siding is becoming more and more popular. It can be the best of both worlds. Its price is comparable to vinyl siding, it's more durable, and has a more authentic look and feel.

It requires some maintenance over time. Fiber cement needs to be repainted or retouched as its exposed to weather, but far less often than vinyl.

As an added bonus, fiber cement is fire resistant.

Stone Siding

How can you beat the real thing? Real stone siding isn't cheap but with the right care, it will last indefinitely.

Stone veneer siding is also an option if cost is a concern. You get the look you want but lose out on the durability you get from real stone. You're more likely to have stone veneer siding cover a small section of your house instead of the whole thing.

Brick Siding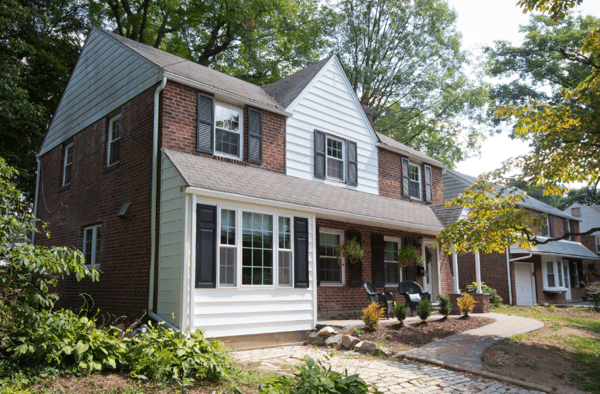 Just like wood and stone, brick siding provides a classic look for your home and isn't cheap. It's a popular choice for home siding for a reason.
Brick siding is effective against anything Mother Nature throws at you. It's very much an added layer of protection for your home. Plus, brick siding is low maintenance and resistant to dents and rotting.
What is the Return on Investment of New Siding?
If you're just looking to improve your forever home through a siding facelift, this section isn't for you. Depending on your siding choice, you can see a massive return on investment when it comes time to sell your home.
For example, a vinyl siding facelift can return about 80 percent of your project's cost in added home value. Stone veneer siding around the bottom-third of your home can bring in nearly your entire investment.
The team at Tilghman Builders has experience helping families throughout Bucks County, PA and Montgomery County, PA achieve their dream homes. Every home and situation is different. Let us know if you have any questions about how siding can improve your home
This blog was originally published on April 6, 2018 and updated on February 5, 2021 for accuracy.