With the weather warming up, you may find yourself spending more time outside. Having an enjoyable outdoor living space can have a big impact on how you spend that time. If you've been thinking of updating your outdoor space, Spring is a great time to refresh your home's exterior.
With plenty of trends to take advantage of this year, we've outlined which ones to watch for and how Tilghman Builders can help you bring them to life. From outdoor living and entertaining space ideas to lighting that's more than functional and even the paint colors and texture options available, we're sure you'll find inspiration to carry into your home design in 2023.
Emphasizing Outdoor Living and Entertaining Spaces
Who doesn't love an outdoor space built for leisure time or entertaining? We've seen an exponential increase in the number of homeowners looking to refresh their gardens, patios, decks, and other outdoor areas, and we don't expect it to slow down anytime soon.
But perhaps the latest trend is seamlessly connecting these outdoor spaces with interior rooms. If you're looking for this indoor-outdoor flow, we have a few tips for you!
Creating a Seamless Indoor-Outdoor Living Area
Start by creating a large entryway. Don't settle for a small door on a large wall. Work to minimize wall space. Large French doors and collapsible window walls are great options.
Next, think about how you're decorating. You want the spaces to be an extension of each other. To achieve this, try using the same style of furniture, colors, patterns, and textures between the spaces.
If your patio or deck is right off your living room or den, use the same color throw pillow throughout, include similarly colored couches, or even opt for the same decor. If your space is an extension of your kitchen, consider using an indoor-outdoor tile throughout. Or try adding a nice outdoor dining set that matches the theme of your kitchen.
To add to the indoor-outdoor flow, opt to partially cover your outdoor area. While this will provide shade from the sun and cover from rain, it also contributes to the unity of the space. Accomplish this by extending your roof to cover your patio, installing an awning, or even adding in a pergola.
Ultimately, these indoor-outdoor living spaces expand your home's entertainment potential, rain or shine. Don't forget plants, flowers, trees, and other landscaping features to contribute to the outdoor space. You could even add a fountain or pond as a focal point to soften lines and create a peaceful environment.
Exterior Lighting: Not Just for Practical Use
While exterior lighting is certainly important for ensuring Fido doesn't have to go out in the dark at night, it can do so much more for your home. Step outside the mindset that your home can only have floodlights and a front porch sconce. Look for lighting to highlight features of your home and create an ambiance that can be felt from the street.

Highlighting Your Home's Features
Your home probably has a few unique features that may get lost in low light or just don't catch the eye right away. Whether you want to illuminate a beautiful arch on your front porch or a few special landscaping elements, opting to highlight these can go a long way in increasing your home's curb appeal.
Small spotlights strategically placed around your yard and home can be used to highlight these features. Many can even be camouflaged so they don't detract from your home's aesthetic during daylight hours.
If you're unsure about how to go about this, talk with your home contractor for ideas on features to highlight, as well as lighting color and hue options that would best compliment your home.
Creating Outdoor Ambiance
Lighting is so much more than a functional requirement — it impacts atmosphere. It would be hard to relax on the patio with a harsh flood light shining down on you. Thankfully, there are a wide variety of lighting options, including bulbs, hues, styles, and more, to fit various needs.
Exterior lighting does not only mean traditional floodlights or outdoor light fixtures attached to your home. Exterior lighting can include a fireplace or fire pit, string lights hung over a pergola, lanterns with LED candles or even pavement lights to help illuminate the walk from your driveway to the patio.
The good news is the majority of these options are easy to install and can be economically operated using batteries or solar power.
Giving Your Home Some Color and Texture
If you're looking to give the entirety of your home an uplift, we suggest opting for a fresh paint job or even additional textures. Painting your home not only adds a fresh and clean feel, but it also helps protect your home from damage. You can also try adding in a variety of textures to make your exterior more unique.
Exterior Home Color Trends for 2023
One of the most common trends we expect to see in 2023 is warmer neutrals when it comes to paint colors.
Homeowners have already begun opting for varying shades of browns, beiges, and tans. While these colors may seem traditional or boring at a glance, they can really add warmth to your home while not causing it to look out of place.
If you aren't ready to commit to an entire home color change, you can play into the 2023 trend of bold accent shades by opting for a deep red or vibrant green front door.
Adding Natural Textures to Your Home
Another addition you can make to your home is the addition of natural textures. Wood and stone elements are the most common. Whether you add materials directly to your home or decide to add them as features in your landscape, they are sure to add a nice touch.
One of our favorite trends is a focus on wood in home accents. Decorative wood trim is a beautiful way to highlight your entrance awning or other architectural features of your home. These trims can help give your exterior a unique, geometric look.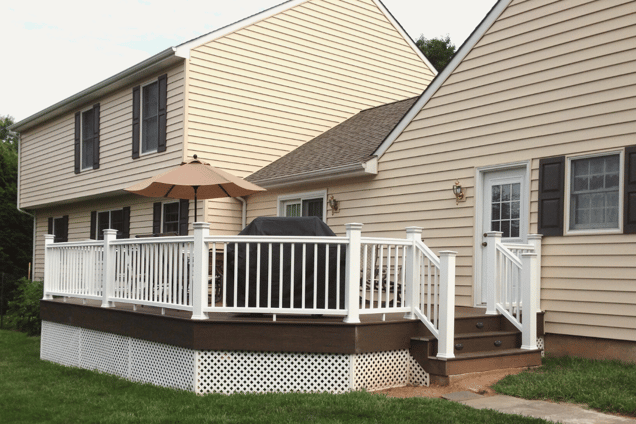 Another way wood is often used to add dimension to your home is with the addition of large home decks. Whether on the front or back of your home, or as a wrap-around, wooden decks can add charm and function while improving your home's aesthetic.
For those looking to add stone to their home, consider adding partial stone accents along the bottom or up one wall. This adds natural texture and depth. If you're looking for a stone addition that's not as involved, a stone walkway or driveway can be a great addition. It guides traffic while offering a bit more charm than traditional concrete or asphalt.
With these added textures comes additional cost. While wood and stone features can be costly, there are lots of material options that mimic the look but are much more cost-effective. Check with your contractor to discuss options.
Transforming Your Existing Outdoor Space in 2023
A change of scenery doesn't have to mean putting your house on the market. There are ways to update and upgrade your existing home to give you the fresh look you desire so you can enjoy your home for years to come.
At Tilghman, our expert builders understand no two projects are the same, and even small projects can make a big impact on the look, durability, and enjoyability of your home exterior. Wondering how to get the look without a total overhaul? Consider the following areas.
Update or Replace Your Siding
Updating the look of your siding can be as simple as cleaning and adding a fresh coat of paint. You may opt for a neutral or dark color to give your home an up-to-date feel.
Replacing your existing siding with a more textured and dimensional look such as wood, brick, or stone — or opting for more durability through vinyl siding — can give your home exterior the facelift it deserves. Adding board and batten vertical siding adds height and dimension, creating a more modern look.
Replace Old Windows or Doors
Aside from the added benefits of saving on your heating and air bill, replacing old windows or doors adds curb appeal and updates the look of your home without a major renovation.
Exchanging your current windows for black windows, or putting in larger windows, will modernize your home and save you money in the long term. Replacing your front door can take the front of your home from drab to charming. For an added effect, choose a door color that pops.
Repair or Add a Porch or Deck
With the farmhouse trend continuing, a large porch has become a staple on homeowner wishlists.
An old, worn-down porch can make your house look outdated, and it's more susceptible to damage from weather. Replacing or adding a porch or deck gives you and your family the perfect place to spend more time outdoors, enjoying the company of friends and neighbors.
Invest in Landscaping
Transforming your home's exterior goes beyond the home itself. Investing in landscaping, whether softscape or hardscape, will update the entire look of your outdoor space and work to complement your home rather than detract from it.
Taking care of overgrown shrubs or grass or repairing your driveway are simple ways to make your outdoor space more enjoyable.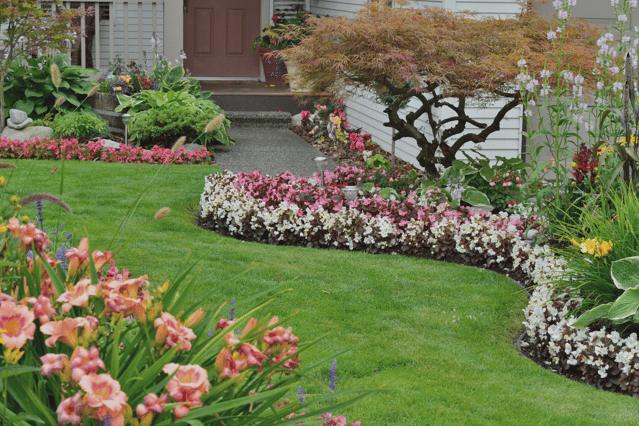 Finding the Right Contractor for the Job
Deciding to implement some of these trends in your home will require the help of a contractor or home construction company. If you are a new homeowner or just getting started on your exterior updates, it's important to pick a contractor with experience in creating beautiful outdoor spaces and home exteriors.
At Tilghman Builders, we have over 35 years of experience in creating dream homes. Our team of exterior experts can help you decide which materials are best suited for your project and provide you with recommendations for features you might not have considered.
We would be more than happy to answer questions about your upcoming project and provide you with a free estimate. Connect with our team to get started!