Maybe you can't imagine using your outdoor space in this hot weather but now is a great time to think about how you want to use your deck or patio as a natural add-on to a home addition you're planning. When the spring and summer roll around you'll be so happy that you thought of extending your new space to include the great outdoors.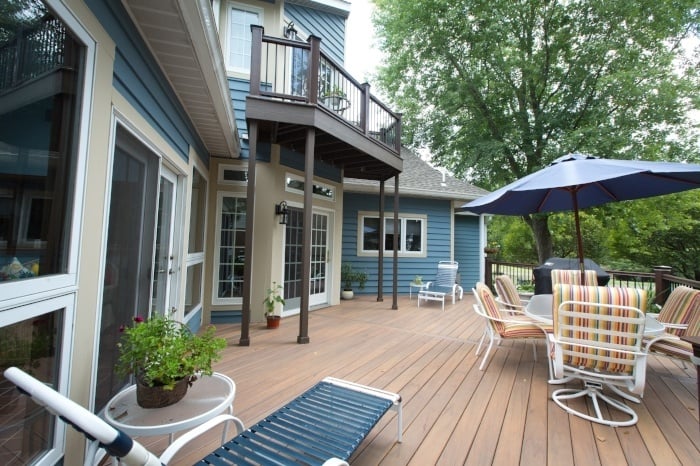 Trend 1: Larger Decks
The biggest trend in outdoor spaces right now is the increase in square footage. It used to be that homeowners were satisfied with a 20' X 10' deck for a grill and some patio furniture; now it's not unusual to have a deck or patio design that rivals a home's indoor square footage and includes multiple areas for different functions, pergolas and walls that define "rooms" and provide privacy, built-ins that offer additional seating, and storage and planters that beautify the space.
"People are thinking of the (function of) space a lot more than ever before," says Mike Beaudry, executive vice president of the North American Deck and Railing Association.
Trend 2: More Time Outdoors
Outdoor enthusiasts don't have to abide by Mother Nature's seasons. "Now with lighting and fire pits, they're using their outdoor spaces 30 percent more than they ever did," Beaudry says.
In temperate and tropical climates, it's not unusual for people to use their backyards year-round. These days, even in colder areas of the United States such as the East Coast, Midwest, and Mountain regions, homeowners can begin using their decks earlier in the year – often as early as February and March – and continue through October or November, thanks to the warmth provided by outdoor fireplaces, which are safer and easier to use than freestanding fire pits. In fact, many of these fireplaces can be operated with the flip of a switch.
Lighting has lengthened the amount of time people spend outside on a daily basis. Forget kitschy tiki torches; they're a relic of the past. Today's lighting is much more sophisticated: Low-voltage lighting wired into the deck's steps, and lighting strategically around a patio provides illumination enough for conversation and safe walking. Add a dimmer and "you literally can create a mood outdoors," Beaudry says.
Trend 3: Fully Functional Kitchens
After baseball, grilling might be considered the next Great American Pastime. The outdoor kitchen trend is taking grilling to a whole new level. Beaudry completed a $42,000 deck; almost half of the budget went to an outdoor kitchen (a full outdoor kitchen contains a grill or cooktop surface, cabinets/storage, countertop, refrigerator, and sink).
These outdoor kitchens are the perfect addition for entertaining. These kitchens allow your guests to congregate and dine without constantly going back and forth between the indoor kitchen and the outdoor area. Not to mention, outdoor furniture has evolved to include dining sets meant for a crowd.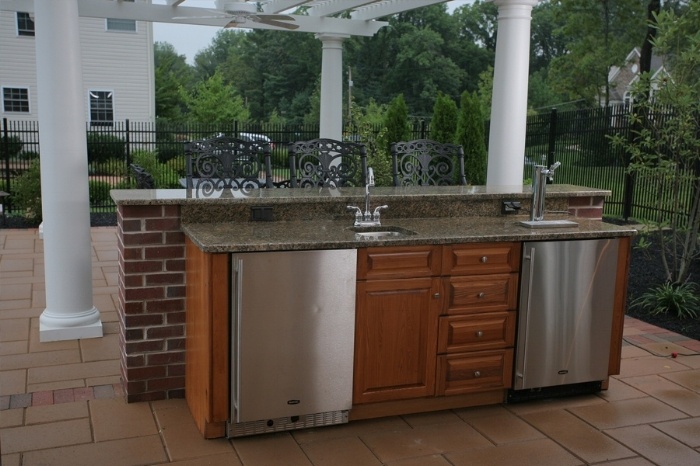 Trend 4: Add a Water Feature
Many homeowners feel it's important to include a water feature in an outdoor space's design, Beaudry says. The soothing sounds of a fountain, for example, can add to the relaxing atmosphere of a deck, while a hot tub or a pool provides a bit of a backyard escape. The sound of running water also helps mask any noise from nearby streets, adding to the illusion of a getaway destination.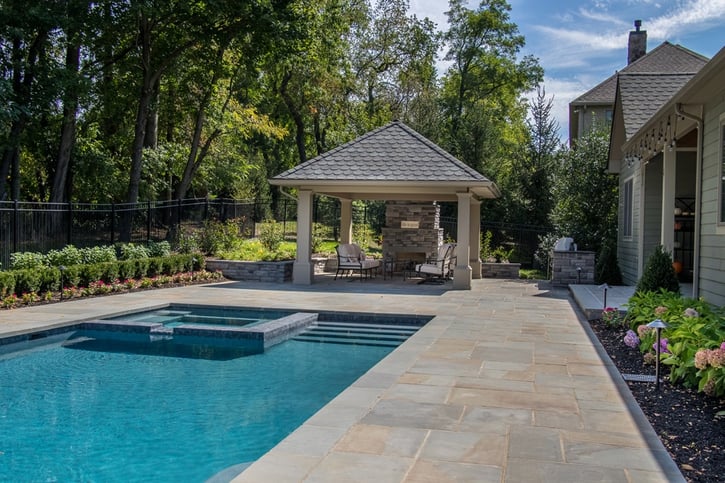 With all the outdoor living options available to builders today, they may feel like they're creating a house outside the house. In fact, that's not too far from the truth. The outdoor room — now serving as a kitchen, dining room, living room, and even media room with the new outdoor televisions — has come a long way from a platform with some patio furniture. There's no indication it's going back inside any time soon.
---