In the warmer months of the year, we all tend to spend a little more time outdoors. Is it time to add to your home's outdoor appeal? One solution is adding a deck to expand your outdoor entertaining options. Another option is adding a patio.
Not sure which one is the best fit for your situation? Here's a quick look at the different options, the pros and cons, plus expert advice on which will fit your home and lifestyle best.
Let's start off by reviewing the difference between a deck and a patio.
What's the difference?
Although decks and patios both provide an exceptional space to extend your home's functionality and entertainment areas to the great outdoors, what's really the difference between them? Generally speaking, a patio tends to be made of stone and masonry materials and is built at the ground level, while a deck will have a raised surface and is constructed of wood or composite materials.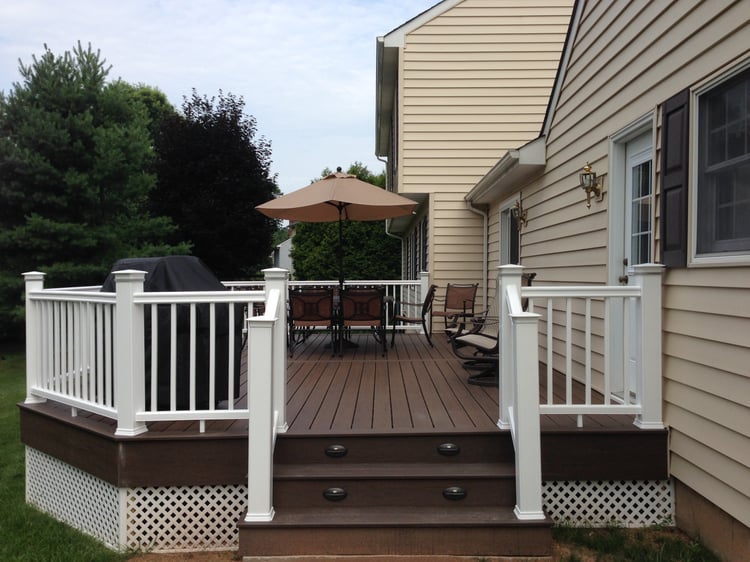 Either option includes a wide range of advantages and disadvantages, but if properly installed, will require relatively low maintenance for many years to come. However, if the wrong materials or installation processes are chosen, that can create a lot of extra work as you repair, seal, or paint to maintain its appearance and structure.
Which option makes sense for you?
To determine which outdoor living space makes the most sense for your situation, it's important to consider both your home and your lifestyle. To start, consider your home's lot. If you have a home on a hill with a basement, you may need to look at a deck to achieve an outdoor entertainment space that leads off of the main level, rather than having your guests walk through the house and down the stairs to use a basement patio.
On the other hand, a patio is a great choice for homes on a flatter lot with the main level on the first floor. Additionally, patios are slightly more flexible than decks when it comes to the features you can add, such as a fire pit, which wouldn't necessarily be the best option for a wooden deck. No one likes a fire hazard.
The most important thing to keep in mind are the layout aspects of your home before coming to a firm decision. We also suggest consulting with a professional.
Deck vs. Patio - What's the difference in cost?
Typically, most deck and patio addition projects end up being similar in cost, but there are a lot of factors that play into the total cost of either project. For example, if you choose very luxurious materials for your patio, the total bill will be higher.
On the other hand, the size of your new deck is also a factor. The larger the deck, the more expensive the project will be since it requires more materials to construct it.
But, let's break it down a little more. According to HomeAdvisor.com, the average cost for adding a deck in 2019 is between $4,073 and $10,423. In comparison, a patio typically costs about $3,270 per the national average.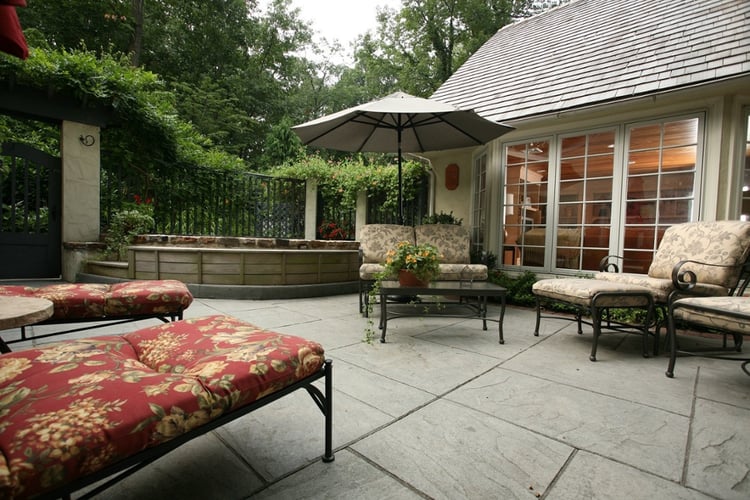 The best bet is to decide which type of project will work best for your home, then work with a professional to design the perfect outdoor living space that fits within your budget. Most homeowners are well-equipped to handle the cost of at least a small deck or patio, and being flexible in the design makes it much easier to create a space that meets or exceeds your expectations.
Similar projects to consider
What if you already have a patio or deck, and instead want to add to your home's outdoor living space? You can look at a range of options, including an indoor/outdoor entertaining space, an outdoor kitchen, or even an island. Yes, an island; which is essentially a small deck in the middle of your yard rather than being attached to your home. You could also consider adding a deck or patio as part of a larger home renovation project, such as a kitchen remodel that can expand to an outdoor entertaining area. And there are even a number of DIY projects you can undertake to complement the new outdoor space.
No matter what you decide on the deck vs. patio debate, having the knowledge of how they function and what to expect down the road can make the process easier. And if you need help help designing and building your home's indoor and outdoor living space with the perfect kitchen remodel or home addition project, we've got you covered. Feel free to reach out today for more information on how we can help create your dream space.
---
Looking for a little inspiration for your patio or deck addition? Check out our portfolio to see some of our completed projects.