The days of relaxing in the sun, enjoying the summer breeze, and spending cool, comfortable evenings outside with friends and neighbors are here.
To make the most of the gorgeous weather that summer brings, many homeowners look for ways to turn their ordinary deck or patio into an outdoor oasis made for lounging and entertaining. Outdoor spaces can make your home feel larger, offering another location to relax or socialize.
Whether you want to catch some rays or entertain guests this summer, discover our top backyard deck and patio ideas below.


8 Top Patio and Deck Ideas to Get Your Backyard Summer Ready
Are you ready to enjoy the lovely warm weather that's sure to grace your Pennsylvania home this summer? The ideas below will help transform your backyard patio or deck and allow you to make the most of the season.
1. Incorporate Stone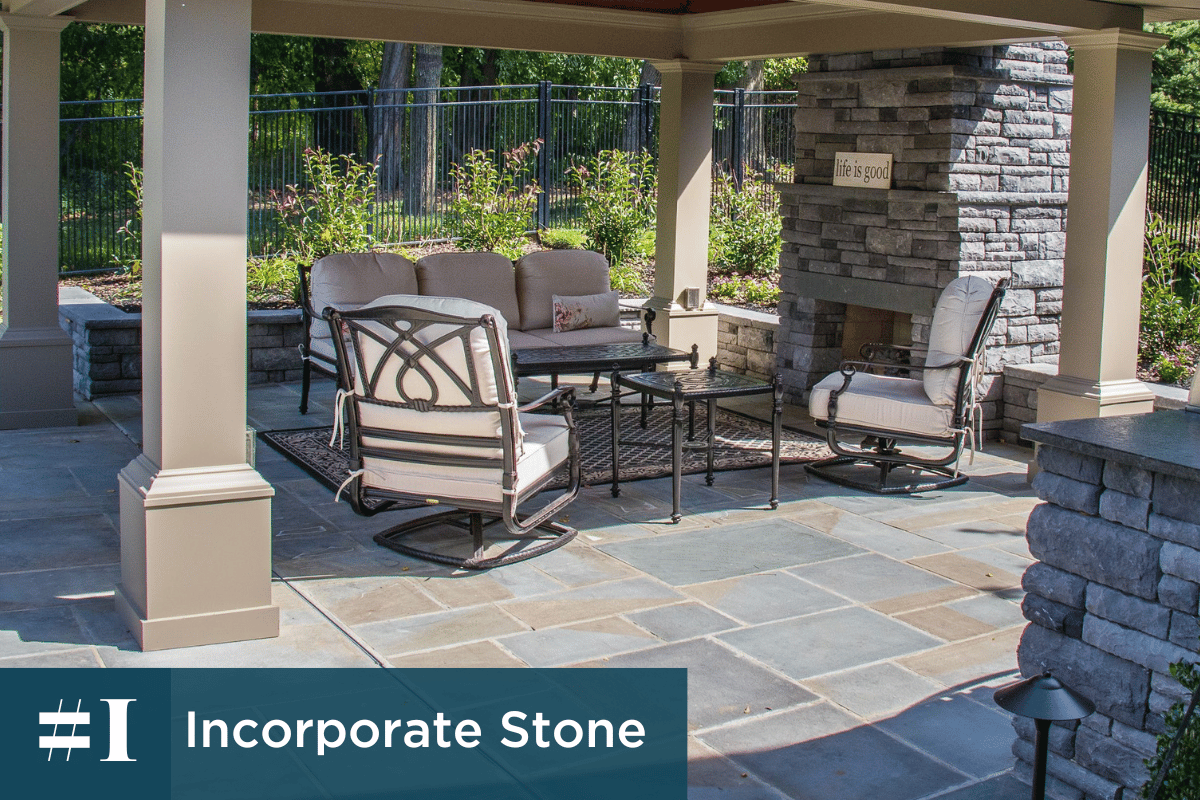 Whether it is an enchanting walkway, or simply an accent to your pool area, incorporating stone when planning your new backyard patio design is a great way to add a quaint and rustic accent to your outdoor space while leveraging the material's steadfast functionality.
High-quality stone options you can use in your patio space include:
Natural cleft, irregular, or thermal Bluestone
Flagstone
Brick
Brownstone
Cobblestone
Fieldstone
Granite pavers
Limestone
Sahara granite
Pea gravel
Loose-fill stone
There are so many options when it comes to stone. Use irregular fieldstone for a charming, natural look or granite pavers for clean lines and organized pathways that will create a sleek-looking patio space.
2. Install a Pool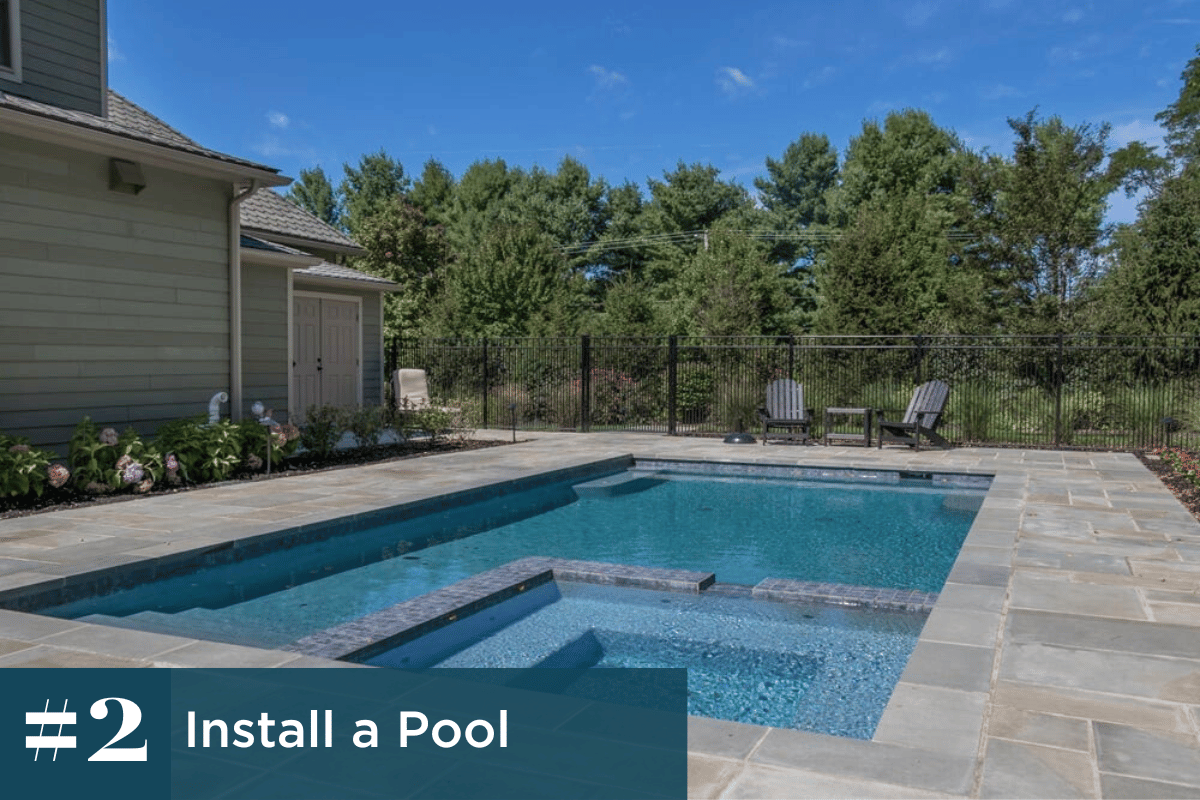 What better way to enjoy the beautiful weather than laying out by your very own pool?
There are a few main types of pools to consider based on your budget and the look you are going for, namely fiberglass, vinyl-lined, and concrete. Each option comes with its own set of benefits and drawbacks. For example, fiberglass pools typically require the least amount of maintenance, while vinyl-lined pools tend to have the cheapest initial installation.
3. Make Room for an Outdoor Kitchen or Bar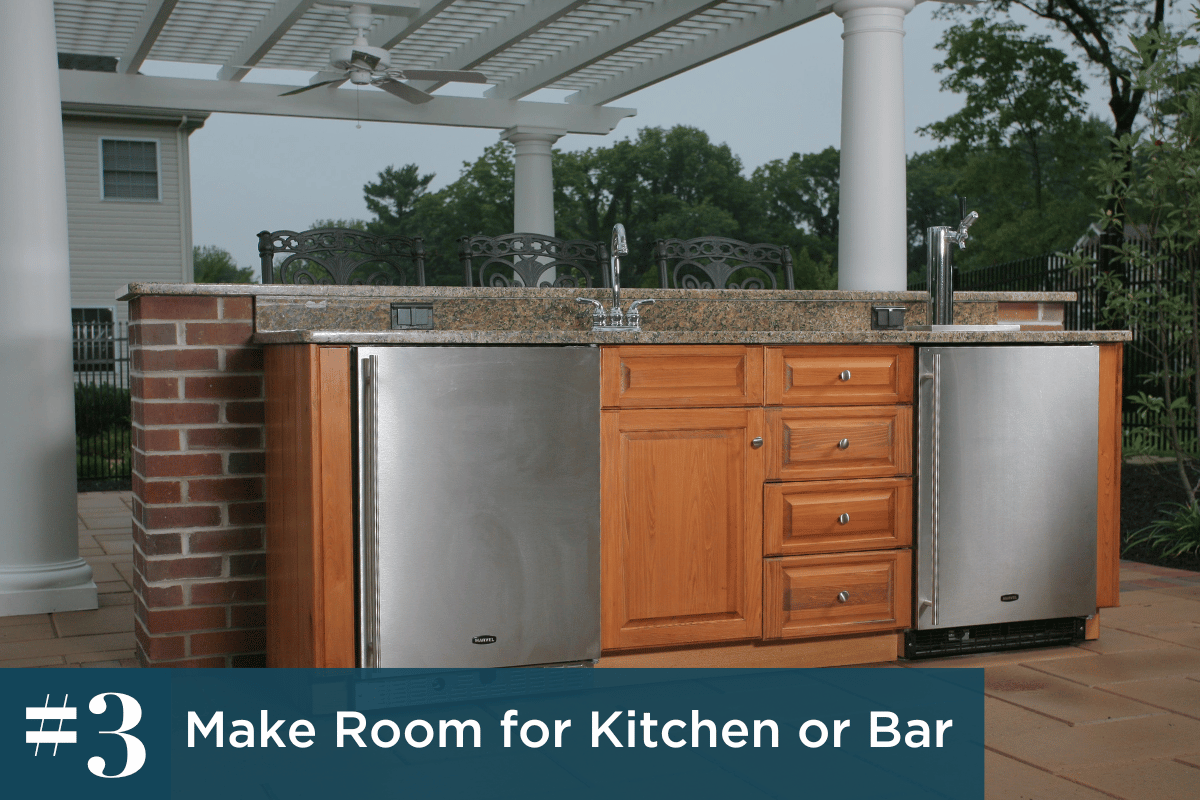 Nothing says neighborhood pool party like a good old-fashioned barbecue. For your next get-together, imagine having a huge kitchen space right by the pool, the kids playing a game of tag then lining up to get a hamburger while enjoying the warm weather.
You could even take it a step further and add a bar to your outdoor dining area. Stock it with your summer favorites, like iced tea and wine coolers, and keep the fun and relaxation flowing.
4. Add a Covering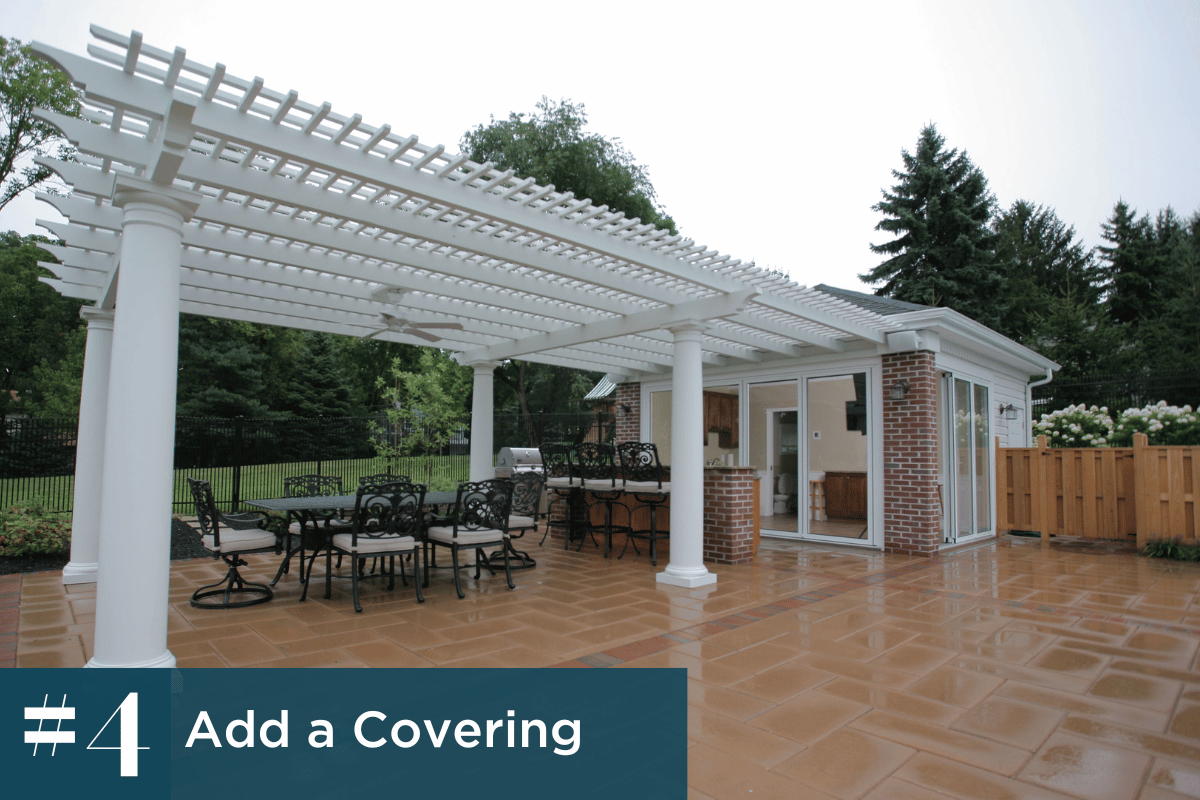 Adding a covered section is a great way to help create designated areas for your deck or patio.
While they don't provide complete shelter from the elements, wooden pergolas have quickly become a popular way to shade the sun and provide a beautiful addition to any backyard. If you like the look of a pergola but want a little more protection or privacy, they can also be used to support curtains for additional sun protection.
Another option is an awning. Whether static or retractable, awnings come in a variety of materials and styles that can give your outdoor space a fresh, inviting look. They can also help reduce the heat around your windows and doors — ultimately lowering the temperature indoors — keeping your air conditioner from overworking and your energy bill a bit lower.
5. Choose the Right Outdoor Lighting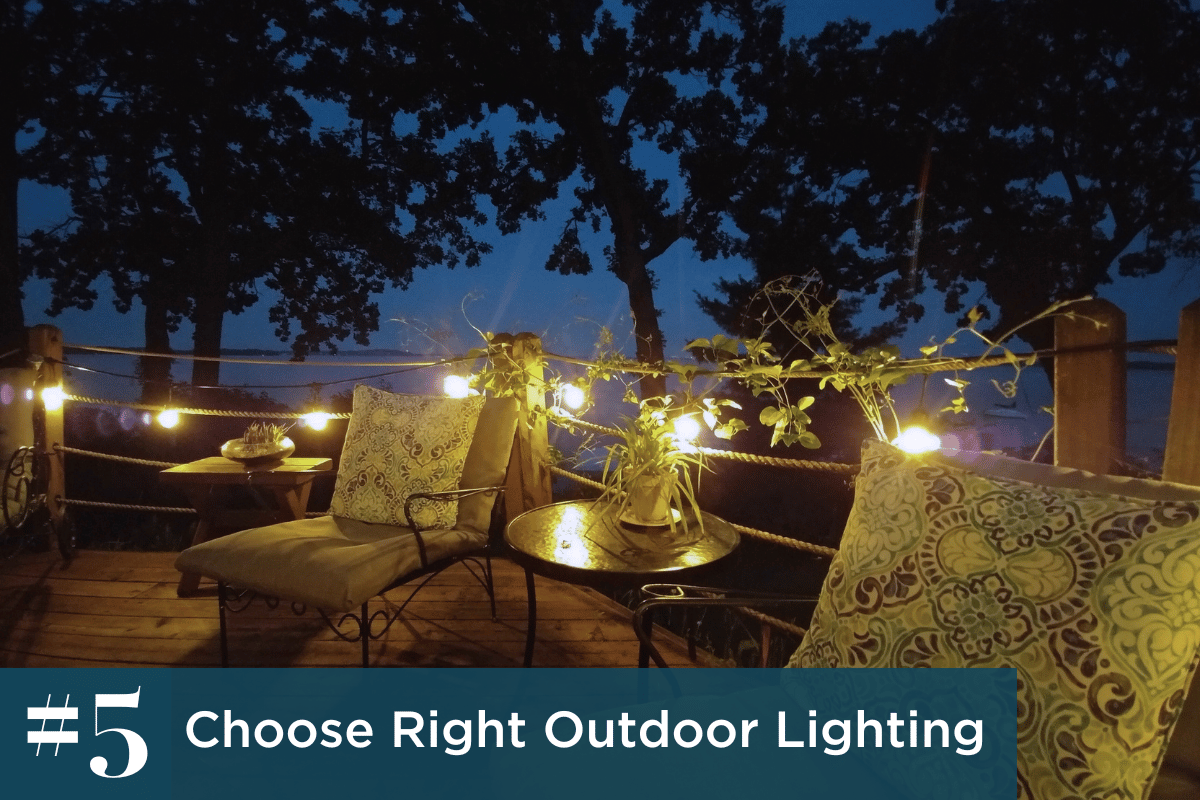 Keep everyone safe by illuminating steps and pathways. This can be as simple as solar lights to line the steps or tiki torches that double as a mosquito repellant. Find accents that work with your style and place them strategically.
In addition to safety, nothing sets the mood for a summer bonfire like string lights. Their rustic glow will brighten up your outdoor space and add a gorgeous addition to your pergola, gazebo, or patio. Your guests will be able to look up and have the illusion of bright twinkling stars even on a cloudy night.
6. Invest in Plants to Enhance Your Space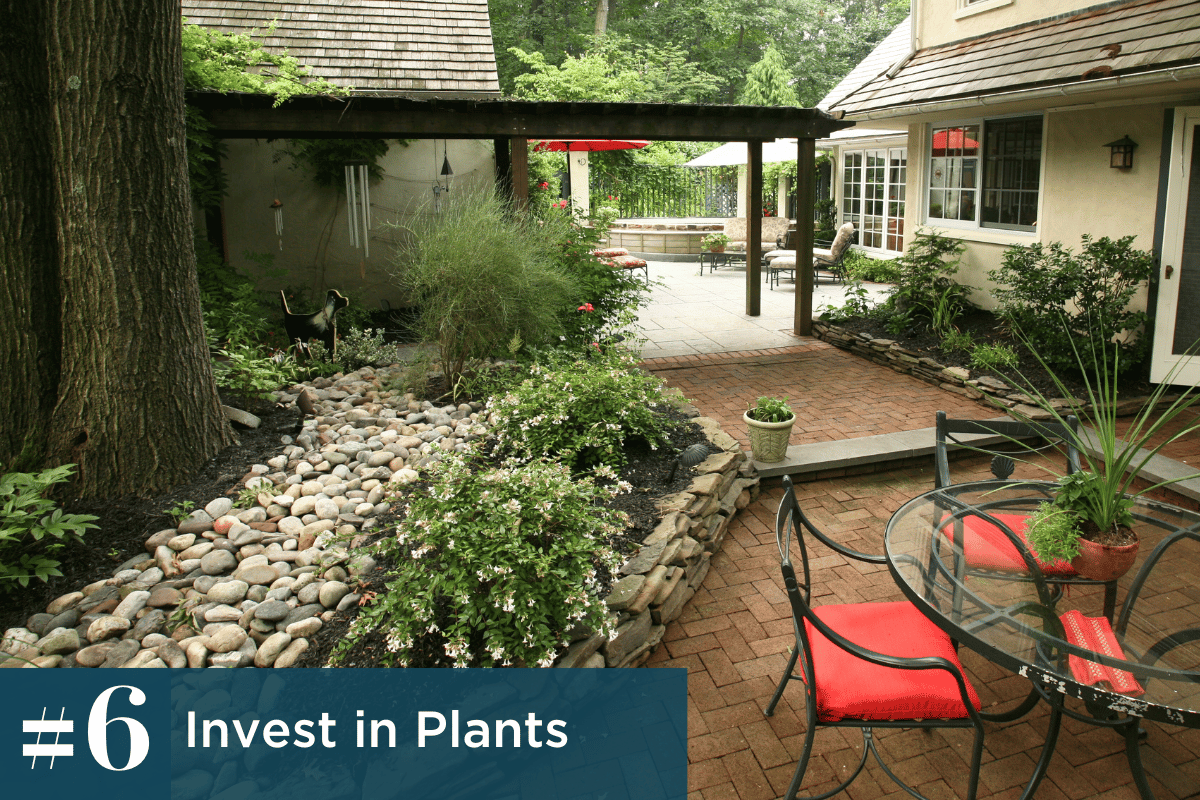 Adding flowers and plants can really spruce up your back deck or patio. Using pots and planters is a great option for us in eastern Pennsylvania. Since we have a shorter growing season and earlier frosts, potted plants can be brought inside during the winter.
If potted plants are too much maintenance for you, you can transform your outdoor areas with some new shrubs or ground coverings. Your local nursery can help you find just the right plants for your yard depending on the light, covering, and soil.
If you're planning on adding a garden to your yard, consider planting herbs that will help keep pests away and add flavor to any meal, such as mint, basil, and chives. Other plants known for their ability to naturally repel insects are marigolds and chrysanthemums. Some plants even act as natural air fresheners, like lavender, rosemary, citronella, and bay leaves.
For an organic way to get some shade and even a little privacy, you can grow bamboo. It's fast-growing, resilient to weather changes, including freezing, and is not known to attract insects.
7. Create a 3-Season or All-Season Sunroom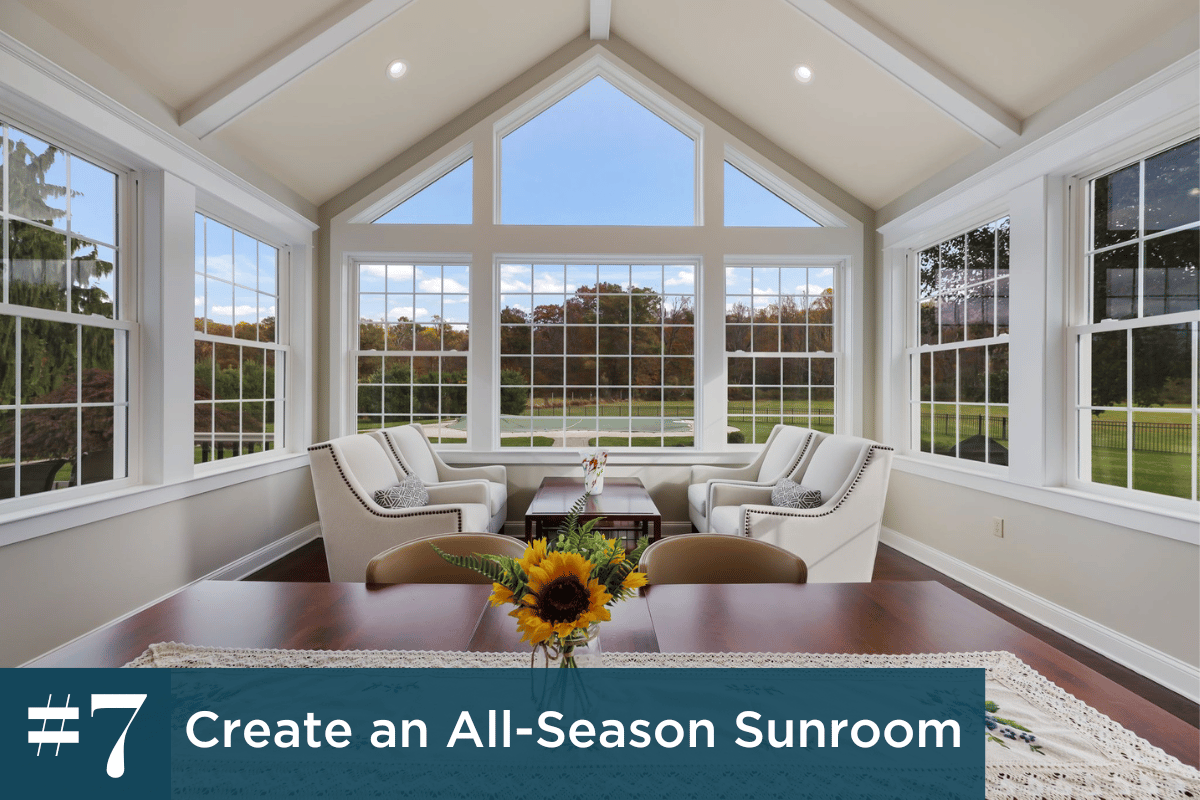 If you want more than a screened-in porch, perhaps a place to live, consider a 3-season or all-season sunroom. This will involve a more in-depth transformation as these rooms are essentially add-ons to your home.
The difference between the two is the HVAC system, which will affect the cost of a sunroom. If you want to live in comfort year-round, you have to invest in complete temperature control. This area can actually double as a living space and makes for a great guest house or in-law addition too.
A great sunroom has an abundance of large windows, so bask in the sunshine and enjoy the beauty of your outdoor oasis.
8. Make Your Deck or Patio an Extension of Your Home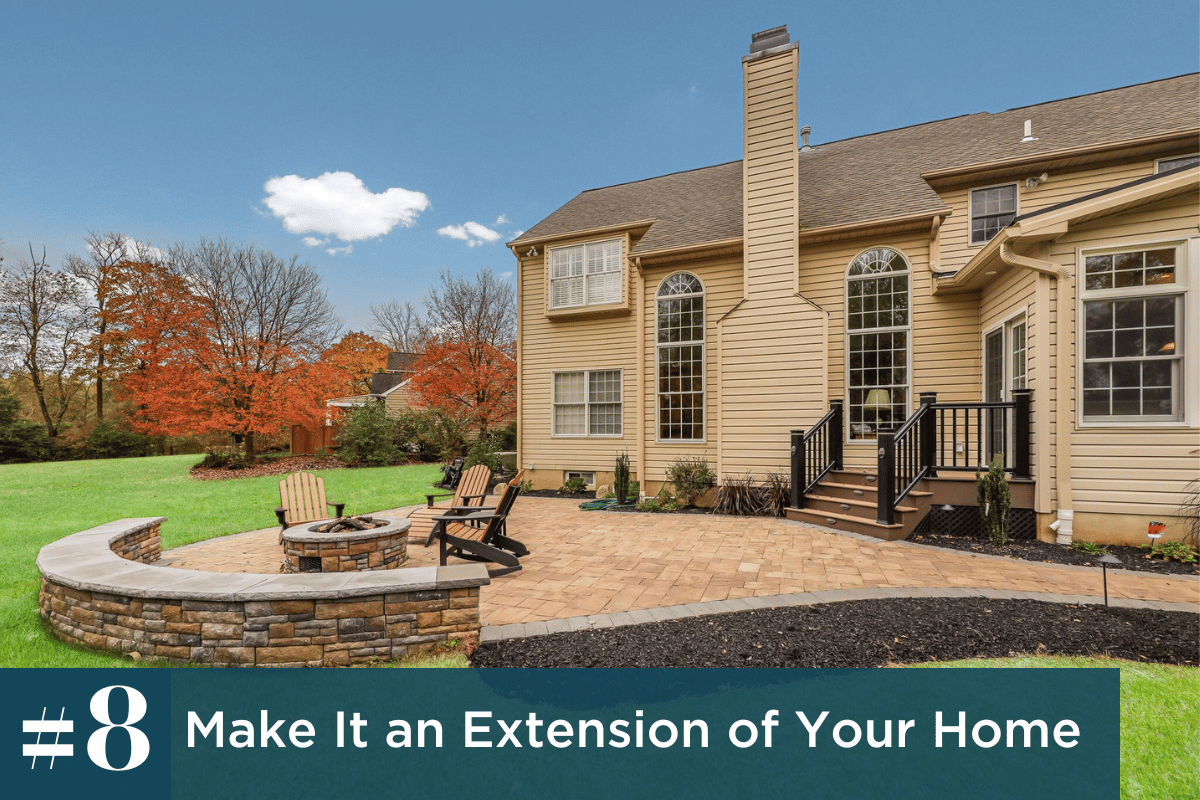 As you extend your home's entertaining space to your backyard deck or patio, it's important to make design choices that are consistent with your home's interior. Creating a unified look can make your home feel more expansive and put together, even if the outdoor and indoor spaces were designed at different times.
Take into account your personal style preferences for your outdoor living area and see how they work with the current look of your home's interior design. Something that looks great with a farmhouse-style home may not match the style of a traditional brick home, for example. Explore different combinations to discover what will leave you excited to get outside.
But designing a cohesive look shouldn't stop at décor or furniture. Adding large sliding doors connecting your indoor and outdoor spaces creates a seamless transition — and it will make your home feel larger too.
Deck and Patio Ideas on a Budget
Whether you use your outdoor living area to entertain, relax, or a little bit of both, you don't need to spend a ton to give your space a facelift. Small changes can make a big difference. Here are some of our favorites:
Trim up your greenery: This work requires some patience, but pruning your existing greenery can help give your outdoor space a more manicured look without having to plant any new trees or bushes. Plus, it can be a big help with shade, privacy, and ambiance.
Switch up your outdoor furniture: You don't have to totally redo your deck or patio to make it look like new. Try adding some comfy seating or new accessories to revamp your existing setup. Look for materials that are water-resistant, such as synthetic wicker, treated wood, or wrought iron, if you're going to leave them out and uncovered all the time.
Apply a fresh coat of paint: A fresh coat of the right paint, stain, or sealer can make your wood deck look brand new, make it easier to clean, and protect it for years to come.
Break out the power washer: Giving your deck or patio a deep clean can make it more inviting. If your pets, kids, or surrounding nature has turned your outdoor oasis into a muddy mess, a power washer can work absolute magic.
Set up fun outdoor activities: Build a fire pit (complete with marshmallows for roasting, of course), create your own outdoor movie theater, or dust off your cornhole boards. Enjoy your outdoor oasis with simple activities and games the whole family can enjoy.
Patio and Deck Inspiration From Tilghman Builders
Here are some deck design ideas from our favorite summertime projects over the years.
A Patio Fit for a Pool Party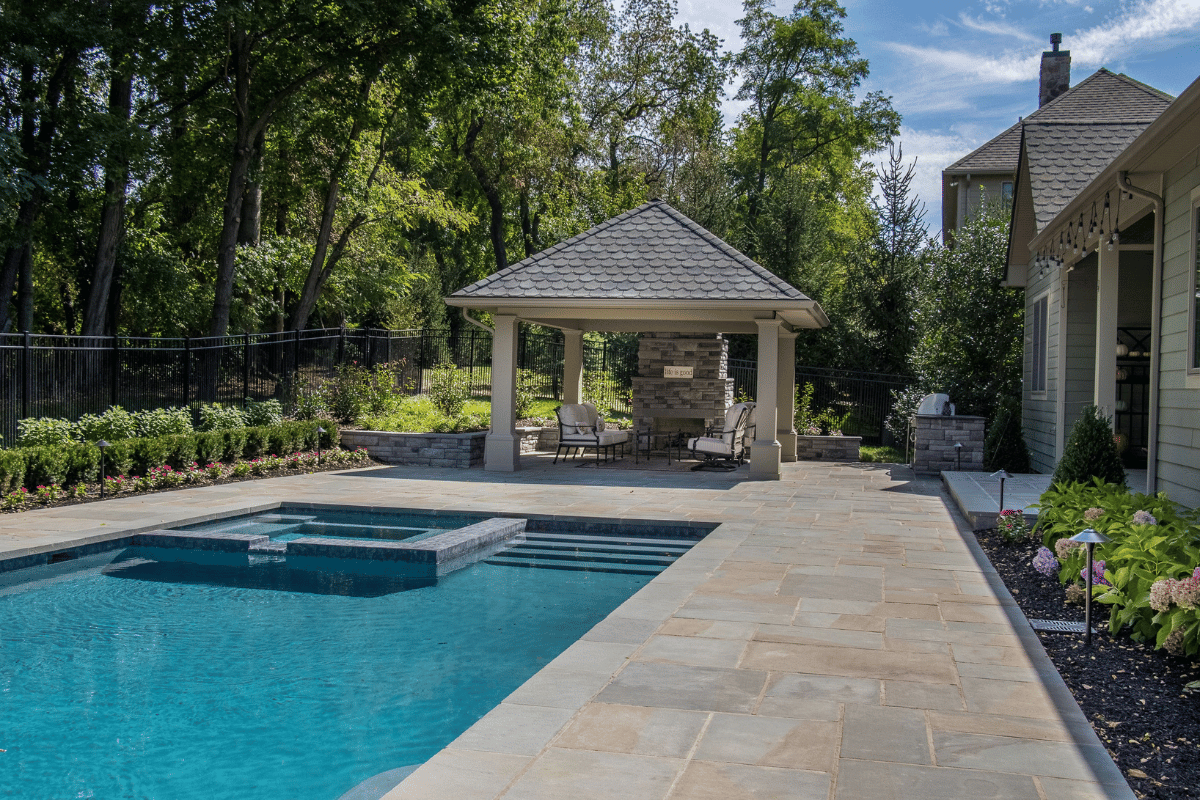 To create this gorgeous outdoor living space, we added a simple unattached structure built to match the look of the main house. Perfect for relaxing and entertaining, this stone covering provides shade from the sun and a cover from the rain. Plus, a stone fireplace sits next to the table and chairs to give warmth and ambiance during chilly eastern Pennsylvania nights.
Everything and the Kitchen Sink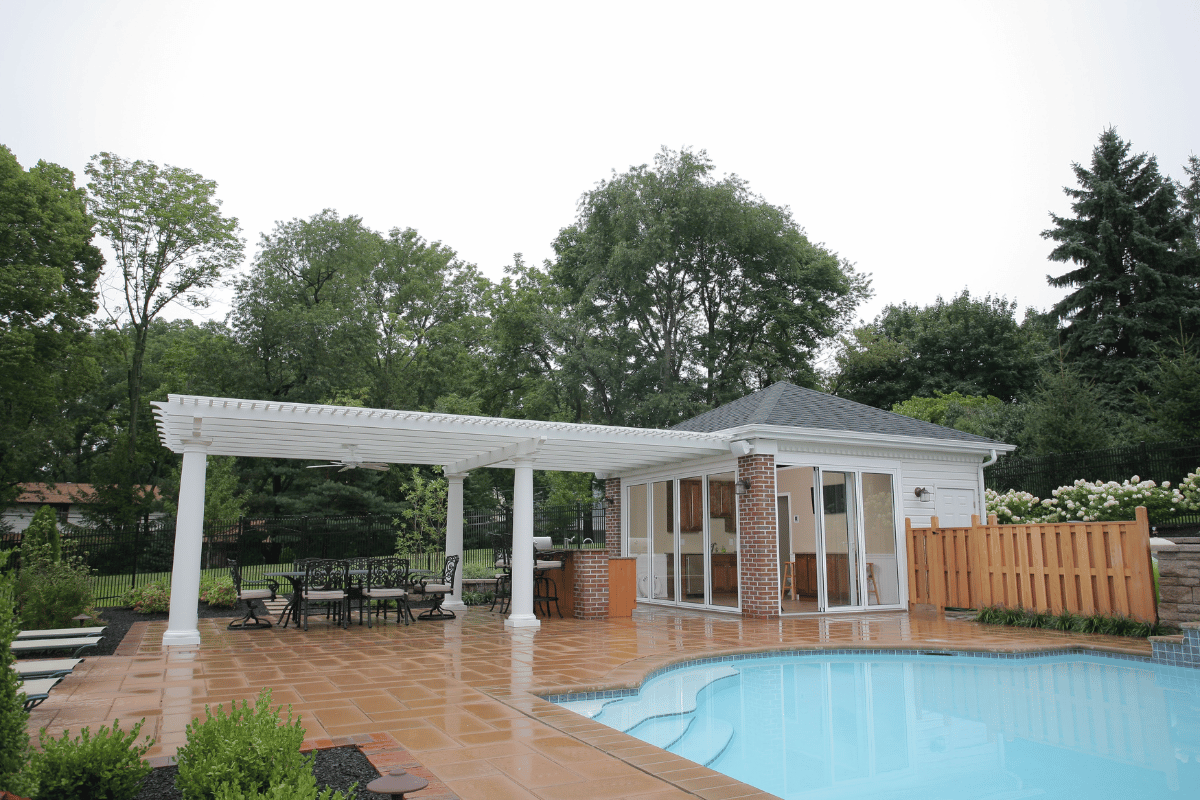 A pool house with an attached sitting area is a welcomed addition to any pool area. It also removes the need for visitors to have to travel through the main house while they're still wet.
Inside the pool house, you'll see a full-sized sink, refrigerator, bathroom, television, and plenty of cabinet space. It's all locked away behind folding and sliding doors. Right outside of the pool house is a wet bar with a built-in beer tap. Who needs a better excuse to spend time outside?
A Little Something for Everyone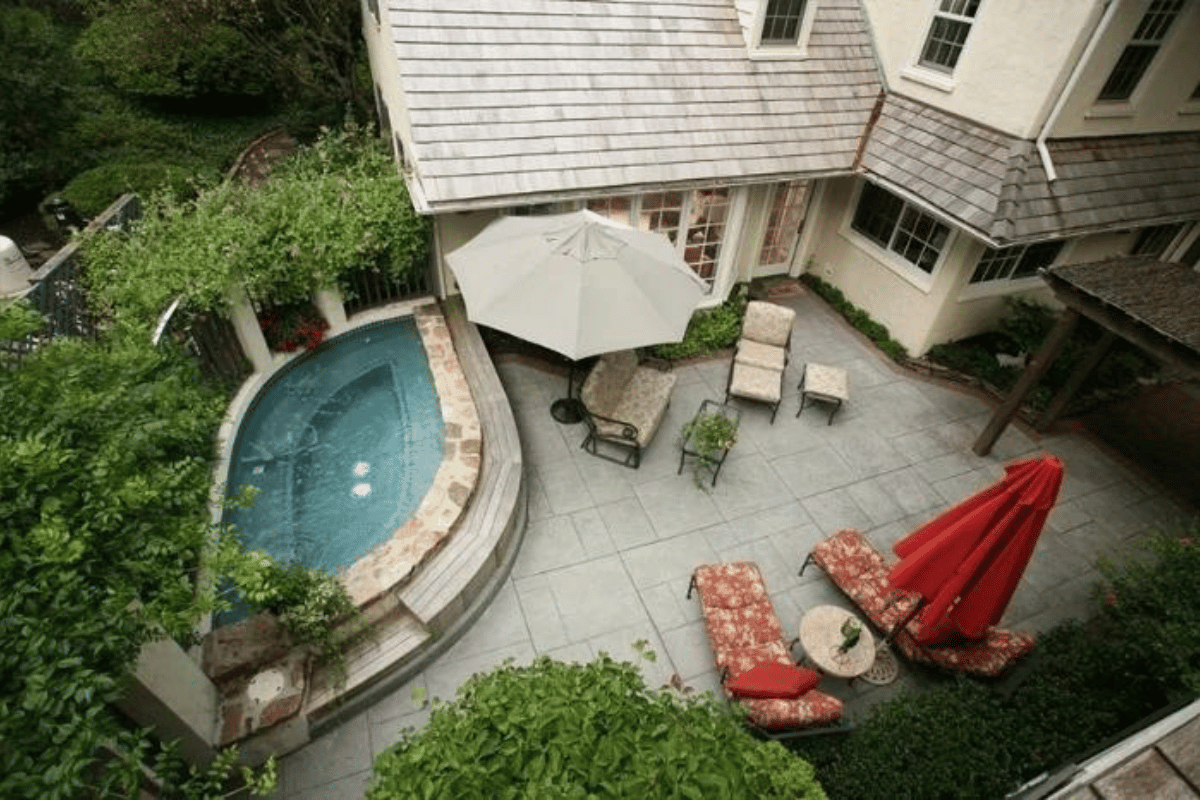 This patio has elements of comfort and tranquility everyone can enjoy when it's time to relax. The eye-catching hot tub in the corner is surrounded by shrubbery for privacy. The greenery does a wonderful job of framing the patio, making it a little cozier and truly bringing the feel of a living room outside.
More Space, More Fun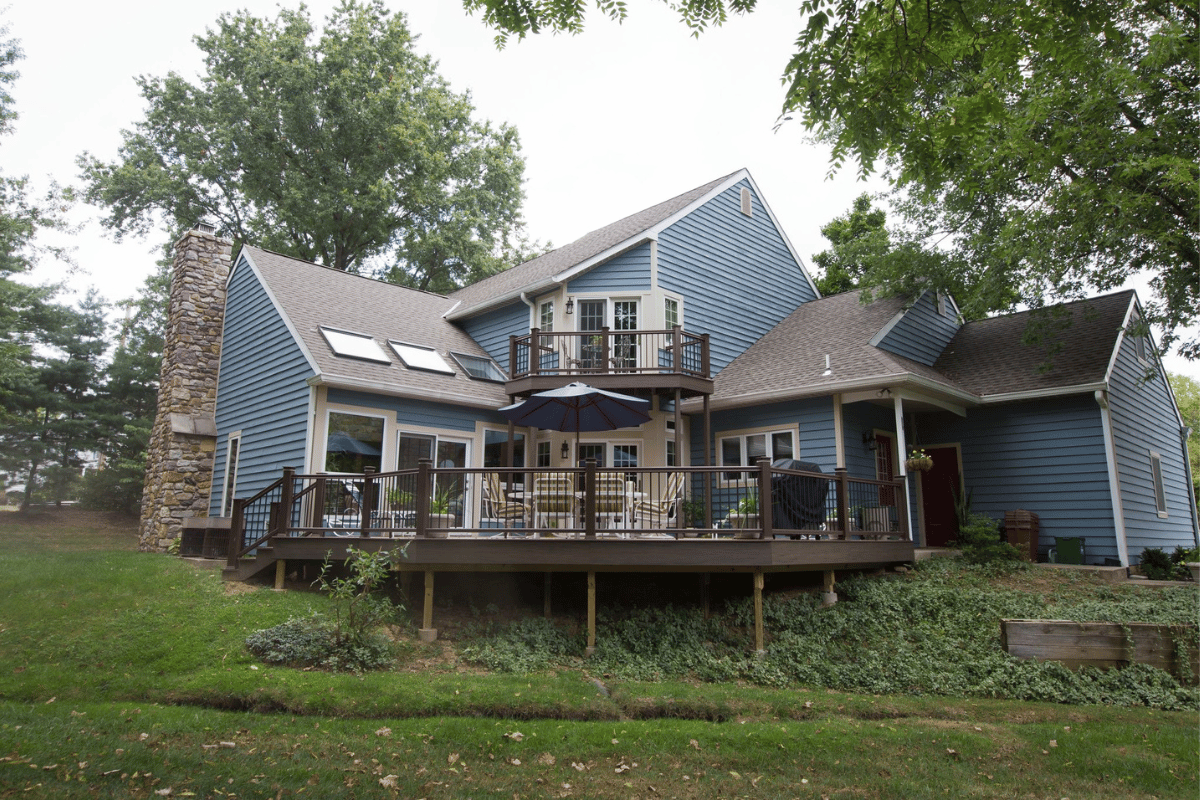 This is a perfect example of what a deck can add to a home. Although the backdoor opens up on the decline of a hill, the deck turns that otherwise unusable space into a functional and beautiful area that can be enjoyed by the homeowners, their family, and guests.
The home's second floor wasn't neglected here either. There was an opportunity to add a matching second-floor deck to give the same effect to upstairs guests. Talk about expanding your living space.
Work With Pennsylvania's Favorite Outdoor Living Remodelers
Decks and patios aren't just for summertime fun — by transforming your outdoor space into your personal staycation destination, you'll be able to enjoy it year-round.
Keep in mind that having a trusted contractor is essential to creating this new space. Tilghman Builders is a premier home remodeling contractor and renovation company serving homes like yours in Bucks County and Montgomery County for over 40 years.
We're excited to help you turn your backyard into an outdoor oasis this summer. Contact us today to discuss your next home renovation or remodel project.