With the beautiful weather we have been having recently, now is an ideal time for indoor-outdoor entertaining! The perfect temperatures encourage families and friends to congregate for school events, birthdays, and everything in between. With all of this entertaining, it is so important to make sure your home is prepared for any occasion.
When preparing a venue, a large struggle is deciding whether the weather will be good enough to host an event outside, and if not, having a go-to backup plan. Will mother-in-law be happy in the shaded patio area, or would she prefer to be inside in the air conditioning? Is the kitchen large enough for the whole group in case it rains?
Your house might have a great outdoor area to relax in the fresh air and an open floor plan to entertain inside, but unfortunately, the two might not work well together. How hard would it be to make a great indoor-outdoor living space? Could it be simple? Our answer is always "yes".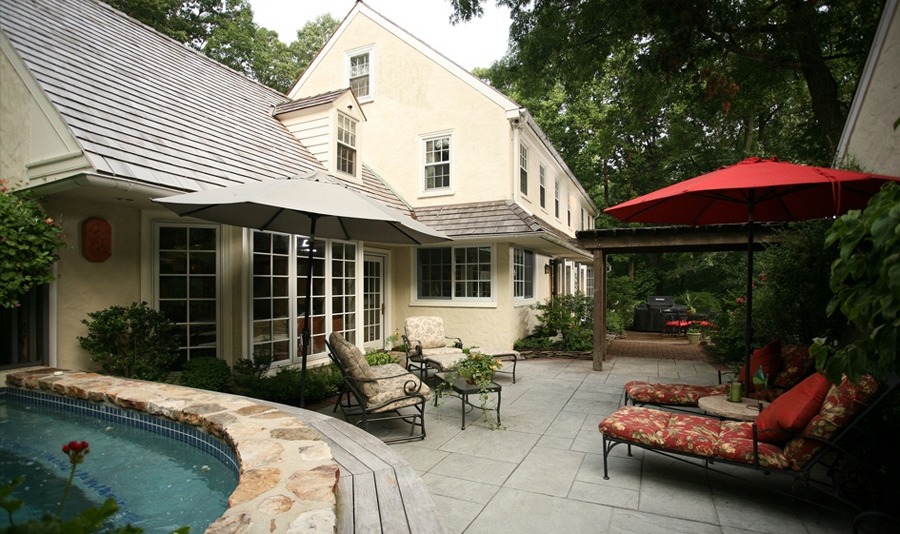 Many detached, single-family homes at least have a patio and often have more complete outdoor rooms. It's generally only newer homes that are designed to seamlessly integrate indoor and outdoor entertaining. So if we're talking about creating an indoor-outdoor living space for you and your guests to enjoy stress-free, your next question is probably something like, what kind of home renovation are we looking at? Here are some tips to get you started.
Getting Started On Your Transition
Building a space that feels like an indoor-outdoor living area can be created easily. First, you have to choose an outdoor space that is adjacent to an indoor room. Adjoining spaces should be connected in a way that allows for a good flow, making it feel seamless, like a continuous space. Many families find it most ideal to connect their patio to their kitchen, dining room, or living room, but any indoor space where you plan to entertain will still work.
If you want your outdoor living space to feel like an extension of your interior room, you definitely can't have the sun or rain beating down on your guests. Covering the deck or patio (at least partially) is crucial to make your space organically feel like an indoor-outdoor living space. This can be accomplished with a solid roof structure such as a pergola, or more budget-friendly options, such as permanent canopies or extended awnings.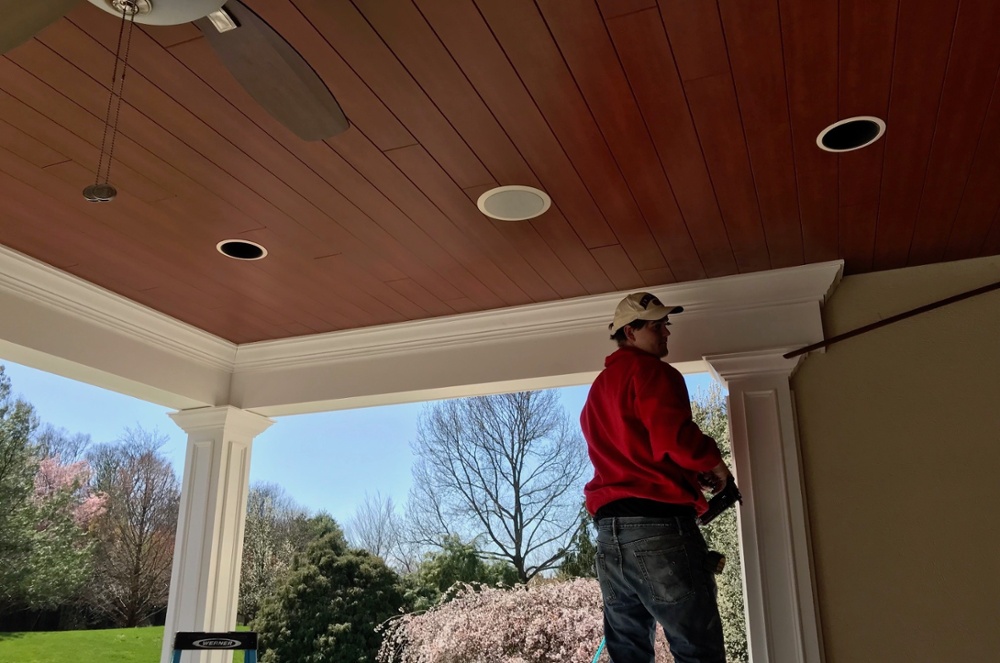 Shade sails could also provide an outdoorsy look, which may also be substituted as another affordable option that provides protection from weather and can make your outdoor living area feel more like an exterior space designed to function as a room. When you add coverage over your outdoor living area, you don't need any walls to make it feel like an entertainment space.
Now, let's talk transitions.
The Bigger the Entrance, the Better
Exactly how you connect your indoor space and patio is the most crucial part to creating a fluent indoor-outdoor entertaining space. The transition entrance will determine whether your guests feel like they are stepping from inside your home and out into your yard, or like they are simply moving through a continuous entertaining area.
Take Note: The bigger the opening, the better!
Depending on your budget, replacing a large part of an exterior wall with oversized French doors, pocket doors, a folding window wall, sliding glass doors, etc., is most ideal for an inside-outside living area. These kinds of gateways allow for a large opening with few to no barriers, yet also create a distinct border in between the spaces. French doors are likely an affordable option, which also work if you're dealing with a smaller wall or budget. Sliding glass doors are, of course, the most affordable option, but conventional sliding doors do not always create a seamless transition from an indoor space to an outdoor one.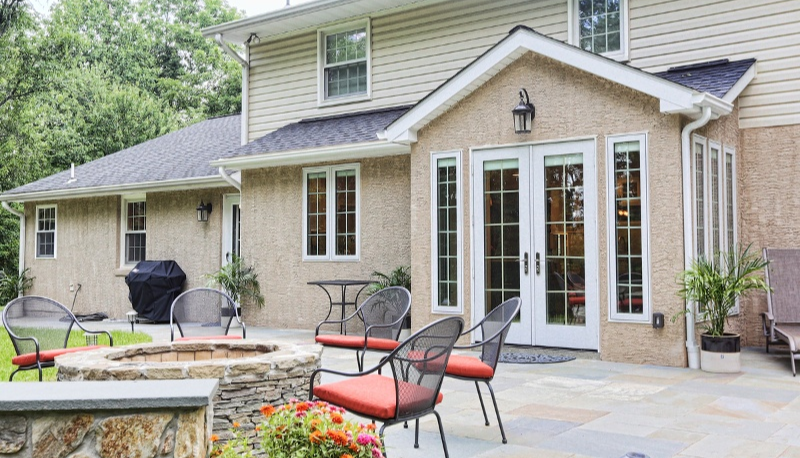 Most people feel like they are walking into a backyard when they step through a sliding glass door, and only half of the space that the door occupies is able to open, leaving the other half looking like a large window (not ideal). However, larger oversized sliding French doors that open from the middle will work to create an appealing opening to connect the spaces.
Making your Indoor-Outdoor Living Area Cohesive
A patio kitchen anywhere in your yard is an appealing feature and a must for homeowners who entertain outdoors regularly. If your goal is to create a fluent indoor-outdoor living area, the most efficient and visually appealing choice is to place your outdoor kitchen as close to your indoor kitchen as possible. And if your indoor and outdoor kitchens both share a wall, you can install a pass-through window or bar to connect the spaces and make transporting food and drinks more convenient.
Other ways to make sure your indoor-outdoor entertaining space is smooth include:
Make your flooring consistent, or complementary in design.
Maintain a consistent color palette and design theme.
Choose décor and lighting fixtures to make both sides feel homey and cozy.
With these tips in mind, you're now ready to design your perfect indoor-outdoor living space. Just remember, the more cohesive the indoor and outdoor spaces are, the better the result. Happy entertaining!