Imagine this: You've spent time and effort creating a beautiful outdoor space and patio area to enjoy during the warmer months, and you're finally able to enjoy your personal view. As you look around, you notice there are several yard and pool toys, watering cans, and tools cluttering up your new space.
While there are certainly storage options to help keep belongings organized, such as traditional storage sheds, they can be rather costly and take up a lot of space. Have you considered using storage furniture? Many homeowners love their storage furniture for their outdoor space, as it blends in and allows for unwanted items to be tucked away.
Here Are 4 Storage Furniture Ideas for Your Patio:
1. Try a storage bin for your pool area
If you don't have the space or budget for a pool house, try a storage bin. These plastic, resin, or wicker bins are the perfect area to store pool toys, floats, and any other swim gear you might need. Don't have a pool? Don't worry! These bins are perfect for storing outdoor pillows, sports equipment, and any other items you need quick access to outside. These bins can be pushed against a wall and kept out of your way. Not to mention, these bins come in a variety of colors and textures. The one below comes in a wood-like finish to give the appearance of wood and the waterproof functionality of plastic. You can buy this exact bin from Walmart at a decent price!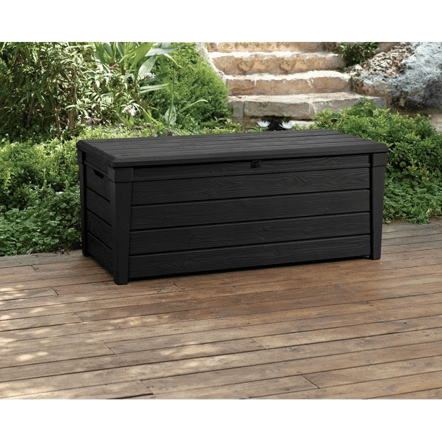 Image from: https://www.walmart.com/ip/Keter-Brightwood-Outdoor-Plastic-Deck-Box-All-Weather-Resin-Storage-120-Gal-Anthracite-Gray/45030596
2. Opt for a storage bench
When shopping for your patio seating, consider a storage bench. Like storage bins, storage benches are a great option for storing all kinds of things. However, these benches are usually quite a bit shorter and offer additional seating for you and your guests. You can make these benches your own by adding decorative outdoor pillows and cushions. We love this white option from Home Depot.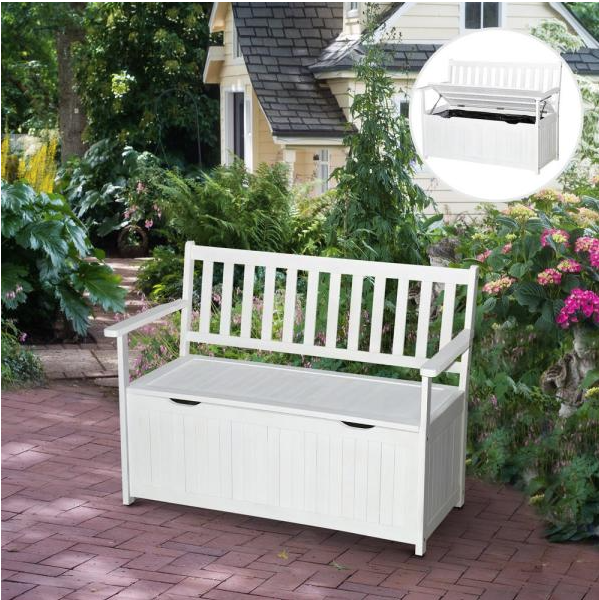 Image from: https://www.homedepot.com/p/Outsunny-164-63-Gal-White-Acacia-Wood-Deck-Box-with-Seat-84B-211WT/316704828
3. Try a storage ottoman as a coffee table
Many homeowners have adapted the idea of making an outdoor version of their living room or den. With comfortable couches, chairs, and coffee tables designed for outdoor living, the options are endless. The good news is that most of these outdoor pieces come with cushions and pillows that are meant to withstand sun, rain, wind, and outside elements in general. If you need additional storage, try swapping out your coffee table for a storage ottoman. Companies, such as Mission Hills, offer storage ottomans with matching couches and chairs.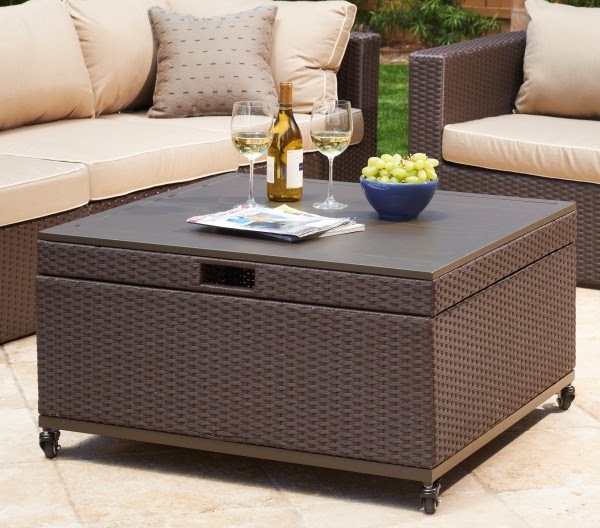 Image from: http://www.missionhillsfurniture.com/product/newport-storage-ottoman/
4. Create your own storage solution
If you are a fan of DIY projects, we can't think of a better way to use your skills. There are multiple blogs, Pinterest boards, TikToks, and YouTube videos dedicated to creating DIY storage solutions for outdoor spaces. Whether you want to build chairs with storage for the cushion underneath, or are looking for nontraditional storage solutions, we are sure you'll find what you are looking for.
If you've read this blog and think your outdoor space could use some extra TLC, visit our portfolio page. You'll find inspiration for sprucing up your outdoor space into the yard of your dreams. As always, if you would like to speak with our team about your project, we are more than happy to help! Start the conversation with us at https://www.tilghmanbuilders.com/contact.