When it comes to window renovation, or door renovation, one of the best times to get started on the project is spring. Once winter moves on, spring brings with it better weather conditions, more daylight, and an invigorating feeling that now is the best time to do home improvements. That makes the project move along faster, helping to ensure homeowners can enjoy the sunshine a bit better along the way.
For those who have old or worn windows, perhaps some that do not open to allow the fresh air in, or those who have heat loss through windows, modernizing with new, energy-efficient products now is the way to go. Broken screen doors, sliding glass doors that let the bugs in and don't keep moisture out, are a problem. They also leak cool air during the warmer months, increasing your energy bills as they do. That's when window replacement is so important.
Why now? Here's a look at some of the most common reasons you should not put off your door and window renovations any longer.
The Weather
Spring brings with it lots of sunshine. It's normal to feel the need to enjoy that sun a bit more. The days are also longer, which means there's more daylight for teams to work and get that front door replacement or new window in faster. The weather is also more comfortable overall with fewer days of it being too cold. That means there's less discomfort with the air temperatures in the home when the renovation is taking place – no one really likes to have the whole home cold in the middle of winter when the windows are coming out and going back in. The weather is one of the best reasons to make these the spring home renovation projects you tackle this year.
Springtime makes it easier to complete any type of home renovation project than the winter, but it beats the summer heat and the overall difficulty that projects can have when temperatures are high. The key factor to remember about weather is that the larger the home, the more windows it has. That means it is likely to take longer to replace all windows – the longer those windows and doors are open, the more the home is exposed to hot temperatures during the summer heat.
Beat the Heat
Another big reason that spring is a good time for one of the most popular home renovations in windows and doors is that the summer heat is coming. During the spring months, the weather is less hot and humid. That's important for window installation. While you can still have windows done during the summer, the reduction in humidity and heat can help minimize the amount of disruption to daily life in the home. Most people don't want to spend their day hot and uncomfortable during their window renovation project or a new door renovation project is underway.
The other side of that is that completing this project now means that you'll get the most energy-efficient windows in place now, before the hot weather sets in. That means less cool air leakage during the hotter months. Later, when winter comes, that also means there is less risk for heat loss. Your home is likely to feel more comfortable throughout this time.
The energy savings is another layer on top of that comfort – you may notice a significant drop in your energy bills as a direct result. Energy-efficient doors and windows are upgrades that pay off to you. You will save even more energy than standard replacements if you go with new energy-efficient sliding glass doors or windows with significantly higher energy efficiency ratings.
The cost savings from energy-efficient upgrades ranges based on the windows and conditions in and around the home. However, with the best energy-efficient windows still being very affordable, it is well worth the investment in most cases. That savings can help to defray the cost of those new window upgrades.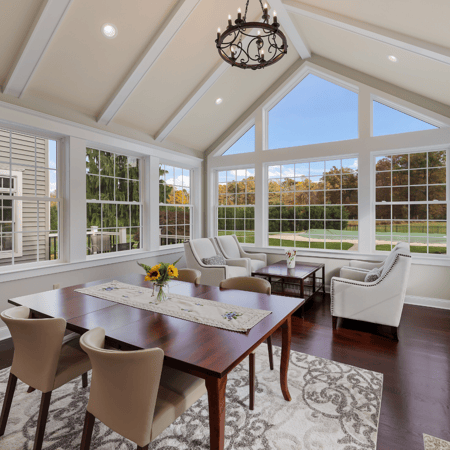 Reduce Moisture
Moisture is a big concern for homes, yet it can go undetected for a long time. When moisture is present – even in smaller amounts – it creates a situation where mold and mildew can grow rapidly. These are some of the most common allergens in a home – and they can bring with them numerous health complications. Many times, a person with respiratory illness, immune system deficiencies, allergies, or other health problems may suffer significant consequences as a result of this type of exposure.
Old and worn windows and doors let moisture in. With summer showers in the heat of the afternoon – a common concern in Bucks and Montgomery Counties, that moisture becomes a real risk. It can seep into the home at an alarming rate, often invading the airspace quickly and building up over time.
Weatherproofing home spaces including weatherproofing windows and doors helps to create a barrier that moisture and mildew cannot get through. Even smaller changes can matter such as if you weatherproof dog door openings to minimize the amount of exposure.
While this type of upgrade is important for the overall safety of the home's living environment, it also helps to make the home more comfortable in the summer months. You are less likely to feel the humidity and moisture in the air. That makes your home comfortable and safer with less chance in the environment for mold growth to take place.

Saving on Energy Costs
Window and door replacement is one of the home improvement projects many people put off fearing the cost of doing so. Yet, there's a significant return on investment when doing so. That return comes to you in the form of energy savings when upgrading windows and doors. When upgrading doors and windows, there is an option to use standard windows. These are lower in cost and often have basic features. Yet, with a slightly higher investment, there's much more of a benefit possible.
For example, with sliding glass door replacement, it is possible to choose an energy-efficient product. These products are designed to add more layers of protective glass and better sealing around the windows. By taking this route, it is possible to save substantially on energy costs through the years.
If you want to learn how to reduce heat loss through doors or windows, ask a representative to show you the differences in the various types of windows available. You'll see why some products are just far more efficient – and as a result – money saving.
There are energy-efficient options for all doors, sliding glass doors, windows, and skylights. They may be more within reach than you expect, too. If you are unsure what may work for your needs, let a technician know. You do not have to give up on style choices for energy efficiency either. These are some of the most modern and beautiful windows and doors available today.
Timing Is Everything
As one of the best home improvement projects to add value to your home, reduce your electric bill, and increase your home's comfort, don't put off window and door replacement this spring. In most cases, spring is the most popular time of the year for window and door replacements for all of these and other reasons. That also means a lot of other people are ready to get started on this project as well.
The earlier you plan your renovation and book it with our team, the smoother the process of upgrading your windows and doors can be. If your home is not as comfortable as you would like it to be, now is the best time to make some changes.
Tilghman Builders can help to make that possible. Let's talk about your springtime home renovation goals with door and window replacements that save you money and enhance the look and feel of your home.
Want to see more spring projects?
There are plenty of spring home improvement projects for you to choose from! Check out our portfolio to see our other summer (and spring, winter, and fall) projects that we've recently completed for our clients.