With the weather warming up, you may find yourself spending more time outside. Having an enjoyable outdoor living space can have a big impact on how you spend that time. If you've been thinking of updating your outdoor space, Spring is a great time to refresh your home's exterior. With plenty of trends to take advantage of this year, we've outlined which ones to watch for in 2021 and how Tilghman Builders can help you bring them to life.
Spending More Time Outdoors
Over the last year, home improvements have been at an all-time high. With so many homeowners spending more time at home over the last year due to Covid-19, many people have realized their home doesn't look or feel the way they want – inside or out. As we look ahead to warmer weather and brighter days, making the decision to elevate your outdoor space can turn "staying at home" into escaping to your personal open-air oasis. You deserve to have the home exterior you've always imagined.
What's Trending?
If 2020 was the year of uncertainty, 2021 is expected to be the year of balance. And with that, comes a wave of new trends to set the scene. Here are some of the top outdoor trends to expect:
Earthy Color Palette: This year, trends are getting back in touch with nature. Moving beyond the neutral off-whites, mustard yellows, and avocado greens and except a shift into a more earthy, natural palette. You can anticipate colors that resemble what you'd see existing in nature like deep blues, pewters, forest green, sage, and timber bark. Like nature, these colors feel grounded and comfortable.
High Contrast Exteriors: The balancing act of 2020 is spilling onto the scene this year. While white siding with black accents has been popular for some time, this trend expands on that idea by color-blocking white and black siding to feature architectural points on your home. The look is dramatic, but the use of neutral colors maintains style and gives the home a stunning appearance.
Transitional Style Exterior: Transitional styles bridge the gap between a traditional style and a contemporary style. The style is updated without neglecting the comforts of a traditional style home. The modern farmhouse is a well-known example of this fusion.
Dark Farmhouse: With the increasingly popular farmhouse style of homes, homeowners are finding ways to stand out from the big white house with an oversized porch. In keeping with the neutral palette, homeowners are transforming their exteriors by using dark, earthy siding which creates both a chic and inviting look to this popular style home.
Form and Function: Homes today are renovated to be beautiful and stylish, but also durable and sustainable. Homeowners are using materials that will last longer and are lower maintenance. Additions such as metal roofs and PVC siding offer both style and durability. While this is a trend that's been steadily increasing over the last few years, you can expect it to continue through 2021.
Glass and Height: In the spirit of spending more time outdoors, many homeowners are also opting to bring more natural light into their indoor spaces as well. Floor-to-ceiling windows brighten your home, and create a seamless transition between the indoors and outdoors.
Textures: Adding big, visual textures to your home is a simple way to highlight the architecture of your home and add interested interest to its exterior. Most popularly, textural additions are done to the siding of a home, but you can also add texture to window trim, the roof, or even your fascia. For the biggest impact, texture is most noticeable and has the most depth when used with light colors.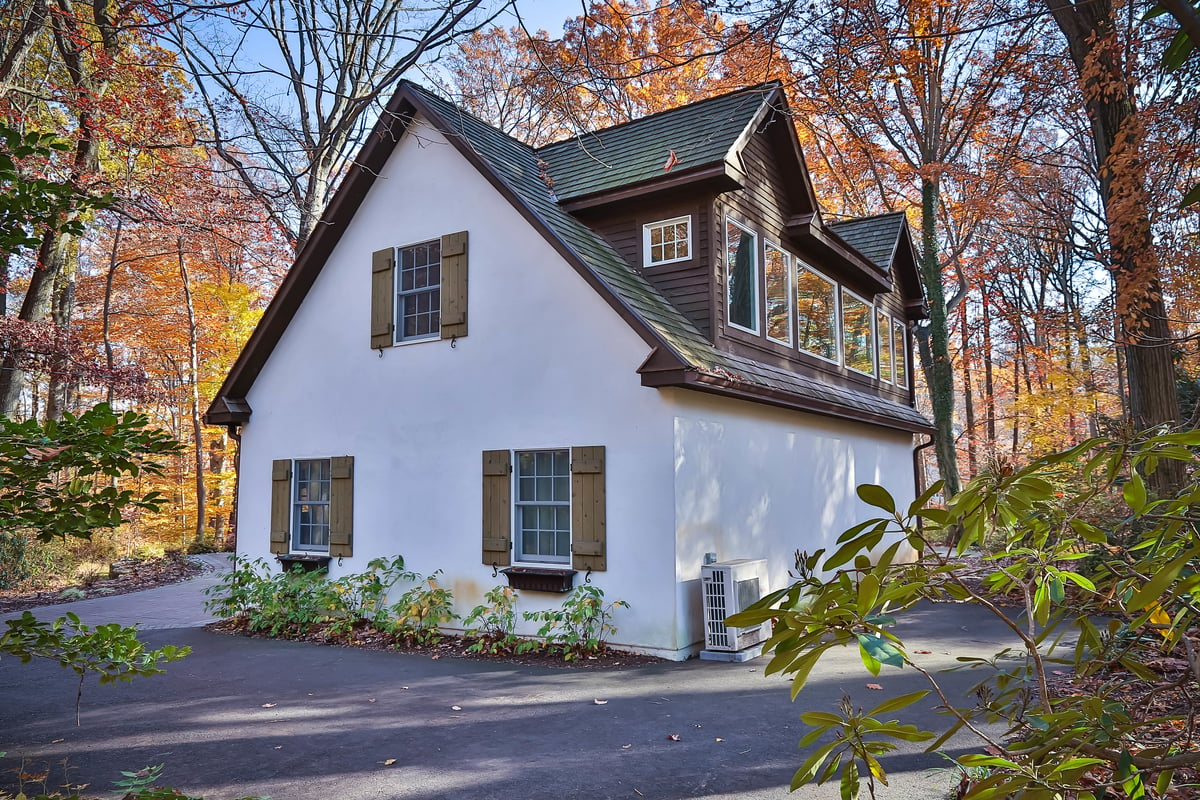 Transforming Your Existing Space
A change of scenery doesn't have to mean putting your house on the market. There are ways to update and upgrade your existing home to give you the fresh look you desire, so you'll be enjoying your home for years to come. At Tilghman, our expert builders understand no two projects are the same, and even small projects can make a big impact on the look, durability, and enjoyability of your home exterior.
Wondering how to get the look without a total overhaul? Consider these areas:
Update or replace your siding. Updating the look of your siding can be as simple as cleaning and adding a fresh coat of paint. You may opt for a neutral or dark color to give your home an up-to-date feel. Replacing your existing siding with a more textured and dimensional look such as wood, brick, or stone, or opting for more durability through vinyl siding can give your home exterior the facelift it deserves. Adding board and batten vertical siding adds height and dimension creating a more modern look.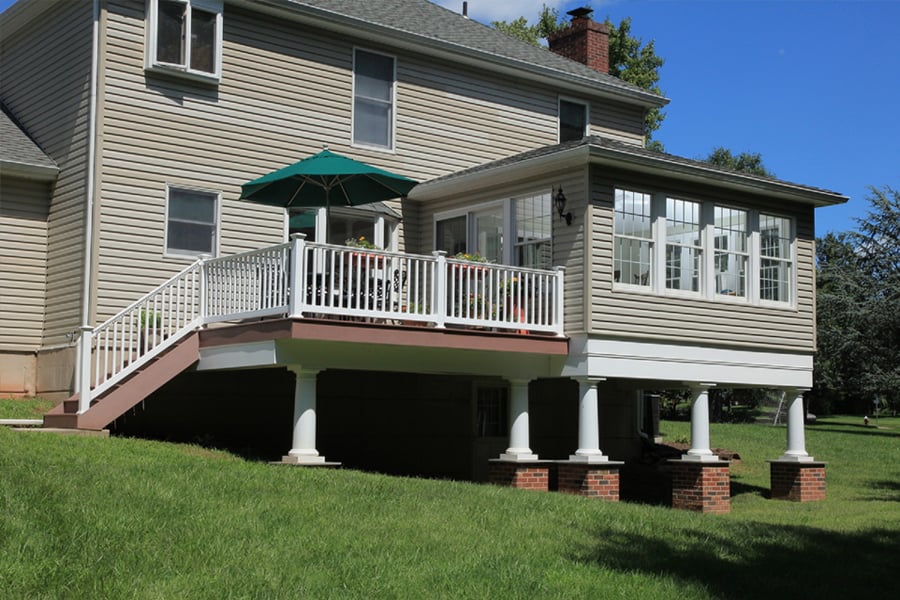 Replace old windows or doors. Aside from the added benefits of saving on your heating and air bill, replacing old windows or doors adds curb appeal and updates the look of your home without a major renovation. Exchanging your current windows for black windows, or putting in larger windows will modernize your home and save you money in the long-term. Replacing your front door can take the front of your home from drab to charming. For an added effect, choose a door color that pops.
Repair or add a porch or deck. With the farmhouse trend continuing, a large porch has become a staple on homeowner wish lists. An old, worn down porch can make your house look worn down, and it's more susceptible to damage from weather. Replacing or adding a porch or deck gives you and your family the perfect place to spend more time outdoors, enjoying the company of friends and neighbors.
Invest in landscaping. Transforming your home's exterior goes beyond the home itself. Investing in landscaping, whether softscape or hardscape, will update the entire look of your outdoor space and work to complement your home rather than detract from it. Taking care of overgrown shrubs or grass, or repairing your driveway are simple ways to make your outdoor space more enjoyable.
Exterior Home Construction and Remodeling with Tilghman Builders
Tilghman Builders' mission is to turn your current home into your dream home, and ensuring that your home exterior ideas come to life is part of that mission. Tilghman's professional team of architects and contractors have years of experience renovating homes in the Montgomery and Bucks County, Pennsylvania area and creating spaces to enjoy for a lifetime. Some of our recent exterior home renovations include:
Black windows

Dark color paint

Wooden siding for contrast (natural wood accents)

Hardy plank siding

Vinyl shakes siding

PVC siding

Metal roofs

Black roofs

Home with a timber look through porch posts

Pergola additions
Hopefully, these ideas get you as excited about the potential of your home as it gets us! If you're thinking about bringing new life to your home exterior, now is the perfect time to give the team at Tilghman Builder's a call and discuss how we can help.