Whether you're adding a master suite, remodeling your bedroom, or just outfitting a large existing closet, you have an opportunity to upgrade to a modern walk-in closet that neatly stores all of your clothes gently and accessibly. Here some strategies to consider when you're looking to give your closet a re-boot.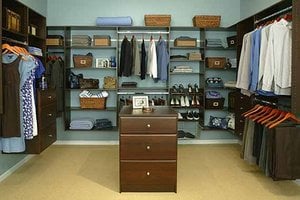 Layout and space requirements
A walk-in closet should be at least 7 by 10 feet, and preferably 10 by 10 feet if both halves of a couple will be using it. That gives you space to line two or three walls with shelves, cubbies, and poles, and the elbow room to reach them easily. For added convenience, include about 3 by 3 feet of floor space for a chair where you can perch to put on socks and fold laundry. And, if possible, leave enough room in the middle of the closet for setting up a folding luggage table, so you can lay open your suitcase when you're packing for a trip.
Options for storage and organization
You could, of course, just move your existing dresser into your new walk-in, but that isn't the best way to store clothes. You can only see what's on top of each drawer, and trying to pull a shirt from the bottom of the pile always leads to a jumbled, wrinkled mess.
A far better option is a closet-organizing system. These storage units have an array of compartments, each designed for specific pieces of your wardrobe, from individual shelves for sweaters to small drawers for lingerie to cubbies for shoes and hats.
The custom-designed closet
Hire a contractor, such as Tilghman Builders, to outfit your closet, and you'll get a custom setup that uses every inch of space. Instead of fiberboard or coated wire, components will be made of high-density melamine or even solid wood.
You'll also have a much wider range of storage options—jewelry drawers, tie and belt holders, shoe racks, hamper baskets—and accessories like roll-out ironing boards, lighted makeup stations, and full-length mirrors that slide out from between the shelves and swivel open for use.
Lighting, ventilation, and other special features
If you're designing a closet from scratch, consider incorporating features that add convenience and value:

Laundry area. A stacking washer and dryer is probably the most desirable master closet amenity you can add. Compact units require about 24 to 27 inches of wall space. You'll also need dedicated electrical outlets, hot and cold water supply, and a waste line, plus a few extra feet of countertop for folding.

Lighting. A dressing room needs plenty of light, but the classic bare bulb with a pull cord won't meet today's electrical codes. Your contractor can tell you the code-compliant options based on the specifics of your project, but good choices are recessed ceiling fixtures or, better still, surface-mounted fluorescent lights with protective covers, which provide the brightest illumination without generating excess heat.

Ventilation. You'll want air circulating in the closet to help expel moisture and odors that come in on clothes and footwear. But unless the exterior architecture of your house demands it, avoid windows in your walk-in. Sunlight can fade colors and degrade fabric.
Instead, include one or more heating and cooling vents to help circulate the air. If that's not possible, you can install a simple exhaust fan, much like what's in your bathroom, to suck stale air from the closet and expel it outdoors.