As the "master" of your home, you deserve a bedroom that's uniquely suited to you. However, more money is spent decorating and remodeling shared living spaces rather than master bedrooms.
If your bedroom has been sitting by the wayside for several years, it's probably in need of a makeover. Here's a look at some of the top design trends for remodeling your master bedroom.
Moving Your Master Bedroom to the First Floor
This trend has been around for quite some time, but it's continuing to grow in popularity. Two-story homes with master bedrooms on the first floor are some of the most popular floor plans for new construction homes.
Why is that?
Eighty percent of baby boomers are homeowners, and two-thirds of them are planning to live out their retirement years in their current home. For several years, builders and remodelers have been aware of this and have made two-story homes retirement-friendly by moving the master bedroom to the first floor. Remodeling your master bedroom can be as simple as updating a room on home's first floor and turning it into a master suite. More extensive remodeling might include a home addition to make space for your first-floor master bedroom.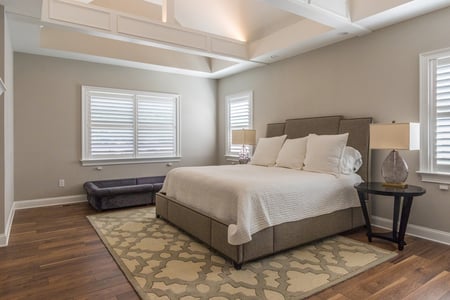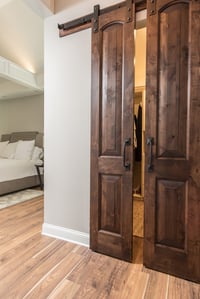 Check out the rest of this remodel from the Collins project.
Remodeling to Create a Master Suite
If your home has multiple, smaller bedrooms, or smaller bedrooms in general, you should consider knocking down the walls between them or a home addition to create more space. Luxurious master suites with walk-in closets and spacious bathrooms are a great value add to homes. We are seeing a huge trend in master suites serving more as a getaway and a place to relax.
A decked out master suite can be just what you need to relax and have your own space, especially if you have other family members living with you. While multigenerational living is great, everyone benefits from having their own retreat and personal space. Plus, who doesn't love a walk-in closet?
Creating Double Duty Bedrooms
While this trend isn't for everyone, it's definitely more common than it used to be. Millennials tend to choose smaller homes, which means they have to utilize all of their available living space by adding office space, storage and more. Their creativity for space-saving designs has spread to larger homes and other generations.
Master bedrooms are typically the largest bedroom in a house, leaving room to add some additional usefulness to an area once thought of exclusively for sleeping.
How can your master bedroom do double duty? Remodeling your master bedroom to do serve more than one purpose doesn't have to break your budget. You can arrange furniture in a way that creates "sections" in your bedroom. However, if you desire a secluded reading nook or home office, adding walls and french doors can create the seclusion you desire without much impact on your room's floor plan.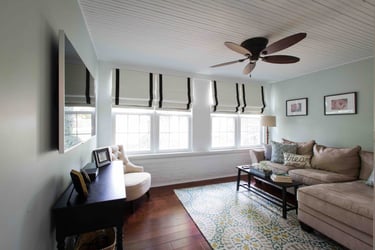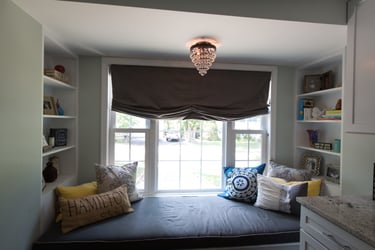 Bold and Bright Master Suites
Minimalism has dominated design trends for quite some time. Now, it's making way for just the opposite - big, bold, and loud.
Why not have some fun remodeling your master bedroom! Patterned wallpaper started gaining more popularity in 2017. We certainly don't see this trend slowing down anytime soon. Striking colors and large patterns are a daring choice for any room, but they can provide a warm and comforting ambiance in a master bedroom.
Bold and darker colored walls have started popping up in more master bedrooms as well. In fact, this trend hasn't kept to just the master bedroom of a home. More kitchens, bathrooms, and home exteriors have started displaying darker color pallets.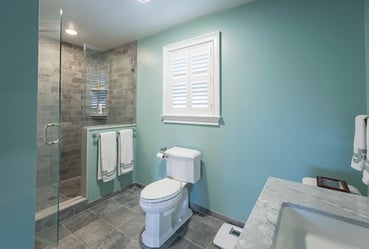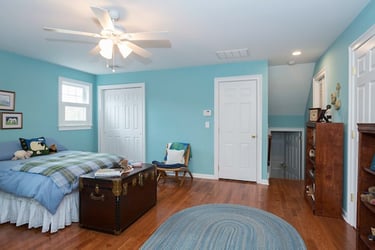 Check out the rest of this Buttonwood project.
Anything goes!
Your master bedroom is for YOU. It should reflect the design style that you find most appealing. Don't follow trends that you're not comfortable with, and don't be afraid to try an out-of-the-box design that you like. Remember, remodeling your master bedroom should be all about you.
Tilghman Builders has experience helping families throughout Bucks County, PA and Montgomery County, PA remodel their homes. View our portfolio or contact us to get started remodeling your master bedroom today!