Once your kids move out or you start planning for retirement, are you going to stay in your current home or downsize? If you're planning to stay in your home, this blog is for you.
Some people call this aging in place, we call it staying in your forever home. However, we've read in a recent study that an often overlooked aspect of "aging in place" is preparing your home for your future. You may love your home and your neighborhood, but are there updates that need to be made now that the house is a little quieter?
A study by Harvard's Joint Center for Housing Studies reported that less than half of homeowners over age 55 who plan to renovate in the next three years are focused on completing home renovations to prepare for their retirement.
This could be a mistake.
"The time to do renovation projects that will help you age comfortably in your home is when you don't yet need those features," says housing design expert Marianne Cusato, who prepared the HomeAdvisor Aging in Place report. "If you wait until something happens it ends up costing you more, and the work done often looks like it was quickly done."
Fortunately, getting your home ready for the future doesn't have to be a major undertaking. There are several small projects that you could potentially do yourself. These include swapping out doorknobs for levers, installing sensor faucets, and adding a pull-down seat and grab bars in the shower.
For homes that require larger-scale projects, a builder will need to be consulted. Here are four home renovations for retirees that can help get your home ready for your retirement.
1. Create an Owner's Suite on the First Floor
If you live in a two-story home, walking up and down a flight of stairs can become a burden in the future. One way to minimize the impact of stairs is by moving your bedroom to the first floor. Obviously, a home renovation project of this size will need to be well thought out and be completed by a reputable builder.
If you have space on your first floor that can be converted into a master suite, this can potentially save you money. If you don't currently have space on the first floor, consider a home addition to make space for your master suite.
2. Make an Easy Entry into Your Home
If you have steps leading to your front door, the obvious solution is to install a ramp. We understand that ramps don't always add to the curb appeal of your home. An alternative solution is to build an inclined walkway. If your home only has two or three steps leading to the front door, a gradually inclined walkway with a handrail can be used in place of a ramp. This provides a retirement-friendly feature without sacrificing curb appeal.
To minimize entryway issues, and add some great living space to use in your newly earned free time during retirement, consider an expanded porch or deck. Adding a deck can increase your home's livable square footage and provide easier access and maneuverability for wheelchairs and walkers. From a builder's perspective, adding a ramp to a deck is easier to build and less intrusive to your home's aesthetic. Plus imagine sitting on your porch with your family enjoying a beautiful afternoon!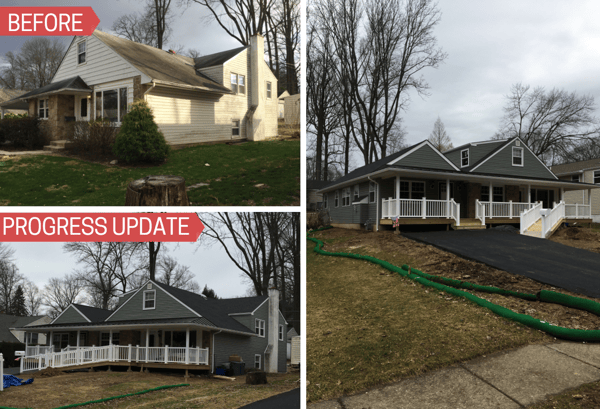 Learn more about this project in Montgomery County, PA here.
3. Widen Your Doorways
This is a relatively small, but immensely helpful home renovation project. Interior doorways are commonly built about 27-28 inches wide. Should you need the help of a wheelchair in the future, doorways will need to be at least 32 inches wide. Adding these few extra inches to the doorways in your home will help you move around your house comfortably.
With these changes, you will also need different doors. Wider doorways need wider doors. If your home cannot accommodate the needed extra space, we suggest pocket doors or sliding barn doors that don't take up extra square footage and are very easy to maneuver. Plus, they look great!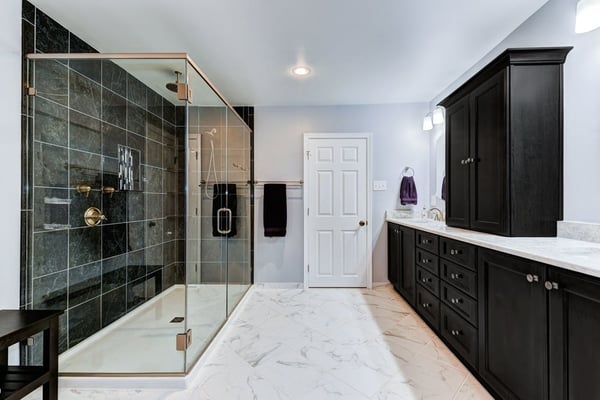 See more from this Hidden Pond project here.
4. Install Non-Slip Floors and Ramps
The availability of stylish non-slip flooring has improved over the years. If carpet isn't your cup of tea, consider slip-resistant vinyl that comes in a variety of colors and patterns - including wood grain. Also, consider installing ramps inside your home for easy room-to-room access. For example, if you have a sunken living room or a few steps leading into your garage, ramps can provide wheelchair and walker accessibility.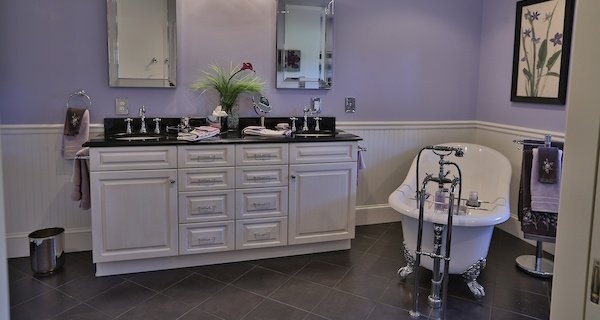 See more from this Hidden Pond bathroom remodel here.
This is especially important in bathrooms and kitchens, where you use water the most. Check out our ideas for better bathroom functionality. You'll want to have a bathroom and kitchen where you will have everything you need without having to climb step stools or reach high up.

Need help financing your home remodel?
For homeowners 60 years or older, some home renovations for retirees could be eligible for a tax credit up to $30,000. The credit can be used for projects such as installing non-slip floors, installing ramps, and more. Additionally, we have a budgeting eBook that can help you determine how much you should be saving for your home updates. Be sure to contact our team with any questions you may have. We will be happy to provide you with our expert opinion and a price estimate for your project.