"Universal Design" simply means common-sense design that accommodates all users - not just the elderly or disabled. If you're adding a new bathroom, adding UD features ensures that your bath is comfortable, safe, and will adapt to any lifestyle changes.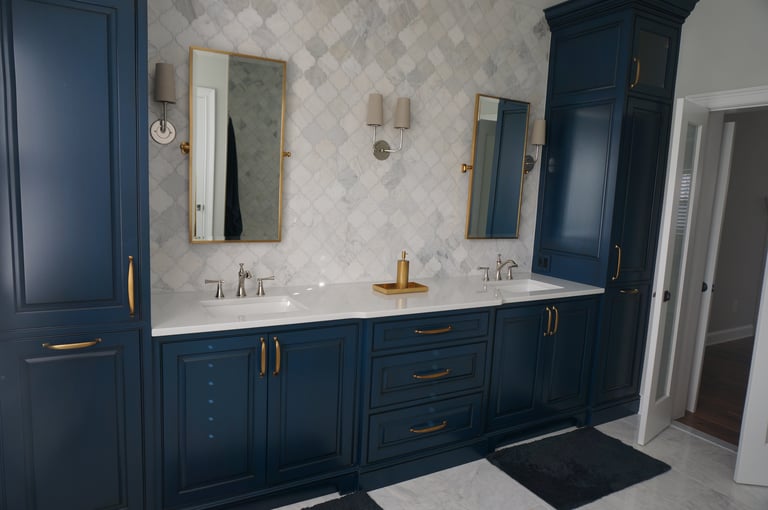 Universal Design is for Everyone - Especially When it Comes to Bathrooms
"No one ever asks me for universal design features up front," says Los Angeles bathroom designer Sarah Barnard. "But I recommend them to every single person I consult, even if they're 25 years old."
Contemporary universal design features are aesthetically pleasing — even hip. "A bathroom with universal design doesn't have to be ugly," Barnard says. "In fact, a well-designed accessible space can be spa-like and luxurious. There are attractive high-end finishes out there, such as luxurious grab bars with beaded escutcheons. They're not like the grab bars in public restrooms."
Essential Bathroom Features
Most universal design features are simply modifications of products and design specifications that you would consider for any bathroom space.
1. Deliberate Doorways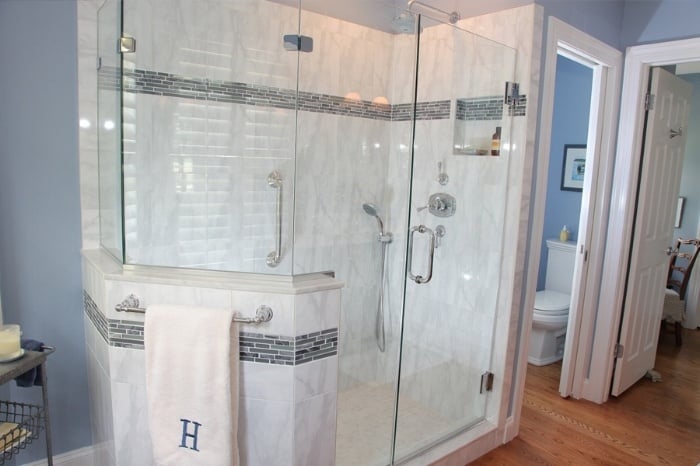 We all need bathrooms, and all bathrooms need doors.
A 30- or 32-inch-wide interior door is considered standard, but universal access requires 32 inches of clear space when the door is open, which usually means specifying a 36-inch-wide door. Be sure to check how much space a larger door requires when it swings open (toilets don't get along with bathroom or shower doors). Bathroom doors should swing outward.
Don't have room for bigger doors? Consider barn doors or pocket doors.
BARN DOORS. Barn doors are attached to a track above the door frame and are great for adding some rustic aesthetic with very minimal space. They don't have to be expensive either! Use local reclaimed wood or paint some scrap pieces you have from a previous project for a great design feature with added functionality.
POCKET DOORS. Pocket doors are great options when you want to maximize your space for storage or floor plan. Pocket doors solve all of the same problems as barn doors with one huge difference, when the door is open, you can't see it. It is a great way to add space and not detract from the rest of the room's design.
2. Feelgood Flooring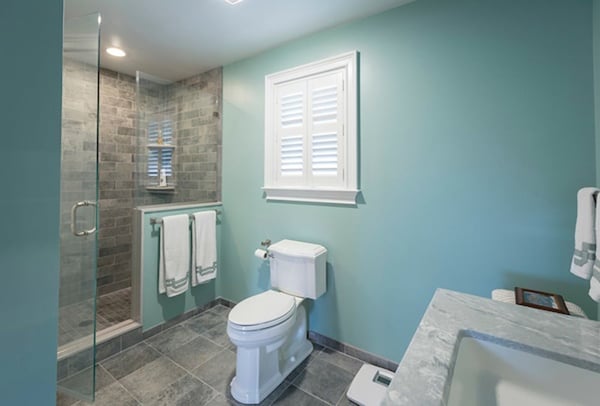 Bathroom flooring trends are all over the place these days. With such a variety of materials to choose from, your possibilities are endless. Here are some of the factors we consider when helping clients pick their bathroom floors.
SLIP-RESISTANT TILE. In a room that almost exclusively involves activities using water, floors do get slippery. Ceramic flooring tile has a jargon-y rating called a COF — coefficient of friction. All that means is how resistant the tile is to slips when wet. A COF of .60 or above is safe for bathrooms and meets or exceeds safety requirements of the Americans with Disabilities Act. Slip-resistant tile doesn't cost more than tile with a lower COF and the benefits are endless - not to mention they look great!
HEATED FLOORS. Heated floors are great, especially here in PA. When you have beautiful ceramic flooring, the tiles get cold and stay cold. Protect your feet from the winter with heated floors. You can retrofit heating elements, called electric ratiant mats, without having to change your entire bathroom (unless you want to). It is possible to get these installed without making the room smaller by raising the floor and can be very economical on your electric bill.
3. Sanctuary Showers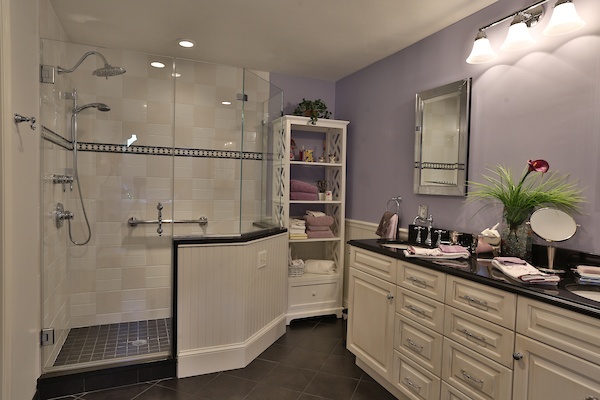 The shower is the place where we get clean and do our best singing. With these features you're sanctuary shower will make you feel like you best self.
HAND-HELD SHOWER HEAD. These versatile shower heads attach to a flexible hose that makes them easy to use while sitting. Many have a 'trickle' or 'pause' setting that allows you to shave or wash your hair without wasting water. They're also good for cleaning the shower stall or bathtub.
CURBLESS ENTRY. With a curbless shower, the entry has no lip and the floor slopes down toward the drain; a swing-out door or a shower curtain keeps water contained. From a design standpoint, the minimalist lines fit seamlessly into a contemporary spa-style bathroom, plus it is so easy to clean!
A curbless shower requires that the shower pan or drain be slightly lower than the surrounding flooring. Typically, your building contractor lowers the shower floor area by trimming the tops of the floor joists (and strengthening them if necessary), then installing a concrete shower floor (for tile) or a curbless shower pan.
PLUS they are wheelchair and other mobility device accessible.
A BENCH. Choosing an acrylic shower surround with a built-in bench costs no more than a plain stall in some cases, and adding a built-in corner bench to a tiled shower will provide additional accessibility and convenience.
4. Fresh Fixtures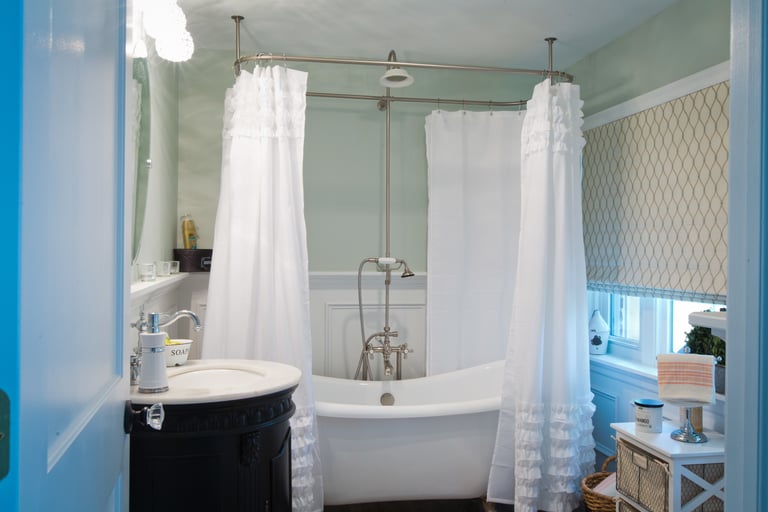 HANDLES AND FAUCETS. Lever-type handles are easier to use than twist-type knobs or handles, and they're especially convenient for kids or anyone with limited dexterity. They're available in as many styles and finishes as other faucets and handles, at comparable prices.
TOILET ACCESSORIES. If you have the battle over who left the toilet seat up at your house, check out no-slam seats and lids. Toilet seats with soft-close mechanisms are great for small children — or anyone who's accidentally banged a seat shut in the middle of the night. Test-drive one in a showroom to see if you agree.
Tall toilets are 16 to 18 inches high compared with the standard 14 or 15 inches. Taller toilets could help your knees and back, especially for older adults. If you are concerned about friends and family with mobility issues, a higher toilet could help. Just make sure you have a stepping stool for the smaller kids.
GRAB BARS. Cover the framing of the entire tub, shower, and toilet surround with ½-inch pressure-treated plywood so that you can install grab bars anywhere on the wall, either immediately or at any time in the future.
Because different health issues require different bar placements, it isn't a good idea to add more than one bar now if you're healthy.
Other Features to Consider:
Wheelchair clearance. Wheelchair-accessible bathroom dimensions require clear space of at least 5 feet (60 inches) in diameter to allow a 180-degree turn. If space is at a premium, consider keeping the room open rather than compartmentalizing the toilet so that a wheelchair's turning radius can be accommodated.
ADAPTED FROM: SOURCE