Are you thinking about building a master suite addition for your home? You'll have to decide if you want to build this addition on your main floor or invest in a second-story master suite.
In this blog, we'll walk you through the top items to consider when deciding whether to add to your master suite on the ground level or second story of your home in Bucks County or Montgomery County, Pennsylvania.
Benefits of a Ground-Level Master Suite Addition
One of the top reasons why homeowners opt for main-floor master suite add-ons is that they often cost less to build than their second-story counterparts. The average cost of a master suite addition is about $170,000, but it can range from $120,000 to $225,000, depending on the finishes, size, and options you choose.
For example, building a second story that contains a bedroom, a modest bathroom, and a walk-in closet can range from $110,000 to $190,000 or more. This is because there's a need to reinforce the weight of the second story, remove and replace the roof, and install a staircase.
Other pros of adding a master suite to your house on the ground level include:
Allows you to age in place gracefully
Creates a sanctuary for yourself and your spouse
Gives older children their own private space
Creates minimal disruption during the building process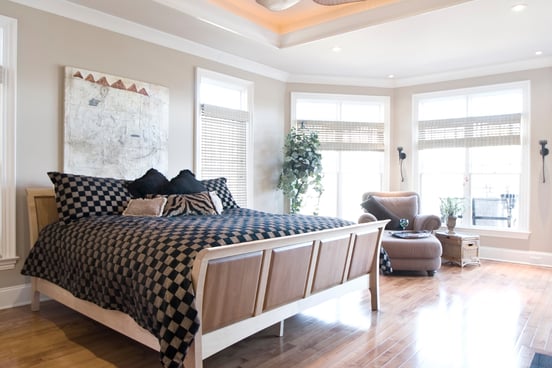 Who Should Have a Ground-Level Master Suite?
Ground-level master suite additions are great for individuals and couples who plan to remain in their homes long-term, as they provide an accessible space that caters to aging in place. Families with small children and older adults who may have difficulty navigating stairs can also benefit from this type of addition.
Moreover, there is an increasing trend toward first-floor master suite addition plans, driven by homeowners choosing to stay in their homes longer and those caring for aging parents. The added benefit of having a main floor guest suite for out-of-town family and friends further adds to the appeal of this home addition project.
Who Shouldn't Have a Ground-Level Master Suite?
Depending on your existing floor plan, adding a master bedroom and bathroom on the main floor may not make sense. This is especially true if your master suite addition requires building out and expanding the footprint of the home with a new foundation.
Here are some circumstances that may make that difficult:
Your yard is too small to accommodate a main floor master suite addition
You have children and don't wish to reduce their outdoor play area
Keep in mind what your neighborhood currently looks like when deciding if a ground-level master suite makes sense for your lifestyle. If no other homes have second stories, then you likely won't risk overbuilding for your neighborhood by expanding your first-level footprint.

Benefits of a Second-Story Master Suite Addition
Second-story additions offer several advantages over first-floor master suite additions. The biggest benefit is that you'll completely separate your public and private living areas. That means there's a reduced risk of a guest venturing up to the second floor and exploring.
A more obvious advantage is that if you choose a full second-story addition, you'll double your home's square footage, which will increase its overall market value. You'll also be able to design your second floor to your exact specifications and won't reduce your outdoor living space.
Additionally, there is no need to install a second foundation.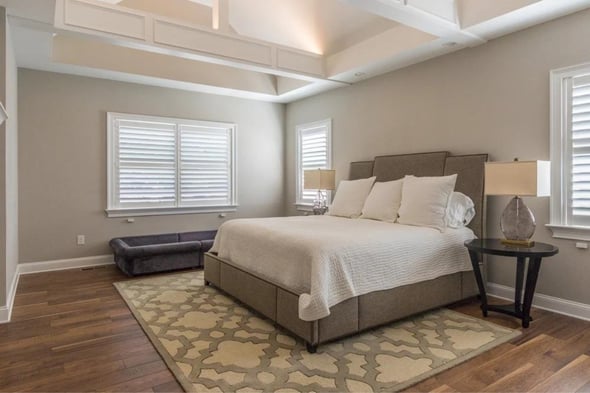 Who Should Have a Second-Story Master Suite?
Second-story master suite additions are great for growing families who need extra space and for those whose lot isn't large enough to accommodate a first-floor addition. It's also a great idea if the majority of homes in your neighborhood have two floors, especially if you plan to sell your home in the future in Bucks or Montgomery County, Pennsylvania.

Who Shouldn't Have a Second-Story Master Suite
The biggest drawback of a second-story owner's suite addition is the slight disruption to your current living space during construction and the big price tag associated with the roofing.
Adding a master bedroom to the second story of your home requires removing and rebuilding all or part of your home's roof. Your ground-level floor may also need structural reinforcements to support a second level, which can further increase the cost.
As we mentioned earlier, you'll also want to look at your neighborhood in Bucks County or Montgomery County, Pennsylvania. If no other homes have second stories, that could mean you won't recoup as much of the cost investment if you decide to sell your home.
You'll also need to discuss finding a place for stairs, which will take square footage from the main level.
Ready to Start Your Master Suite Addition Project?
Now that you've weighed your options for your master bedroom suite addition, will you go with a ground-level or a second-story owner's suite?
Either way, our experienced design team can help you plan your project from its inception to its completion to ensure you get the master suite that you deserve and makes the most sense for your family's season of life.
Ready to get started? Request a free home renovation estimate today.