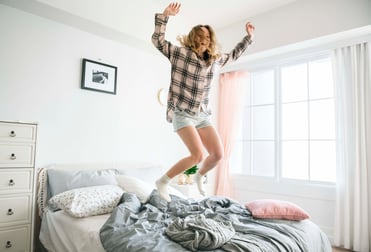 Let's talk about your bedroom. Houzz says if you are like most people, the last time you updated your master bedroom was more than 10 years ago.
Your bedroom is your bedroom, the master bedroom. It can be anything your time, space and budget allow. It's the one room in your house that needs to fit your needs and no one else's - well, maybe your spouse or partner's. It's the place where you can pick any paint color, finishes, design styles, window treatments, furniture, layout and more! Because your bedroom is your private living space, unlike the kitchen or living room, you don't have to worry about making it functional for your whole family or for guests. It's all about you!
We have some ideas that will help you maximize the space you have in your bedroom to make it feel like a true master suite!
Remember, if you are remodeling or redecorating your master bedroom, you don't have to conform to trends or what you've seen on tv. What works for others, might not work for you. To make sure you are headed down the right path, do a little prep before picking your new layout.
Pre-Bedroom Redesign: Gather your inspiration.
Make a Pinterest board or save magazine clippings to make a list of all of the things you want to include in your updated bedroom. When you make a list, you are less likely to forget something - making you far more pleased with the end result of your project.
Check out our Bedroom Ideas Pinterest board!
Now that you have some inspiration, it's time to start making some decisions.
Decide what you want to get out of your master bedroom remodel or redecorating project.
Especially if you are working with an interior designer, architect or contractor for your project, you will want to be able to clearly communicate your vision for the space to make sure your bedroom project turns out just the way you want it. This will help you and any other people involved stay on track (and on budget).

Do you want your bedroom to be a place where you can hide away from the rest of the family? If you say yes, we won't judge you even for a second. Many families in our Bucks County and Montgomery County neighborhoods have moved multiple generations into their homes and with many relatives in one house, everyone needs their own space every once in a while.
Do you want your bedroom to be a place where you can get work done? If you need a quiet place to be productive, whether you are working from home, paying the bills or working on a project, your bedroom is a great place to set up shop.
Do you want your bedroom to be a place where you can unwind after a long day? Maybe you need a more private place to roll out your yoga mat, read a book or watch TV. This is your space to design to fit how you want to relax! You can leave your yoga mat or meditation book out if you want to, since it isn't a community area. You can sit in your favorite reading chair with a glass of wine.
Do you want your bedroom to be a romantic getaway for you and your significant other? Be selfish! Set aside some time for each other with your in-home getaway. What size bed do you need and how many bedside tables? How much storage will you need to accommodate both of your belongings to keep the room tidy and stress-free?
Relaxing, energizing, minimal, organized, warm, cool, trendy, modern, bright, dark - it's up to you!
Check out these decorating trends from Houzz!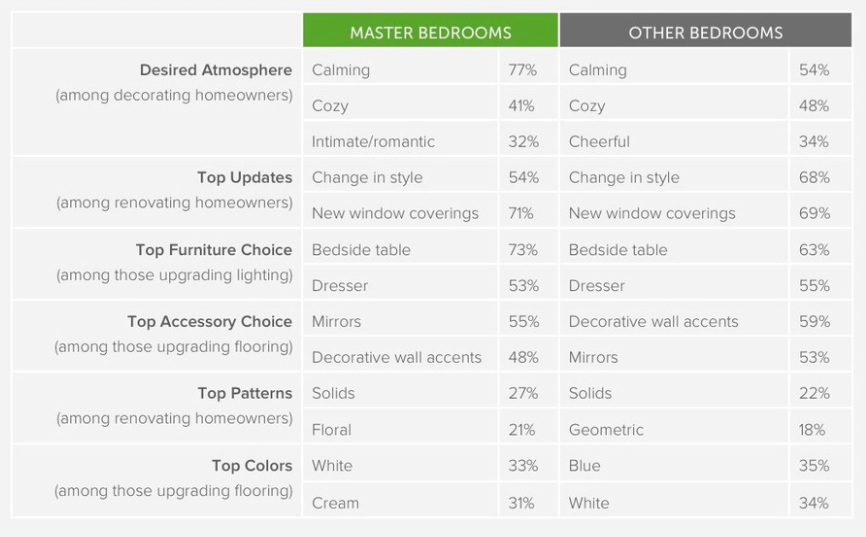 Master Bedroom Idea 1: Test what will fit in your space.
Make sure you measure your bedroom. This way you know exactly how many square feet you are working with. If you are working with an interior designer, architect or contractor, get them to make a floor plan to scale so you can test different furniture sizes.
Here is a cool example of a design we did to help a recent client visualize their bottom floor remodel: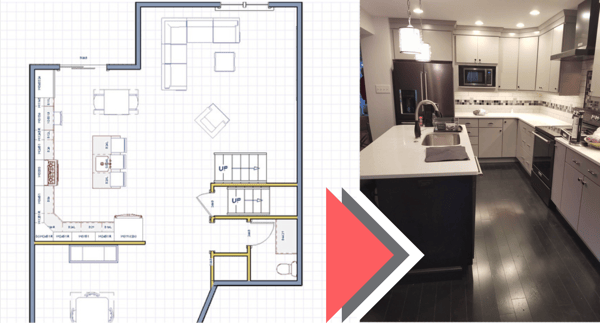 Master Bedroom Idea 2: Treat your bedroom like a studio apartment.
When you think outside of the box with your bedroom design and layout, you don't have to conform to the standard "square room with a bed on one wall" design. Play with different designated spaces for different purposes. Check out these awesome ideas from The Front Door - Furniture Row (we like it so much we added it to our Pinterest board):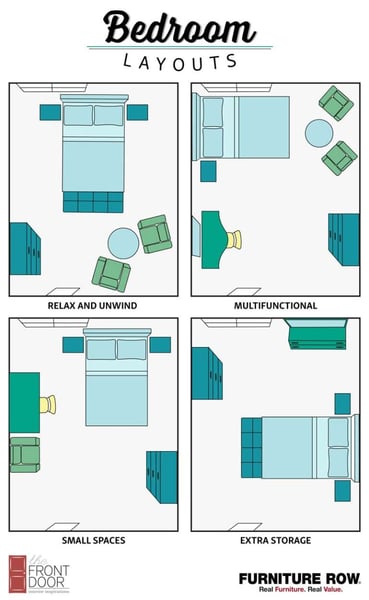 Image Credit: The Front Door - Furniture Row
Master Bedroom Idea 3: Play with your bed and area rug placement.
Your bed and rug should complement one another. Depending on the size of your room, the right arrangement can make your room feel more spacious. Putting an area rug slightly under your bed can add depth while leaving high-traffic areas of your floor open and continuous. Even if you have wall-to-wall carpet, a rug can add personality and comfort to a bedroom - without taking up any precious real estate. Check out these great ideas from MyDomaine (also on our Pinterest board).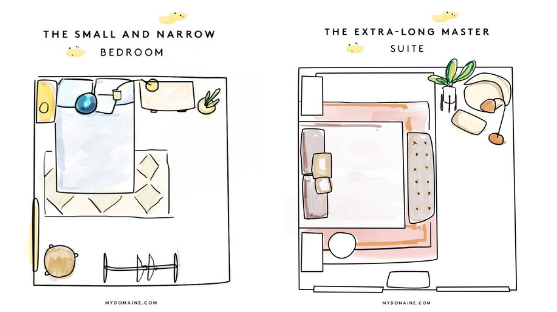 Master Bedroom Idea 4: Don't forget to plan for storage.
When it comes to laundry, are you a folder or a hanger? No matter what your preference is, closets and dressers and shelves and cubbies all take up space, and take away from your enjoyable square footage. Some people opt to take space away from their bathroom to accommodate a walk-in closet. Some people opt for a dresser in the bedroom and a small closet to keep the bedroom feeling bigger. This is all personal preference. If you are already cramped, moving a wall or two can really change the flow and functionality of your living space.
Master Bedroom Idea 5: Do a master suite addition.
Does a change in layout not solve your problems? Do you need more space? You are not alone - and adding more space to your master can be easier than you thought. Whether your bedroom is on the first or second floor, an addition to your home can give you the space for a full suite that will make your heart sing!
Check out these remodeling trends from Houzz!
If you can't go out, go up! If adding an addition off the side of your home or moving walls isn't in your game plan, consider building up into your attic or adding on a partial second story addition.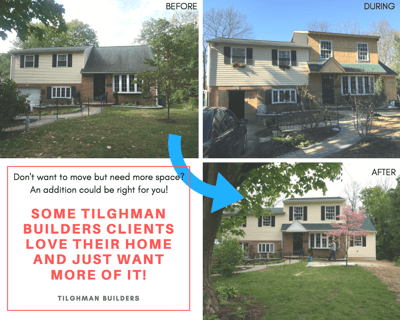 The Tilghman Builders team wants to help you fall in love with your master bedroom. If you have questions about designing, planning or building your next project, we're here to help.
As a Design-Build firm, we have experience in all aspects of your home improvement project from beginning to end to help make sure your vision becomes your reality!
>> Learn more about what it means to work with a Design-Build firm (and how much money it could save you) here.