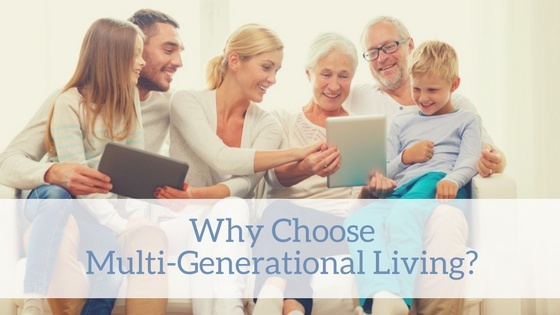 A whopping 60.6 MILLION Americans live in multi-generation households in 2016. Why is this fad on the rise and what would ever make you want to forgo living alone, basking in the my-kids-have-gone-to-college light and give up the peace? Well, as the saying goes, if 60.0 million Americans are doing it - maybe you should, too.
You may find yourself asking the question, "Why would I need more space?" It can seem like a long-way off that your parents would need to move in with you or you doubt your adult child will ever come back home - but these circumstances are happening more often than not and families are having to plan for their futures much earlier. Here's a breakdown on why you would think about needing more space.
Reasons You'd Need More Space
Parents are aging
Adult children moving back in
Want to stay in neighborhood but your family is growing
Price is a factor in future plans
You're looking for your "Forever Home"
If any of these factors apply to you, be sure to download our ebook, "Under One Roof: Remodeling for Multiple Generations" for more information on a multi-generational home and if a remodel is right for you.
Parents Are Aging
The baby boomer generation is inching closer to retirement and will ultimately have an effect on the nation's housing market. With the rise in price of child-care and nursing homes it may benefit the household to have grandparents live in the home to help raise the children and take care of the home - while keeping an eye on them while they age. A majority of Americans are dependent on their extended family and we are starting to get back to large family households that used to be the norm 50 years ago.
Adult Children Moving Back In
Ah, the age of millennials. More often than not they are graduating college and instead of venturing out on their own, they're moving back home and back in with their parents. What makes this the new trend? Well, skyrocketing tuition costs, the loans they will have to pay back, and the rising cost of living is making it harder for millennials to become financially independent. A recent Pew study found that for the first time in 130 years, living with parents is now the most popular living arrangement for 18 to 34 year olds. It may be wise to prepare for the possibility of your children moving back in after they graduate.
"Forever Home"/Want to Stay in Neighborhood
You love your house that you've lived in for 10 years and you know you want to stay here for years to come, and potentially even have this be the house that your kids move into - but the spiral staircase won't age well with you, and you're running out of room to put everyone. Instead of shelling out the dough to move neighborhoods and leaving what you've come to love and cherish - you can choose to remodel your house to accommodate everyone in it plus more who could move in at a later time. This boosts the value of your home and lets you stay in your home "forever".
Price is a Factor in your Future Plans
Let's be honest, when is price NOT a factor in future plans? However now that you're beginning to have kids, your parents are getting older, or your kids are moving back in, you're most likely thinking of price and how to be financially responsible for your family. Renovations can be cheaper than moving and buying a larger home in a different neighborhood, not even including the hassle to find a suitable neighborhood in a good location. Your newly renovated home will also increase the value if you ever do decide to sell.