There's nothing better than coming home after a long day, especially when you have the master suite addition of your dreams to enjoy. The bedroom and bathroom renovation are both important parts of the master suite project, but it's just as important to design a closet that completes the space and gives you the storage you need (with a little aesthetic flair, too).
We work with our closet design partners to help our clients get the custom storage they need. We know that great closet space is key to making daily routines easier, and to add some extra luxury to your master suite. And just in case you need a little inspiration, below are some essential and simple closet design ideas to include in your master suite addition project.
1. Eye-Catching Organization
Functionality can look good! Pieces like woven or wicker baskets are perfect for storing and organizing your stuff and fit with either an open or closed closet design (plus, they look nice too). Baskets come in all colors, shapes, and sizes according to your individual closet needs. Both affordable and great for keeping things clean, baskets can either be hidden away or kept out on display.
2. All About the Shelving
Open shelving is one of the key components for walk-in closets. By utilizing open shelving, you're not only creating organization space where you can easily view your clothing options, but you're also utilizing personal items as décor! For example, floating shoe walls. Show off your killer heel (or sneaker) collection and save space at the same time.
3. Set the Mood with Lighting
No one likes a dimly lit closet, right? With lighting choices, such as recessed lights and decorative ceiling fixtures, you can easily brighten up the space. But, if you're looking for something a little more elegant, consider free-standing decorative lamps or hanging chandeliers. They make beautiful choices for larger closet spaces!
4. Include Seating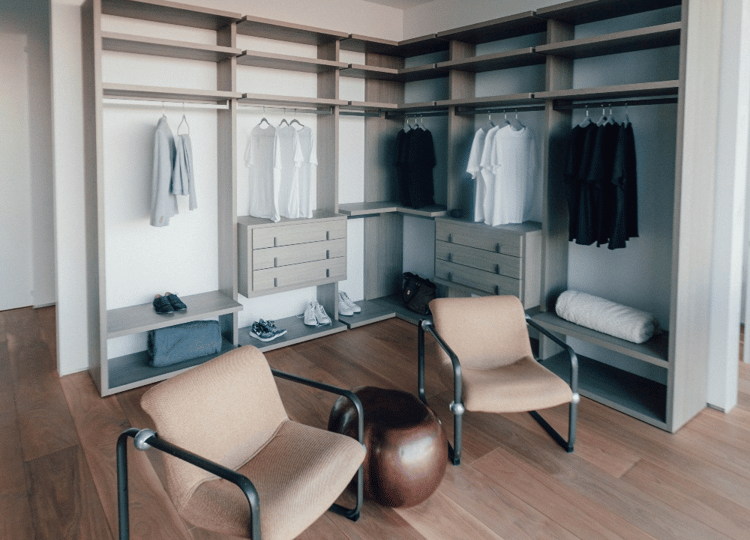 Another important closet design idea for your master suite is adding the perfect accent seating. Elegant seating choices such as small sofas, benches, fluffy stools, and chairs (like in the photo above, which (side note) is not one of our projects) are great for aiding you during your getting-ready process and putting on shoes. Plus, they look nice and add a feeling of extra comfort in your closet space.
5. Don't Forget the Vanity
Closets are all about getting ready, and a master suite walk-in closet should have everything you need and more for every step of that process, and that includes a vanity! Including a vanity space in your walk-in closet is a feature that can help make your master suite look beautiful and feel more complete. Again, pairing functionality with dream closet design features is ideal.
6. Add Design Accents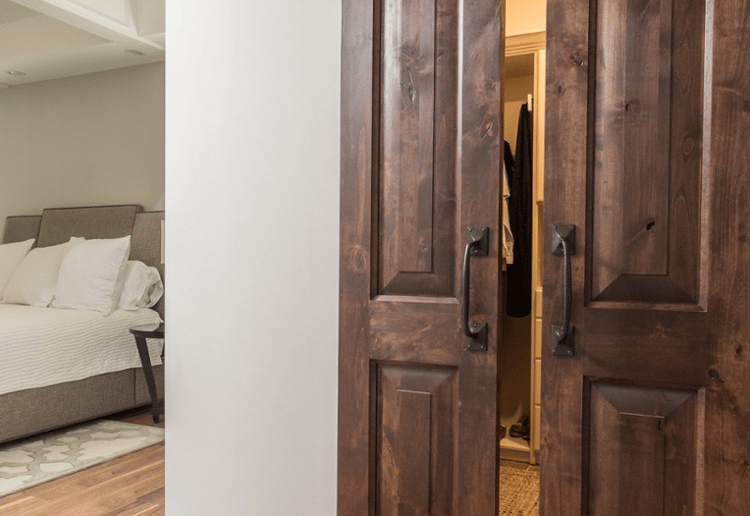 Depending on the shape and size of your master closet, décor can vary but should not be overlooked. A simple runner down a narrow-shaped closet or elegant, abstract artwork on the walls is a great touch to making any closet feel like a continuation of your personal oasis. Between mood lighting and personalized décor, you won't know where the bedroom stops and where the closet begins.
However, if you would like some separation and want to avoid the traditional white painted door, consider a more unique look with sliding doors or French doors.
7. Keeping it Open
By keeping your dream closet as open and airy as possible, you're maintaining a relaxed feel flowing from space to space in your master suite addition. Keeping a closet open will motivate you to stay organized, and displaying pieces of clothing, shoes or décor even classier. Also, by choosing an open closet, that makes your living area feel even more spacious.
8. Display Your Favorites
Another top trending closet design idea is to feature key pieces of your wardrobe and accessories on display. Displaying beautiful jewelry on a jewelry wall or elegant perfumes and hats are the perfect display décor for your dream master closet. This is also a great way to keep the closet clutter-free and looking beautiful.
With these eight master closet design ideas, you're ready to create the perfect space to store your beloved belongings in a trendy and functional way and put the final touches on your master suite addition. Searching for the right contractor in Pennsylvania to bring your vision to life? Contact us today!
Looking for more information before embarking on your master suite remodel project? Grab your copy of our must-have master suite remodel guide to learn about budgeting, design choices, and more!