Bathroom remodels can be big projects. They require a lot of planning and work, and with that, comes a cost. We don't say that to scare you, we simply want to be honest. Instead of looking at it as a large cost, see your bathroom remodel project as an investment. Whether you want to remodel your bathroom in your master bedroom or you are looking to add a bathroom to your in-law suite for your aging parent, putting money into a bathroom remodel will result in an improved home everyone can enjoy!
How to Choose a Contractor to Remodel Your Bathroom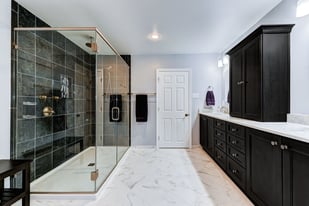 We know it's tempting to select a contractor solely based on the price they are quoting you. The cheapest option may be best for you in the short-term, but you have to ask yourself: what are you sacrificing with the lower price tag? On the flip-side, paying more doesn't always mean you'll get your money's worth. We want you to be able to make an informed decision when it comes to your next home improvement project, and you should choose a local contractor that has specialized in PA bathroom remodels for years. (You want to make sure your contractor understands the specifics of your area and has a vast portfolio of other successful projects they've completed!)
Still not sure what contractor you should work with? That's where we come in. At Tilghman Builders, we've been working on homes in Montgomery County and Bucks County, Pennsylvania for decades. We know what a bathroom remodel project should cost in Eastern Pennsylvania, and we have been a true source of remodeling wisdom for many of our past customers.
Once you've selected your contractor, it's time to start thinking about the costs associated with your bathroom remodel project. Here is a breakdown of how much a bathroom remodel costs in Montgomery County and Bucks County, Pennsylvania.
How Much Does It Cost? Pennsylvania Bathroom Remodel
How much does a bathroom remodel cost in PA? The truth is, it depends. The price tag of your bathroom remodel project depends on the work you're having done. For a small hallway remodel, the cost ranges from $20,000 to $28,000. If you're creating a luxurious master bath, the price ranges from $50,000 to $70,000. Again, this is dependent on the experience of your contractor and the materials you pick.
Pro Tip: Ask about doing the remodel in phases if you want to keep costs low. Some bathroom projects will have to be done at the same time, replacing the flooring and sink for example. If work can be done in multiple parts, you can spread the overall cost over a longer period of time.
Questions Ask Yourself: Bathroom Remodel Cost
Remodeling a bathroom takes a custom design to properly evaluate your needs and budget. Here are some questions to ask to better estimate your project's final cost:
"Do I want a half-bath to a full bathroom?"
"Do I need new flooring or countertops?"
"What is the plan for plumbing? Is the sink staying put?"
These are all valid questions and there's a balance you need to consider when planning with a contractor. Iron out your priorities within your budget. You may have to swap out some fixtures or you might have to select a different type of tile. An experienced contractor will help you prioritize your project to make sure it gets done and on budget.
Need help picking out what materials to use for your bathroom project?