Although choosing the perfect vanity for your bathroom may seem like a quick, easy way to freshen up the guest powder room or perk up the bedroom master bath, there are a few things to consider before you begin that can drastically help the entire process go much smoother and save you time, money, and frustration.
Tilghman Builders has done hundreds of bathroom remodels and renovations, and no two are ever the same. But by looking at the following considerations before you begin, your new vanity will be both aesthetically pleasing as well as functional for your needs.
Consideration 1: Who Will Be Using It?
There are some basic questions that need to be answered during the planning phase for any type of home update. In the case of bathroom vanity upgrades, the biggest question that should be answered at the start is who is going to predominantly use the bathroom, and for what purpose.
For example, you don't need a bathroom vanity with a double sink if the space is more suited for a small guest bathroom purpose. However, if you are looking for a vanity for the master bathroom, and you and your spouse will be getting ready for work in the mornings at the same time, a double sink vanity may be a requirement you have.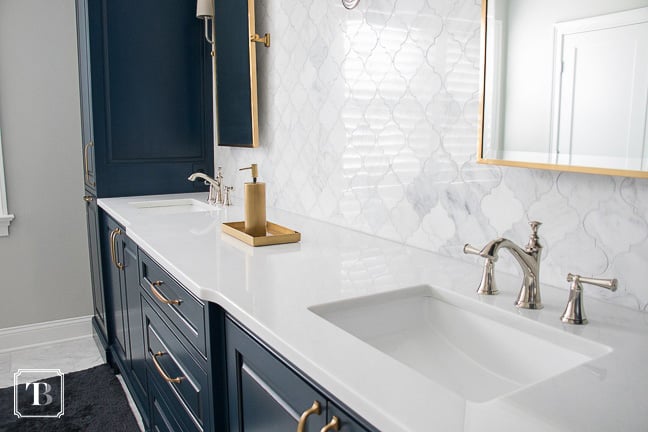 Do you need storage, or would you sacrifice that to have a larger sink bowl? Try to think about the bathroom's primary purpose before starting your list of possibilities so that you can add the vanities that meet your criteria and ignore the rest.
These same considerations are true for the faucet that is attached to the vanity. Will this be in a location that is used by children? Are there any special considerations for individuals that may have disabilities to make it more functional? Do you love a particular vanity but aren't crazy about the faucet that is attached?
Thinking about these questions before beginning the selection process can save a lot of effort and time when choosing a bathroom vanity.
Consideration 2: Location, Location, Location
Just like in real estate, the location of existing plumbing is a crucial consideration. Location is second only to determining the functionality criteria when it comes to your new bathroom vanity. While moving plumbing isn't impossible, it does take additional time and can be very costly.
There are two types of plumbing styles when it comes to bathroom vanities: wall-mounted and floor-mounted. If you are planning on keeping your new vanity where the existing one is located, you have a much easier job ahead of you.
If you want to change up the location of your vanity, or move from a wall mount to a floor mount (or vice versa), make sure to discuss this with your contractor before committing to a particular style.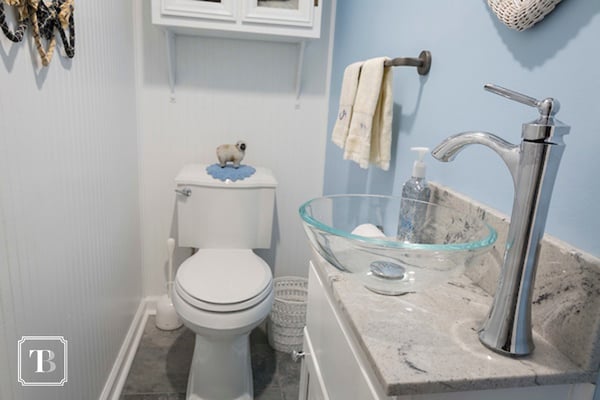 Budget and time expectations are often the two factors most homeowners take into consideration first. If you are contemplating a change of location for your new vanity, it's a good idea to get cost estimates for the added expense of moving plumbing structures.
Working with a design-build contractor (a special type of contractor that handles both the design and build-out portions of a remodel) is highly recommended for any renovation project, but it is particularly important for those projects where major structural changes are planned.
Consideration 3: Potential Obstacles
Is anything in the bathroom currently hitting the existing vanity, such as a shower door, the bathroom door, or storage cabinet doors? How wide is the bathroom door frame? Looking at what you do and don't like about the particular fit of the current bathroom vanity will ensure you avoid those issues once the new one is installed.
Another area that a lot of homeowners fail to take into consideration when looking to update their existing bathroom vanity is the placement in relation to the toilet and shower, as well as the path to both of those areas.
Does the current vanity location impede the flow of traffic, or make accessing the toilet or shower awkward? Are you or others bumping into the vanity or other objects in the bathroom because of the current placement of the bathroom vanity?
Taking stock of the pros and cons of what you have now will help enormously when it comes to eliminating trouble spots and creating a more comfortable, functional bathroom.
Consideration 4: What to Know About Sizing and Measurements
The old adage "measure twice, cut once" will serve homeowners well when it comes to new vanity measurements. There are three main measurements that need to be assessed when deciding on a replacement bathroom vanity:
Height: This will vary, again, depending on the purpose that you want the vanity to serve, and who will be using the bathroom area the most. Are you looking for something more child-friendly? These vanities are usually referred to as "standard height" vanities, and measure between 30 inches to 32 inches. These are most frequently found in bathrooms designed for children and/or guests. Vanities referred to as "comfort height" are usually found in master bathrooms and are often around 36 inches tall.
Width: Width is what most people think of as the length of the bathroom vanity. Most vanities are between 24 inches and 60 inches wide, so the space available in your bathroom will help determine whether there is additional countertop room next to the sink or room for a double sink.
Depth: If you are looking for more storage space, you will want a vanity that has a greater depth than others. Most bathroom vanities have a standard depth of between 17 inches and 24 inches.
Of course, if your budget and the space allow for it, you can have a bathroom vanity custom designed for you to whatever specifications you prefer. The only word of caution on custom-designed vanities would be to measure both the front (or back) door you plan on bringing the vanity through and the bathroom door.
Consideration 5: Materials and Construction
When looking at the range of available materials for constructing your new bathroom vanity, there are several options, and all of them play a part in its complete look and strength.
For the cabinet portion, the most common materials used in bathroom vanities are solid wood, particle board, medium-density fiberboard (MDF), and plywood. There are some budget-friendly options, but generally speaking, the stronger the material, the more expensive it will be.
Solid wood, often oak, is usually considered the most durable option, with medium-density fiberboard a good "middle-of-the-road" option that is both functional and affordable.
For the vanity top, the cabinet material needs to be strong enough to support the materials being used. For example, if you want a marble countertop and sink style, plywood or particle board may not be sufficient to support the weight of the stone. In turn, you will need to choose a different cabinet material or a different countertop material.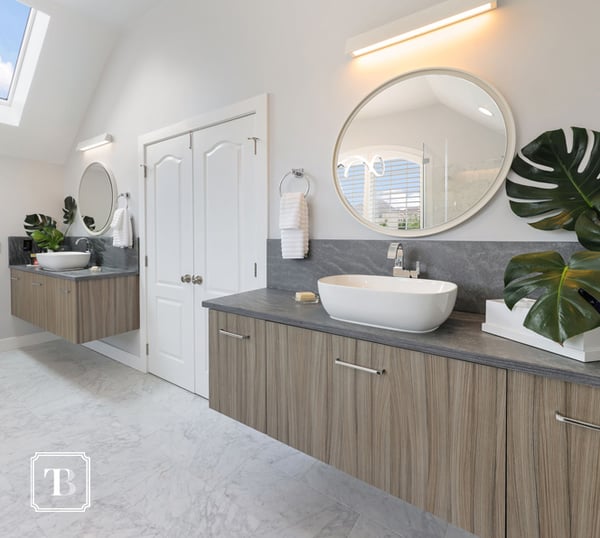 Similarly, if you want an abundance of storage space, the materials you choose need to be able to handle the weight of whatever you're storing. This is especially important to keep in mind when it comes to drawers, as some of the more inexpensive options are made of lighter, thinner materials and may not support the weight of a multitude of bathroom supplies.
Elevate Your Bathroom With a Custom Vanity
While the above considerations may initially seem daunting or overwhelming, when taken step by step they will dramatically reduce the amount of time and stress necessary in giving your bathroom that fresh, updated look that only a new bathroom vanity can achieve.
Whether you're in the market for a single sink vanity, double vanity, or something out of the ordinary like a floating vanity, Tilghman Builders can help you choose a vanity that suits your aesthetic and functionality needs. Contact our team today to turn your dream bathroom vanity style into a reality.