Bathrooms have one of the highest returns of any home remodeling project for your home value and improving your day-to-day life. In our Montgomery County and Bucks County homes, our bathrooms are starting to look and feel quite outdated. (Check out our before and afters for proof!) Fortunately, we have experience in this area and have some great renovation ideas that will help you update your bathroom without breaking the bank.
If you're ready to turn that outdated bathroom into a luxurious space, here are some tips for sprucing up your bathroom on a budget where you will surely see the benefits.
Start with the walls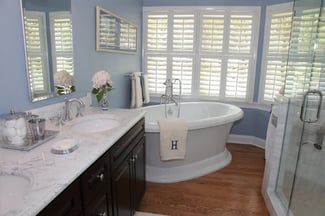 Is your bathroom decorated with outdated wallpaper? Don't worry, in our neck of the woods, 60s-, 70s- and 80s-patterned wallpaper (or even older florals) was all the rage, but styles have changed.
Few things can update the look of a room quite as easily as a fresh coat of paint. Give your bathroom walls some love with an updated paint color. Small bathrooms will benefit from a lighter color palette that will help the space look larger.
Update your vanity
Replacing a vanity can make a huge difference in your bathroom! But if a total gut isn't part of your budget, don't worry. You don't have to buy an entire vanity to freshen up your bathroom. Replacing the countertop and fixtures or painting the cupboards and drawers of your existing vanity can be a great facelift and budget saver so you can allocate more towards other projects you can't do, yourself. If you're going for a modern bathroom, consider a bold color choice for your vanity and simple, sleek handles.
Take a look at your mirror
What's the first thing you look at when you walk into your bathroom? Probably yourself... in a mirror! Mirrors are often the focal point of a bathroom, so have some fun with it! When you are remodeling your bathroom, you don't have to have a beautiful, fancy mirror. Your contractor can frame just a plain piece of mirrored glass to match the rest of the bathroom for much cheaper than buying a new designer one. However, if you are trying to make a quick, easy change, a nice mirror can transform the space to make it look bigger and brighter by reflecting more light around the room.
Consider a backsplash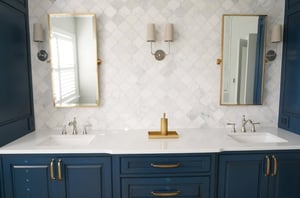 That wall behind your vanity or sink deserves a little TLC.
If you already have tile there, is it dating the look of your bathroom? Pink and green were popular tile colors used in the 50s and 60s, and are still present in many homes today. These cosmetic changes can help you design something more fitting for this decade.
If you don't already have a backsplash on that wall, adding a tile above the vanity can make the simplest bathroom look more interesting (and make it easier to clean). If your family's morning routine involves a tornado of toothpaste, hair spray, face wash and other splatters, an easy to clean tile can make your life so much easier! You can save in your budget by using leftover tiles from your floor, shower or other projects and you don't have to extend the backsplash all the way to the ceiling... but it sure does look nice.
One fixture at a time
Replacing all of the fixtures in your home at once can be quite expensive. By tackling one room at a time, you can find nice fixtures that fit your budget. Brass fixtures are a popular choice for a modern look. Stainless steel is classic and timeless. Whichever finish you choose, make sure to coordinate all of the fixtures in your bathroom to give the room a cohesive look.
Small tweaks not making the difference you wanted?
If you need help budgeting for your next bathroom remodel project, you should talk to a contractor in your area for estimates and other planning resources (like our Budgeting Guide below).
Always use a trusted contractor to get the job done exactly how you envisioned. Check out our portfolio of custom bathroom renovations that we've recently completed, and contact us to discuss ideas for your bathroom!