Bathrooms are typically the smallest room in a house. But given how often we use our bathrooms, they need our love and attention just as much as larger rooms. Even in a small bathroom, there are plenty of breathtaking and space-saving designs that can turn this tiny room into a therapeutic spa.
Make a BIG impact with these small bathroom remodel ideas.
Add light to the room
Bold and darker colors are certainly trending these days, but they are not ideal for a small space. Your small bathroom needs to feel open, light, and airy in order to add the illusion of space. To accomplish that, consider lighter colors for the walls, fixtures, and flooring.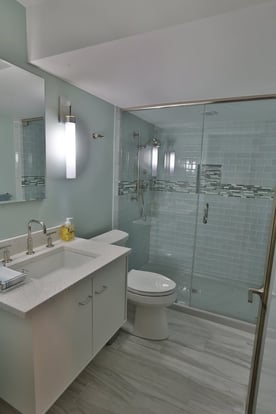 See more of this project here.
In addition to the color palette, consider adding actual light - sunlight. Adding windows or a skylight to your small bathroom remodel will help bring some space-creating sunshine into your room.
Utilize all space - from floor to ceiling
Short and even standard ceiling heights can make a small room feel even smaller. Expanding the ceiling height to 9 or 10 feet can visually open a small space.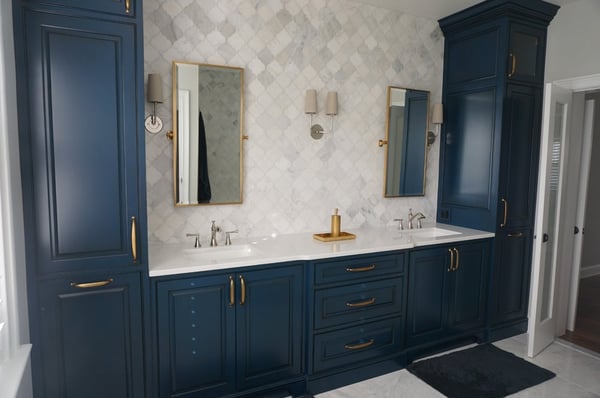 See more of this project here.
Draw attention to your tall ceilings by using your wall space from floor to ceiling. Cupboards and shelving that follow the height of the walls create a dramatic presence in a small room, making it appear larger. If your small bathroom doesn't have enough space to accommodate cupboards and shelves, try using floor-to-ceiling tile or patterned wallpaper to create the same effect.
Use a large mirror
Just because your bathroom is small doesn't mean your accessories need to be small as well. Mirrors accomplish two things in a small space that help it feel larger - they reflect light and they stretch space by reproducing it. A larger mirror will have a larger impact in the room.
Your mirror can extend beyond the edges of your vanity and can extend up the wall towards the ceiling. If the space above your vanity isn't suited to accommodate a large mirror, consider adding a wardrobe mirror on another wall.
Get creative with your vanity
There are SO many different ways to use a vanity to create space. In a small bathroom, a large rectangular vanity with drawers and cupboards underneath can disrupt the room's flow. Open up your bathroom's floor plan by finding creative ways to use your vanity, without sacrificing storage.
Floating vanities are fixed to the wall without touching the floor and create the illusion of space by allowing light to pass underneath. Vanities with open shelving, as opposed to cupboards, benefit from the same space-creating lighting effect.
If you prefer having drawers and cupboards as part of your vanity, consider one that has rounded edges. Round edges can add a delicate feel to a room, whereas square edges create a sharpness not often desired in a small space.
Choose sliding doors over swinging doors
If the idea of a wet room isn't your style, you'll need to add doors to your shower. Many glass showers are equipped with a convenient door that swings open and closed. While this is a great option for many rooms, it can be difficult to achieve in a small bathroom.
Swinging doors require uninterrupted space in order to fully open. Sliding doors, however, can more efficiently use the space already allocated for your shower. If sliding doors aren't your style, you can always opt to use a shower curtain in place of doors.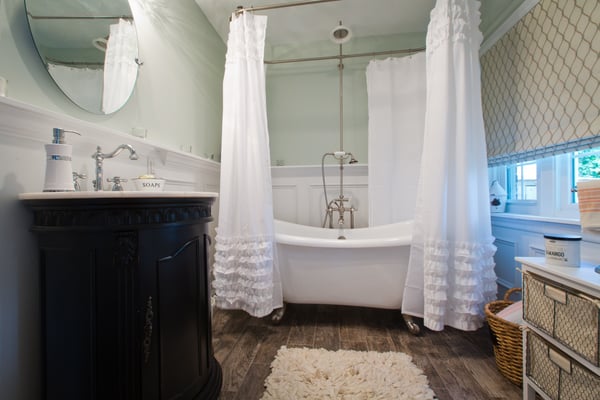 See more of this project here.
Consider your budget for a small bathroom remodel
The best part about small bathroom remodels is that they don't have to cost much to make a big difference. Get quotes for your desired changes, and be sure to read our free ebook: Budget for Your Home Remodel with Confidence.