Everyone benefits from improving their home's bathrooms, whether you're in your forever home or you plan to sell in the future. You want to make sure any changes you make help the overall value of your home. That's where we come in. Let's take a look at some bathroom remodel project that won't break the bank but will increase your home's value.

Bathroom Remodel Return on Investment
Get in the right mindset. Take an honest look at what you have and don't let your personal preferences cloud your judgment. If you plan on selling your home, you need a bathroom that appeals to everyone, not just you. With that being said, here's where your bathroom remodel project should be focused. Improve on these high-return areas.
Your Shower and Tub
Keep quality and design at the top of your priorities list when remodeling your shower and tub. Quality because we're dealing with running water. You should look at fixtures that can handle hard water and are resistant to rust. Your shower fixtures should last a very long time. Invest in well-made fixtures now so you don't have to replace them, or worse replace your floors from a leak.
Design is important because that's what will catch people's attention. Feel free to think outside of the box. Look at different tiles to see what really strikes you. Check out massage panels, body sprayers and similar types of fixtures that can bring comfort and luxury that can transform that part of your bathroom.
---
Click here to use our free guide to planning, budgeting and financing your project.
---
Your Toilet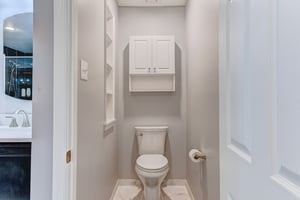 See more from this Petty Lane Bathroom here.
Your toilet doesn't have to be anything other than a toilet, but you can make a money-making investment in this area too. People are looking for efficient toilets.
DID YOU KNOW: older toilets can use four times more water than new, eco-friendly toilets.
Worth taking a look at, right?
The Vanity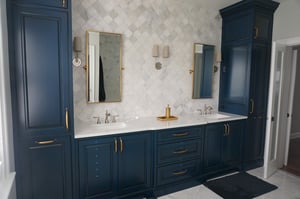 See more from this Collins Bathroom here.
Similarly to the shower or tub, you need a high-quality and well-designed vanity. There are endless modern and traditional styles to choose from.
While there is no must-design you need to follow to add value to your home, think style and functionality when upgrading this part of your bathroom. Things to consider:
Storage
Counter space
Accessibility
Lighting
Placement
Don't skip over the details
No matter what design or style you bring to your new bathroom, you need to be sure everything matches. Make sure the smaller, additional hardware matches with the rest of the room. Something as little as a makeup mirror can add to the appeal of a new bathroom.
A worthwhile investment
If you're on the fence about working on your bathroom, go for it! You'll be happy you did it in the short-term AND long-term. You'll see the investment pay off or you'll also have a new bathroom to enjoy.
Not so sure? Click here to take our quiz to find out if you are ready.