The best bathroom materials look good, work well and last a long time. No one wants to repeatedly renovate a bathroom. We're always interested in helping homeowners, so we wanted to provide a list of materials you should consider when building a beautiful, functional and durable bathroom for your dream home.

How to Select Bathroom Materials
A bathroom renovation project is an investment. We want to make sure you're spending money in the places it matters most. Think about what gets used the most in your bathroom, and that's what should be prioritized.
Best Bathroom Flooring Material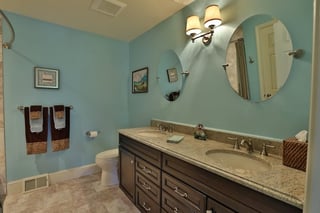 Like other areas of the bathroom, you have a lot of options to choose from here too. Functionality might be more important than the look. Choosing the wrong type of flooring can lead to water damage and unexpected costs.
Vinyl tile flooring is the most popular option for a homeowner's new bathroom. It's cost-effective and practical. There was a time when vinyl tile was seen as cheap and looked down upon, but not anymore. This flooring option has come a long way in the aesthetic department.
Vinyl tile can be made to look like porcelain or ceramic. If you're interested in the real thing, keep in mind those materials aren't comfortable to the bare foot. Those materials are also more expensive and more difficult to install.
Vinyl plank flooring doesn't noticeably raise the height of your floor and is an option if you're interested in the look of a wood floor. This material is easy to clean and durable but it's not great against standing water.
Check out the rest of these Douglass Bathroom photos here.
Best Bathroom Countertop Material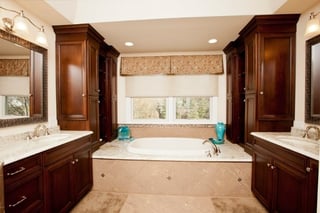 Beauty and practicality are the goals here. Quartz and granite deliver in both categories. Laminate is a reliable cost-effective option.
Consider stainless steel or concrete if you want your countertop and sink to be the same material. Another benefit of this is the literally seamless design and installation.
See more pictures of this White Ash Bathroom here.
Best Bathroom Sink Material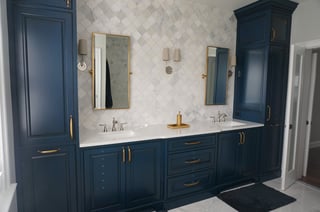 The standard look for a bathroom sink is classic white porcelain, however, the material can dent and chip. You might be interested in a stainless-steel bathroom sink. They're becoming more popular for a reason. Stainless-steel sinks are great against stains and damage. The material also costs the same as porcelain.
See more from this Collins Bathroom here.
Best Bath and Shower Material

Wall materials should be water resistant, decorative, easy to clean and durable. Glass or ceramic tile is 100% waterproof if installed properly - so make sure you have a professional helping you.
For bathtub materials, there are plenty to choose from:
Fiberglass is the least expensive option. It's light-weight, easy to install and can be repaired if it gets chipped. The downside is that it's not very durable.
Acrylic bathtubs have similar positives as fiberglass tubs but are more expensive. The material allows for several shape, size and color options.
Enameled steel is another common material and not very expensive. It's durable and easy to clean and the material is heavier than acrylic or fiberglass. However, enameled steel bathtubs can chip and rust. You also have limited shape options with this material.
Cast iron tubs are built to last. These are tough against chips, scratches and dents. The biggest hang up for some homeowners in having these tubs is the weight of the tub. They're so heavy, they require extra labor and sometimes a reinforced floor. Cast iron tubs are also pricey - but oh so beautiful.
See more from the Drew Bathroom.
Best Bathroom Fixtures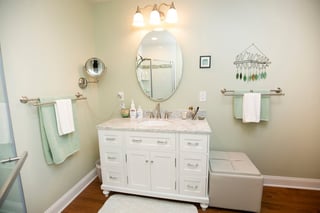 New bathroom fixtures have a wide range in price. The sink and faucet will likely see the most use in your bathroom - so it is very important not to skimp here. You should be looking for faucets that stand up against wear and tear and are also pleasing to look at. Here are some materials to consider.
Chrome - Standard chrome-finish bathroom faucets are a safe and inexpensive option for homeowners. It's tough but it's not going to last forever.
Nickel - Faucets with a nickel, either satin or brushed, are a step above chrome-finish faucets. They're more expensive but last longer, plus they typically look better.
Stainless - A good stainless steel faucet will be all metal and very durable. Like nickel faucets, these can get expensive compared to chrome-finish versions.
Take a closer look at this Friar Bathroom here.