One of the best things about a kitchen remodel is planning the perfect kitchen design for creating a beautiful entertainment space! When company comes over, do your guests tend to congregate in the kitchen, no matter the size, regardless of the other rooms in your home?
Creating a Space with Beauty, Function and Perfect for Entertainment
A home could have the coziest living space, a stylish den and the smallest kitchen, yet still, guests will find themselves huddled around the kitchen table! When remodeling, it's always in the homeowner's best interests to choose a kitchen layout with a modern kitchen design that's great for entertaining.
Perfect for Multi-tasking and Multi-Functions – the Kitchen Island
A factor to consider when creating an entertainment space in a modern kitchen design is the size of the room you are working with. While any kitchen big or small can be turned into a room fit for entertaining guests, the size will affect the amenities included in the design. It is important the layout is accommodating for both functionality and modern kitchen design elements.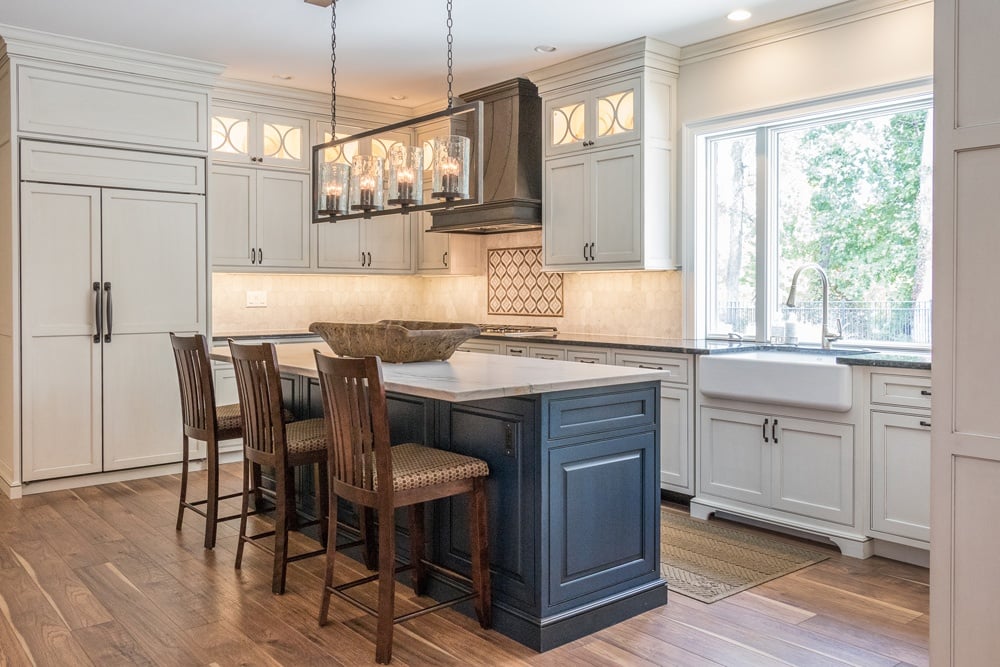 A popular space-creator doubling as an efficient "workspace station" is a kitchen island, and for good reason. Kitchen islands are perfect for casual guest seating with any style barstools, either permanent or portable depending on the size and layout of your kitchen, and are perfect for cooking and entertaining at the same time. Kitchen islands can be created for your space, to give your kitchen that high-end feel for meal prep and entertaining, regardless of your kitchen layout or design.
Check out our other ideas for the perfect for a home chef here.
Don't Break Your Back Cleaning Your Backsplash
A key part of entertaining is the cleanup. Besides the aesthetic, another key factor to keep in mind during your kitchen remodel is selecting a backsplash that is both eye-catching and easy to keep clean. A backsplash is often a design focal point of the kitchen, creating a cohesive feel with a modern, sleek and intricate touch of beauty.
A few things to consider:
Is the product permeable or porous?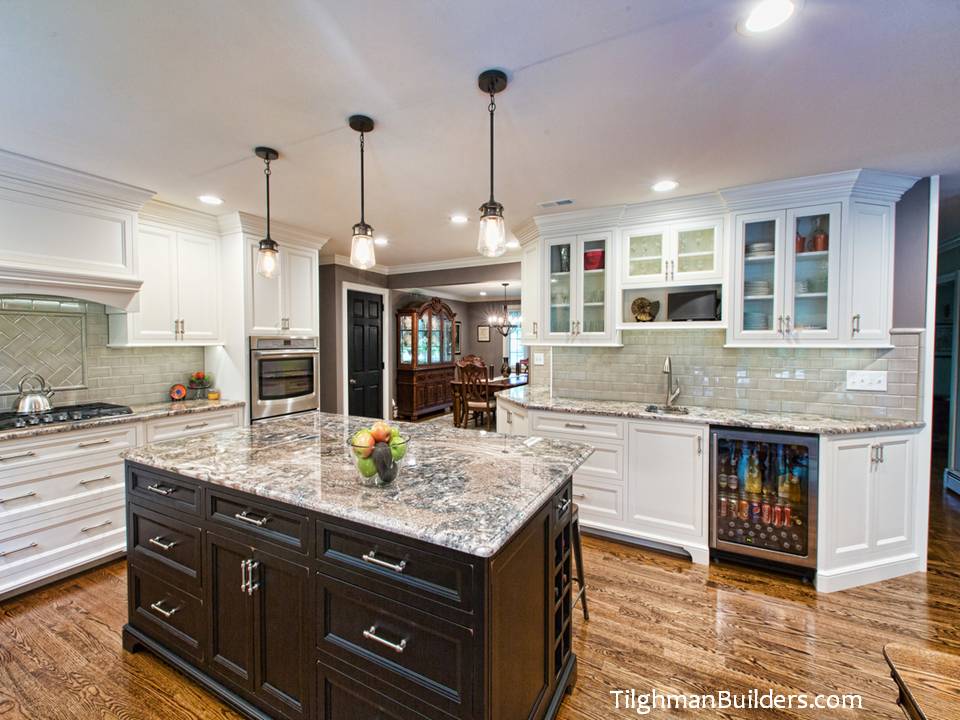 Several brick and stone backsplashes become discolored over time. Other materials can be wiped without permanent staining, and are more efficient in areas near cooking areas.
---
Related Kitchen Design Blogs
29 Clever Ways to Keep Your Kitchen Organized
5 Components of a Long-Lasting Kitchen
Question Checklist: What to Consider Before a Kitchen Remodel
---
Stone
Large, glossy finish stone slabs are amazing materials for a backsplash behind the stove and countertops. Quartz, granite, marble and other stones will compliment your kitchen including efficient cleaning.
Stainless Steel
Stainless steel adds a touch of class to any kitchen and can be easily cleaned to keep it looking brand new. It is available in large panels as well as both large and small tile sizes. Patterned stainless steel is also a great option, which gives beautiful texture to the kitchen area. Wipe away any water droplets or other splatters immediately to prevent spotting using stainless cleaner.
Glass
Large glass sheets used as a backsplash are simple to clean. There are no grout lines to absorb stains. This material can be cleaned with window cleaner in minutes. You can find glass backsplash sheets in a wide variety of colors to suit any style.
Ceramic Tile
Ceramic tile is commonly used as a backsplash material due to its slick surface, eye-catching design and has an easy cleaning process. When using this tile, be sure to seal the grout to prevent any staining. Larger sheets will also decrease the amount of grout that is visible.
Tin
A tin backsplash provides a vintage and classic feeling. This material is available in large sheets or smaller square tiles, depending on the look you desire. Slightly more effort is needed when cleaning these tiles, but with regular surface wiping following cooking, you should have no problem maintaining sleek and beauty.
Perhaps you aren't big on having people over, but who knows what the future will hold for a beautiful family home with an amazing entertaining space! When remodeling a kitchen, no matter the circumstance, it's important to remember that food and drink are causes for family gatherings and guest congregations. Why not create a fabulous kitchen, both beautiful and functional? By simply incorporating an open room design, include functional workspaces for eating and drinking, sleek appliances and eye-catching pieces, your home can give family and guests that "wow factor" feeling in your home!
Be sure to check out some of our other kitchen design ideas here too: