One of the best things about a kitchen remodel is gaining more room and functionality. And more room means you can show off your new design that now doubles as a welcoming entertainment space! It is a fact that guests always gravitate toward the kitchen. Even though you could have the most spacious living room and the smallest kitchen, guests will still find themselves congregating around the kitchen table.
If that sounds a lot like your home, but you're lacking the space or flow to accommodate everyone (or even to get through your daily kitchen tasks) it's time to change the layout with an updated kitchen design and transform the room into the perfect space for entertaining. But how do you do that?
Add a kitchen island

Pick the right backsplash and materials

Open up the floor plan

Add a beverage center
Now, let's go into more detail about each of those tips starting with adding a kitchen island.
Perfect for Multi-Tasking and Multi-Functions – Add a Kitchen Island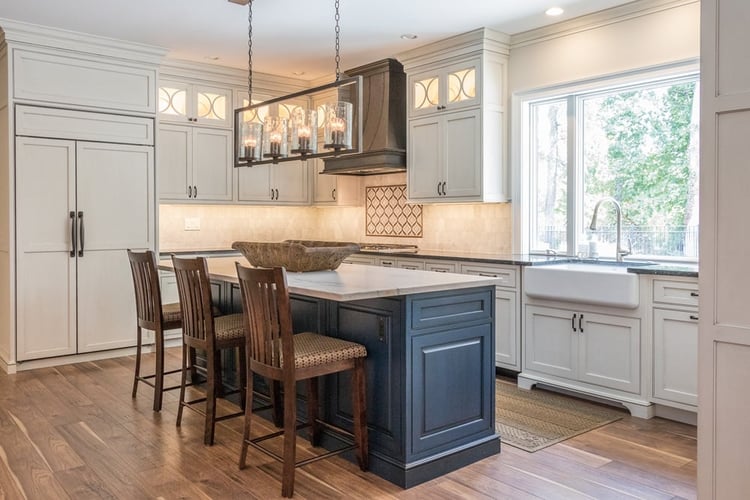 A factor to consider when creating an entertainment space in an updated kitchen design is the size of the room you are working with. While any kitchen big or small can be turned into a room fit for entertaining guests, the size will affect the amenities included in the design.
A popular space-creator doubling as an efficient workstation is a kitchen island, and for good reason. Kitchen islands are perfect for casual guest seating with any style barstools, either permanent or portable depending on the size and layout of your kitchen. They are also perfect for cooking and entertaining at the same time. Kitchen islands can be created for a number of purposes, including:
Additional meal prep space

To give your kitchen an updated look

For serving areas while entertaining

Additional storage
One thing to keep in mind with your island as a part of your kitchen remodel is to acknowledge the overall size of your kitchen. You want to make sure that the size of your island isn't taking over too much real estate to the point where it's hard for you and your guests to maneuver.
But, if you have dreams of a huge kitchen island that makes a statement, and don't necessarily have the space for it in your current footprint, you can always consider an addition or knocking down some walls. In this case, we definitely recommend consulting with your contractor to help you decide which layout option is right for your home and needs.
Don't Break Your Back Cleaning Your Backsplash
A key part of entertaining is the cleanup. Besides the aesthetic, another key factor to keep in mind during your kitchen remodel is selecting a backsplash and countertop material that is both eye-catching and easy to maintain. A backsplash is often a design focal point of the kitchen, and can have a cohesive feel with your home's design style, which doesn't have to stop at curtains and throw pillows. Your kitchen materials can also echo the look of the rest of the house. But in this case, they just have to be more durable.
Will the material easily absorb grease splatter or spaghetti sauce stains?

Is the product permeable or porous?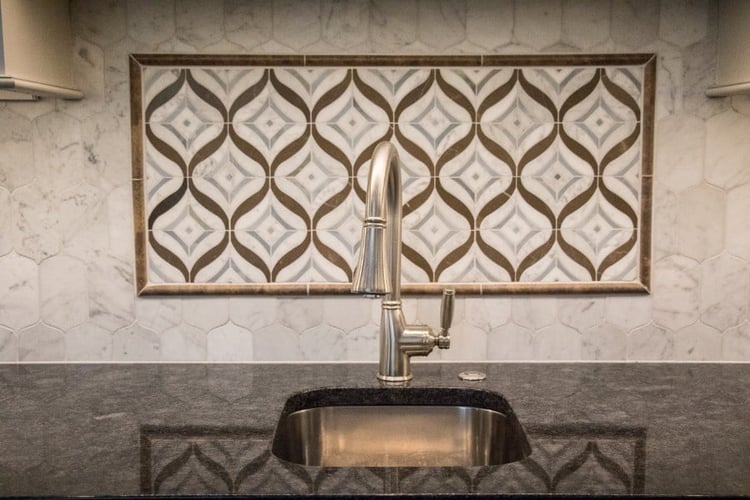 Brick and stone backsplashes can become discolored over time. Other materials can be wiped without permanent staining, and are more efficient in areas near cooking areas, including:
Stone: Large, glossy finish stone slabs are amazing materials for a backsplash behind the stove and countertops. Quartz, granite, marble and other stones will complement your kitchen, including efficient cleaning.
Stainless Steel: Stainless steel adds a touch of class to any kitchen and can be easily cleaned to keep it looking brand new. It is available in large panels as well as both large and small tile sizes. Patterned stainless steel is also a great option, which gives beautiful texture. Wipe away any water droplets or other splatters immediately to prevent spotting using stainless cleaner.
Glass: Large glass sheets used as a backsplash are simple to clean. There are no grout lines to absorb stains. This material can be cleaned with window cleaner in minutes. You can find glass backsplash sheets in a wide variety of colors to suit any style.
Ceramic Tile: Ceramic tile is commonly used as a backsplash material due to its slick surface, eye-catching design and has an easy cleaning process. When using this tile, be sure to seal the grout to prevent any staining. Larger sheets will also decrease the amount of grout that is visible.
Tin: A tin backsplash provides a vintage and classic feeling. This material is available in large sheets or smaller square tiles, depending on the look you desire. Slightly more effort is needed when cleaning these tiles, but with regular surface wiping after cooking, you should have no problem maintaining a sleek and beautiful backsplash.
Open Up the Floor Plan for Extra Entertaining Space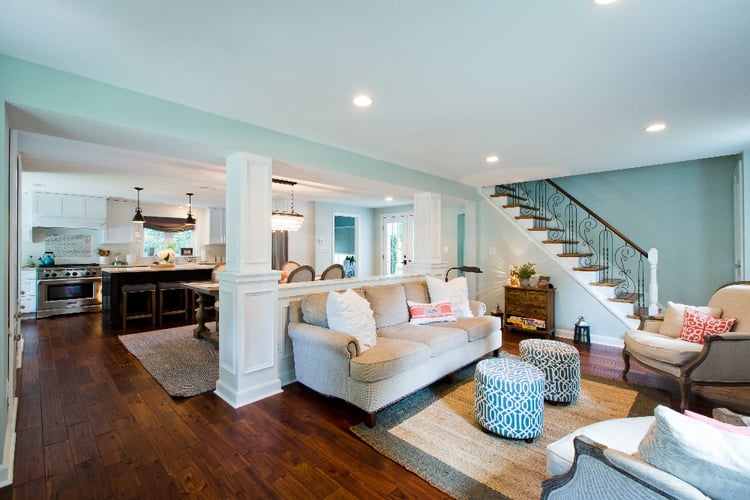 Something that can get in the way of the kitchen becoming the perfect entertaining space is when the floor plan is too closed off from the rest of the house. Guests want to feel like they're still a part of the party even if they aren't right in the middle of the action in the kitchen. By having an open concept floor plan that flows seamlessly from the kitchen to the living room, dining room, or outdoor living space, you not only multiply your entertaining space, you also make sure everyone feels included. Here are a few ways to accomplish an open concept:
Add French doors from your kitchen to your outdoor patio or deck

Remove walls that create barriers to the living or dining room

If the wall you're looking to remove is load-bearing and can't be completely removed without some adding some sort of support, consider an opening and a knee wall (like in the home above), or adding a beam or columns for support
Raise the Bar with a Beverage Center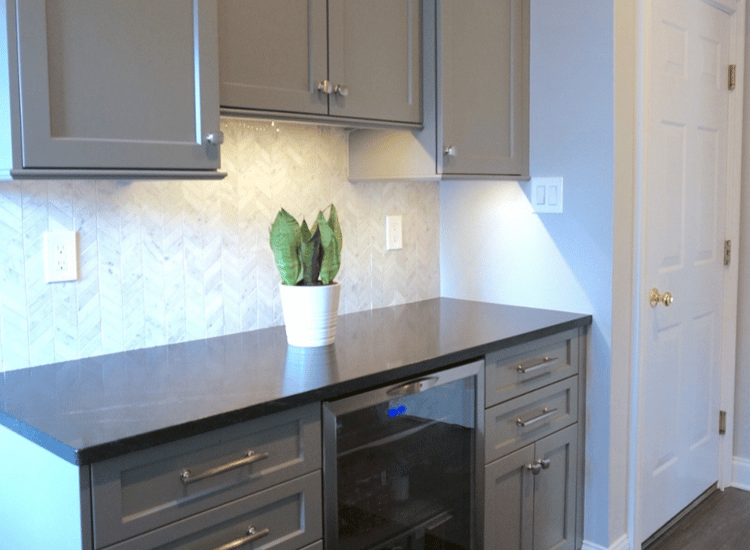 A beverage center is a great addition for entertaining in a kitchen. Not only is it a great place to store your wine glasses, beer glasses and beverages, it also creates a convenient surface to craft cocktails, serve appetizers, and more. By having a beverage center, you also make it easy for your guests to easily find a drink without having to search through your refrigerator, or take up valuable real estate on your kitchen island with a beverage tub.
Ready? Set - Remodel!
When remodeling a kitchen, especially if you like to entertain, it's important to create a fabulous space that is both beautiful and functional. By incorporating an open floorplan, including functional workspaces for eating and drinking, and thoughtful finishes, your home can give family and guests that "wow factor" while still feeling welcoming.
Ready to get started on your kitchen remodel? Contact us for a consultation.
Be sure to check out some of our other kitchen design ideas here too: