Beauty and durability are top necessities in our clients' custom kitchen remodels. Thanks to some of our homeowners' home remodeling FAQs, we've come up with these tips for materials to consider for a functional, stylish kitchen that will stand the test of time.
Durable and Beautiful Kitchen Countertops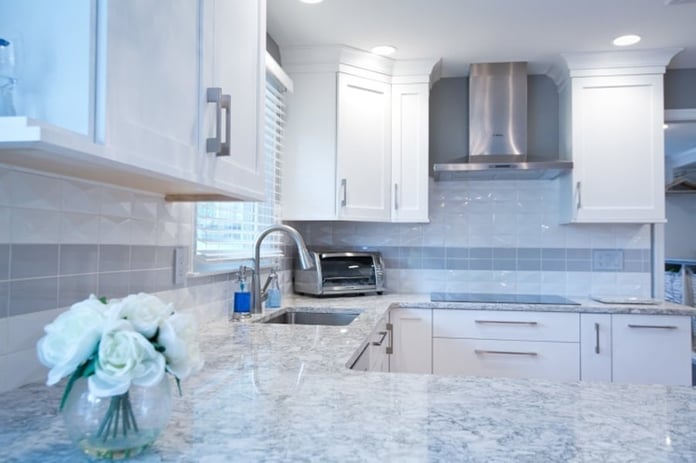 Quartz Kitchen Counters
Counters can take up a large square footage of your kitchen and have the potential to make a huge difference in your kitchen usage. Kitchen countertops are arguably the biggest feature in your kitchen that you will use, touch and clean the most often of any other part of your kitchen. When picking kitchen countertops for your custom kitchen remodel we suggest considering quartz. Quartz countertops are not only beautiful (see image above and more photos from the Green Valley kitchen here) but also very durable. Quartz cannot be damaged by heat from hot pans off the stove or scratched by abrasive scrubbing pads or serrated knives. Because quartz is manufactured, unlike marble and granite, it doesn't have to be sealed to prevent stains or bacteria. As a bonus, quartz is less expensive than marble and its colors and patterns are more consistent, but can mimic any of your favorite granite or marble looks.
For other beautiful materials for your custom kitchen remodel, here's our guide to picking the perfect countertop.
Durable and Beautiful Kitchen Floors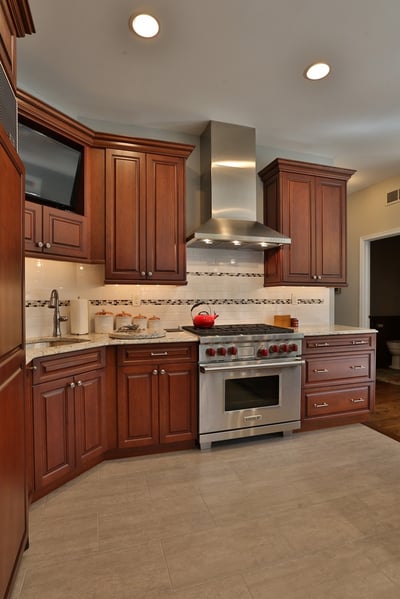 Glazed Tile Floors
Ceramic tiles provide durability and versatility for your custom kitchen remodel. Classic tile and grout is such a simple and elegant look and glazed tile will not let you down. The glazed ceramic tiles, similar to the quartz countertops, are moisture and stain resistant without an extra sealing process. You buy them already glazed so they wipe clean if and when you have a mess to clean. The tile is also nearly impervious to dings and dents and comes in a great variety of styles, colors and sizes to fit your space and design preferences. With these tiles, you can find something on budget and on trend - and keep it for a lifetime. See more photos from this Douglas Kitchen here.
---
---
Durable and Beautiful Kitchen Backsplashes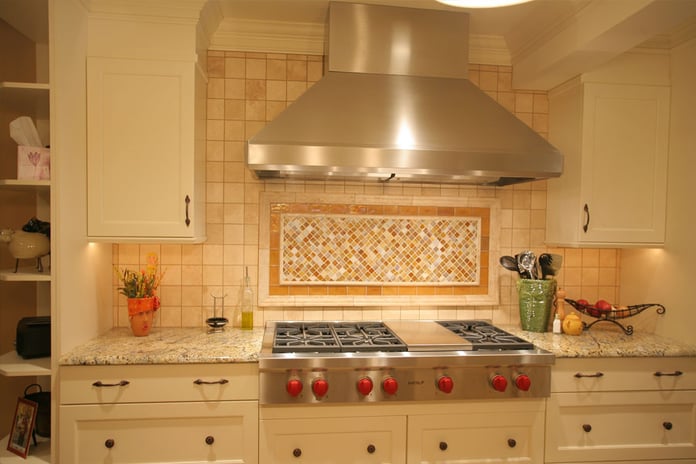 Glazed Tile Backsplash
For an added flair (with easy clean up) we suggest added a glazed ceramic tile backsplash in your custom kitchen remodel project. Ceramic is exponentially more durable than brittle glass tiles. For the same reasons we suggest glazed ceramic tile for your floors, we also suggest them for your backsplashes. If you have a little padding in your budget, look into glazed porcelain tiles for added durability, over ceramic. You may think that backsplashes are simply decorative, but they take a beating from heat, oil, food splatter, scrubbing and more. If your tiles are already glazed (aka sealed) you can simply wipe off the mess after you cook without expensive cleaners and extensive elbow grease. See more photos of this East Ormandy Kitchen project here.
Durable and Beautiful Kitchen Faucets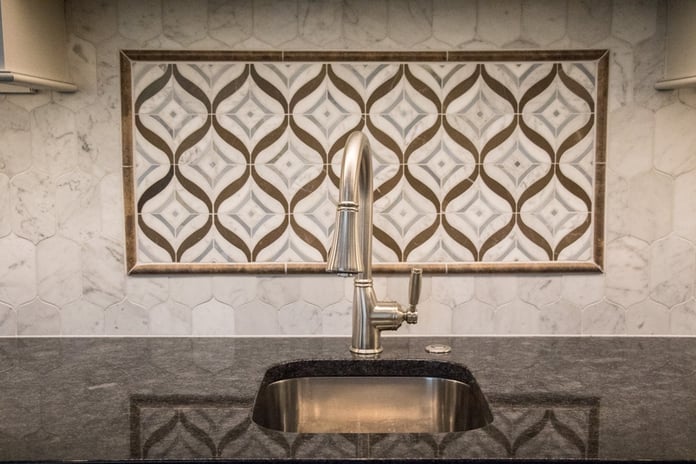 Solid Brass Faucets
Solid brass faucets add a timeless and long-lasting piece that you will use every day to your custom kitchen remodel. Solid brass is not just the plating, it is the core material of the body of the faucet, and it can come in a variety of finishes, from a true brass color, to gold tone and chrome. Solid brass will stand up against hard water corrosion and won't show water spots and fingerprints like plastic, zinc alloy or other plated faucets with matte finishes. Also, ask your contractor if the faucets you are installing in your kitchen remodel or renovation have ceramic disc values. These last longer with a better seal to prevent dripping and squeaking. See more photos from this Collins Kitchen project here.
Durable and Beautiful Kitchen Cabinets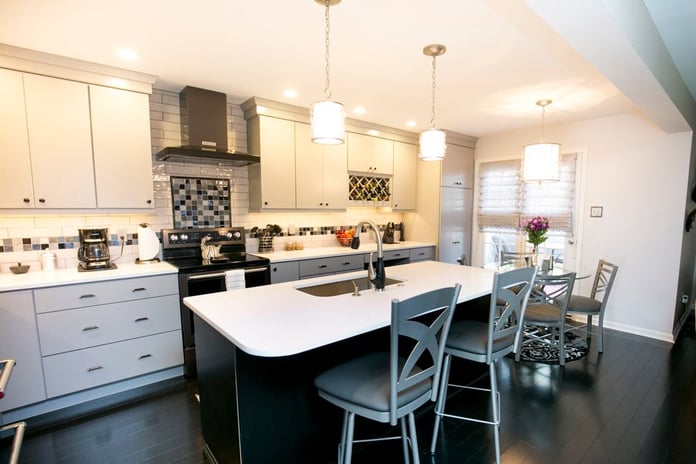 Less-textured Cabinets
Replacing your cabinets as part of your custom kitchen remodel? There are so many options! For a kitchen that may be prone to messy meal prep (and messy sous chefs), less-textured cabinets can be great for quick and easy cleanup. While you consider the cleanup, don't forget to match your style and color to the overall aesthetic design of your kitchen. See more photos from this Larkspur Kitchen here.
Check out our Q&A with Village Handcrafted Cabinetry on trends in the eastern Pennsylvania area homes and all things cabinets.
Durable and Beautiful Kitchen Paint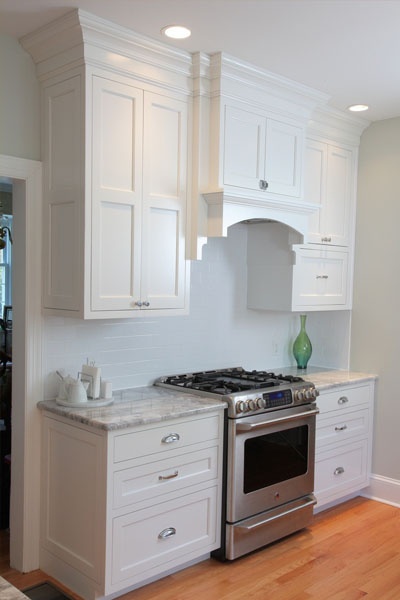 Semi-Gloss Paint
When picking paint samples for your custom kitchen renovation or remodel consider semi-gloss paint - especially if mold, mildew and cleaning are on your list of concerns. Paint is your final barrier of protection from food, grease and water splatter on your walls and cabinets. It's much easier to wipe a semi-gloss wall or cabinet clean of smudges without leaving a mark than those with a matte finish. We suggest semi-gloss because a full gloss paint can be a bit high shine on anything but trim, and actually accentuates any flaws on your walls. See more photos from this Linda Vista Kitchen here.
---
Would you like to see more of our custom kitchen remodels?
See our kitchen portfolio and contact us if you have any questions!