Before getting started with any
home renovation
project, it's important to set a clear budget. The same goes for
kitchen remodels
, and sticking to your budget isn't always an easy task. Road bumps happen, like plumbing issues and outdated electrical fittings, as well as expensive inspirations from Pinterest. So how do you stay on track? These seven tips for staying on budget during your kitchen renovation should help!
1. Decide on a budget and stick to it.
To figure out an accurate budget for your kitchen remodel, you should first get an idea for how much these projects typically cost. If you're keeping your existing footprint and not taking our any walls or adding onto your home, you can expect to spend between $35,000 and $90,000, depending on the fixtures and finishes you choose.
But, if you decide to go the route of a complete renovation and knock down some walls, relocate plumbing, and so on, the price tag will be higher. With a full kitchen renovation project, typical costs add up to about $75,000 to $125,000.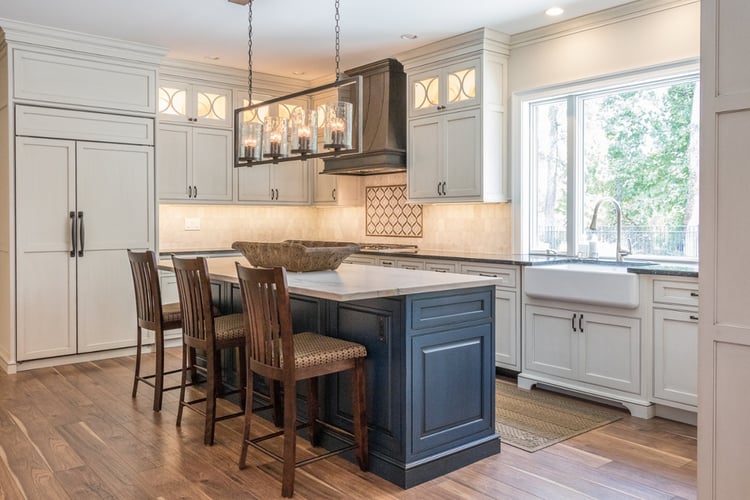 If you're not sure whether to keep your existing footprint or go for a total kitchen renovation, we suggest considering a couple of factors besides cost. First, think about how long you're planning to keep your home. If you're planning on putting your house on the market relatively soon, maintaining the existing footprint may be the way to go. Not only will the project cost less, you will also still get to enjoy an updated kitchen before you do sell, and buyers will love the fresh look.
Another factor to think about is your neighborhood and your home's resale value. Some neighborhoods are extravagant, and other are a little more modest. If you live in an upscale neighborhood, you may want to consider a full kitchen renovation and recreate the space to be a chef's dream.
2. Prioritize your kitchen remodel wishlist.
Establishing a wishlist of features, appliances, countertops, flooring, etc. for your kitchen remodel is an important step before getting started with your renovation project. It helps set expectations with your contractor and gives you a running list of items you can prioritize. After all, everything on your wishlist may add up to more than you were expecting.
That's why we suggest prioritizing your wishlist. What are things you absolutely cannot live without and what items can you save for another time? Just because your initial kitchen remodel project doesn't include those things doesn't mean you can't have a phase two down the road when you have the budget for it.
3. Set aside a rainy-day fund for any project surprises.
With renovation projects, you never know when an unexpected surprise or added cost may come up. Water damage behind a wall, termites, electrical short-outs., and so on can occur with little or no warning at all. Because of that fact, having a cushion of funds can help cover the costs and won't impact the budget you set for your kitchen remodel. After all, you can't give up those quartz countertops and custom cabinets you've been dreaming of for years, right? A rainy-day fund can be your saving grace.
4. Know your financing options.
Not everyone can set aside $35,000 to $125,000 to pay for a kitchen remodel all at once. Luckily, there are other options. Home equity loans, for example, are a popular choice for homeowners. Probably because they're tax deductible. But, if a home equity loan isn't the way you want to go, there are other financing options too, including:
Personal loans
Refinancing
Borrowing from your retirement fund
If you do decide to take out a loan, make sure to check the interest rate and compare it with other financial institutions so you get the best rate possible and don't have to spend more than you have to.
5. Decide whether or not you're going to stay in the house during the renovation.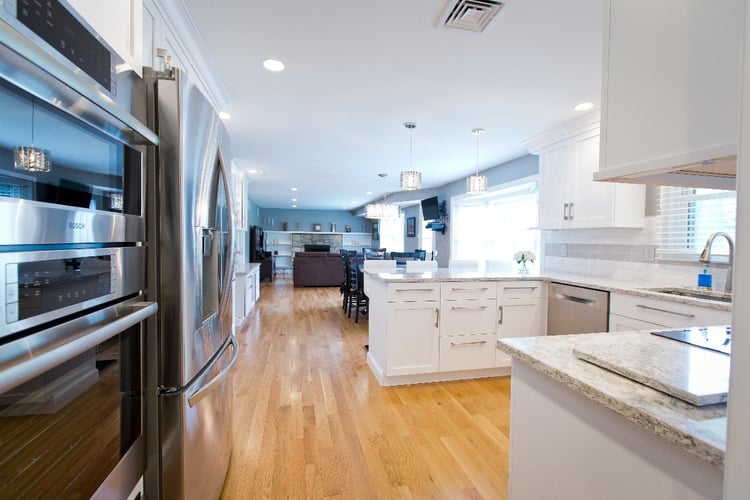 When planning for your kitchen remodel project, you'll need to make a big decision - to stay or not to stay? Some families choose to stay in a hotel, apartment, or with friends and family while their kitchen is in flux.
If you choose to work with another home builder, we understand. But, if you do work with us at Tilghman Builders, our clients' comfort is important to us. If you have to move out of your house due to construction, we'll pay for your hotel stay for up to three nights. And if you decide to stay and can't use your kitchen during the renovation, dinner is on us once a week!
6. Keep track of your budget always.
Whether you monitor your budget on a spreadsheet, online program, or on a pad of paper, make sure you keep track of every cost and transaction. Your contractor should definitely be doing the same thing, but it doesn't hurt to have two sets of eyes monitoring the same numbers to ensure you stay on budget.
7. Try to avoid temptations.
Like we said at the beginning of this article, there are a lot of temptations and inspiration out there. Thanks, Pinterest! But, Pinterest isn't the only temptation. There are interior design magazines placed in the checkout lines at the grocery store, home renovation television shows, etc. To stay on budget, try your best to avoid making pricey changes to the project plan. But, if there's something you absolutely have to have in your updated kitchen, consult with your contractor. They may be able to make adjustments or help you decide on another feature that you may not need and can make room in the budget.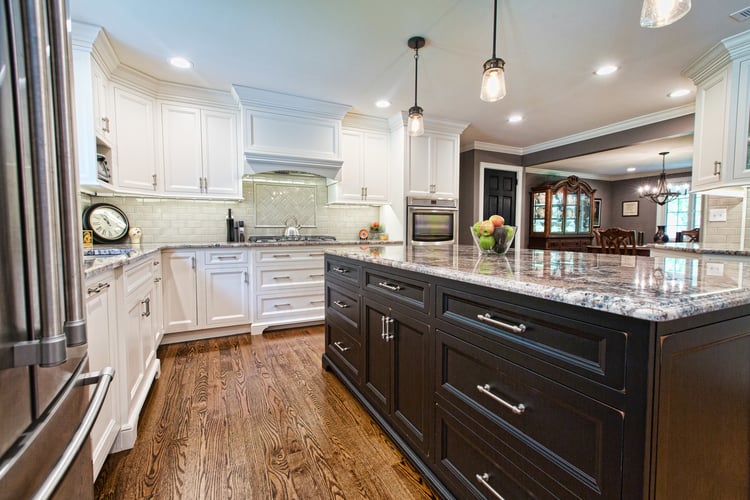 With these seven tips, you're ready to set your kitchen remodel budget and stick to it. From prioritization and monitoring to financing options, the key is to plan ahead and work with a reputable home builder who can help you stay on track.
Ready to get started on your kitchen remodel project? We'd love to help! Contact us today. And if you're looking for more budgeting tips, grab your copy of our free Budgeting for Your Remodel guide!