So you're updating your bathroom and you decide you want a colorful bathroom, but how do you add a pop of color in the space that stands the test of time? Some bathrooms manage to never go out of style no matter the newest trend, from the clean lines, beautiful fixtures and classic colors.
You might be wondering why we're starting with the Petty Lane Project (keep reading for images). Well, we know it has all the right finishes, but how would you go about adding color? Maybe this bathroom is similar to yours or maybe you love the finishes of this project but are wondering, "How can I add color into my bathroom without changing it every 5 years?" Whatever the case, we're going to walk you through how to get that beautiful, colorful bathroom you want for your forever home.
The special thing about the Petty Lane Project is, it's a neutral-colored bathroom. Therefore, it has a great foundation for adding just the right amount of color. Now that we've looked at Petty Lane, let's jump into some projects and ideas that will inspire you to create your colorful bathroom.
How to add color into your bathroom
From your walls to your cabinets to your accessories, there are many different ways to add color into your space. The most important thing you can do is choose the perfect color scheme for your finishes. It plays a major role in your design. Here's how you can add color into your bathroom.
Add color to your bathroom cabinets
Many colors can go in and out of style but navy blue always remains a classic. You can count on it to spruce up your bathroom without looking gaudy. We absolutely adore the Collins Project and its dark, navy blue cabinets with gold fixtures (below).
We love adding color to your cabinets because it adds color to your space in a unique fashion. However, when painting your cabinets, we suggest that it be more of a neutral, soft or bold color compared to… ya know, bright pink cabinets. That's where you get into trouble. Bright pink or loud colors don't match with everything and won't "stand the test of time." Therefore, if you're renovating or just looking to redesign your current bathroom in your forever home, we recommend using a strong, neutral scheme that will last for a lifetime. Think... a classic black, white and silver color scheme for the fixtures, tiles and permanent items like in our Petty Lane Project at the top of the page.
---
Related Articles:
What is your favorite home design style?
Luxurious bathroom makeover ideas for your master suite
---
Paint your bathroom walls a calm or bold color
If you have a neutral color scheme for all your finishes, that's when you add a pop of color on your walls (keep reading for an example from the Buttonwood Project). It's much easier to change your walls than the permanent fixtures in your bathroom. Over time, you might feel inspired to add in different colors, and the perfect way to do this is to repaint your walls and add in beautiful, colorful accessories like towels, flowers and paintings.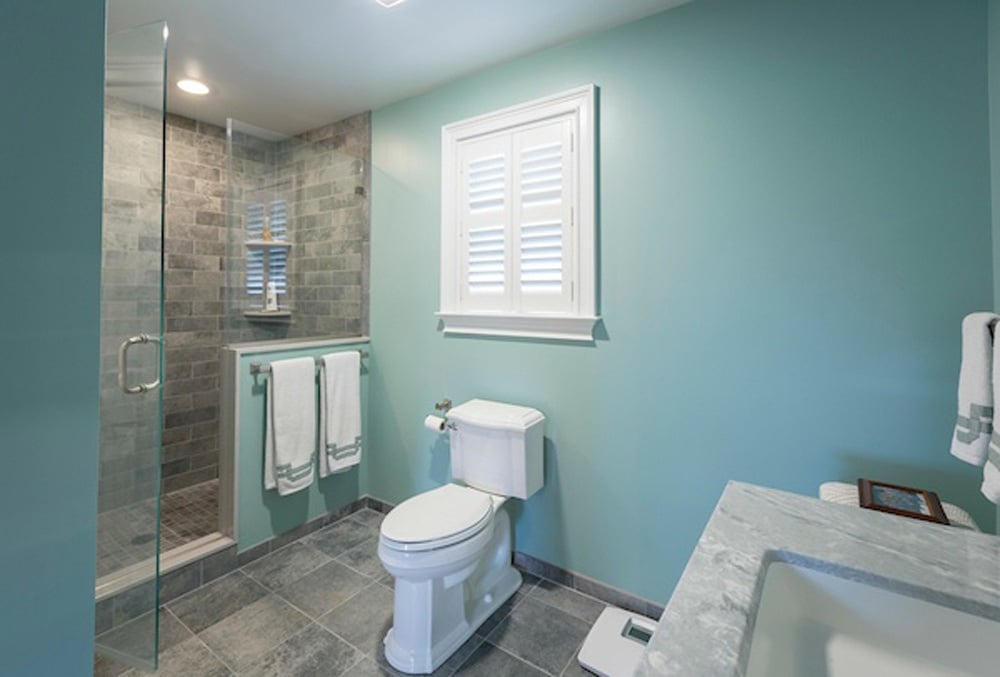 The Buttonwood Project is another one of our favorites (top and bottom image). It introduces a light, airy and calming feel that triggers an almost spa-like environment. The amazing fact about this bathroom is knowing that if the Buttonwood family ever wants to change the wall color, the finishes are all neutral which allows them to make changes later if they want to.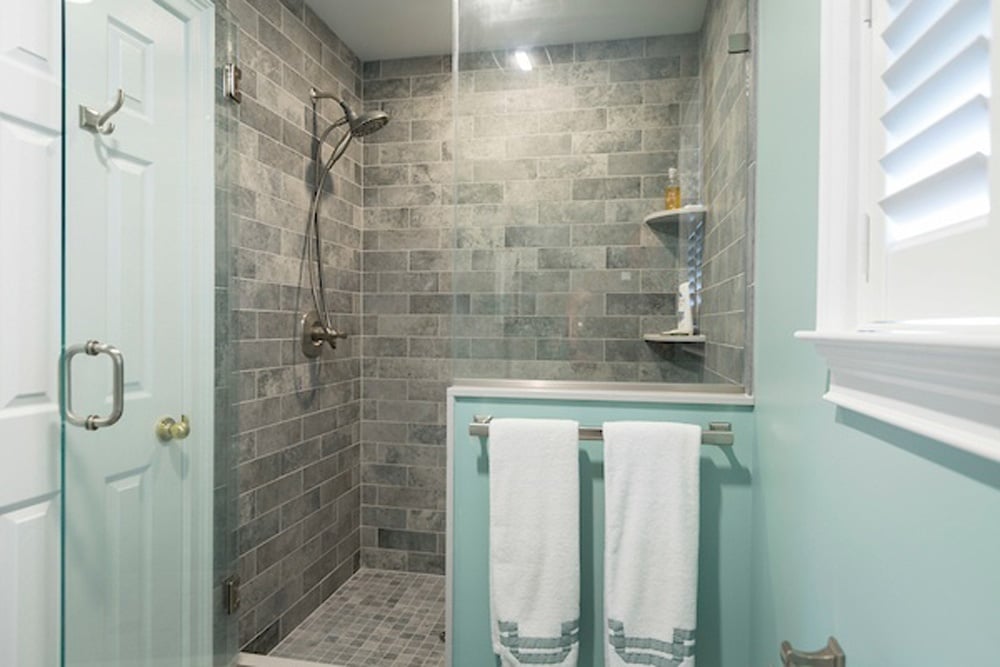 When you paint your walls with a color, we recommend staying away from bright, neon colors and lean towards your light blues, yellows, lavender and greens. In the Buttonwood Project bathroom, you could see this walls changing to almost any color and it will still match all the finishes.
Design Tip: Choose a color you can enjoy for years to come.
Add colorful accessories to your bathroom
The Douglass Project is a great example of both colorful walls and accessories, seen below. While most of the finishes are in blacks, whites and silvers, they've used a unique blend of art, towels and plants to bring color into their bathroom.
Always choose a color you adore for your colorful bathroom.
When deciding to create a colorful bathroom, always make sure you're choosing a color you adore. After all, you're the one who's going to be looking at it for the rest of your life (if it's your forever home).
Want more ideas for your bathroom makeover? Check out our full bathroom portfolio here.
Be sure to check out some of our other bathroom ideas here too: