One of the best parts of a bathroom remodel project is adding in a luxurious shower to your new oasis! Whether you're going for a luxury modern bathroom with all the bells and whistles or a simple, clean minimalist feel, your bathroom shower design can be completely customized to your needs.
On that note, each home has different lifestyle needs depending on each family member and their routines! Perhaps you and your spouse are consistently bumping heads (literally) trying to get ready in the morning and creating some separation would be helpful. Maybe your kids are always sneaking into the master bathtub, slowing down your get-ready routine. Maybe you have plenty of open space but lack modern fixtures and pieces to really make your bathroom feel like the luxury oasis it should be!
Whatever your need may be, listed below are ten different bathroom shower design ideas to ensure your bathroom remodel is the luxury getaway you've been dreaming of.
Rain Showerhead

During your luxury bathroom remodel, don't overlook any details! Sometimes it's the simplest features that complete the luxury feel you're looking for. A large, ceiling-mounted rain showerhead is a great magical touch to any luxury shower design. Another dreamy feature is installing programmable controls for your shower, bathtub and other luxury spaces in your new bathroom.
Walk-In Layout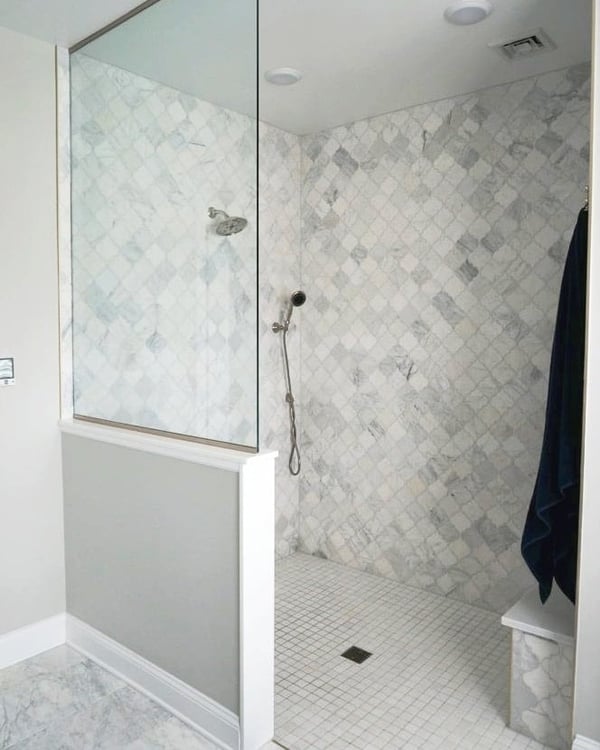 For those who hate the feeling of enclosed spaces, a walk-in shower with plenty of room to breathe is the best shower design for your luxury bathroom. A shower big enough to practice your downward dog is achievable with any walk-in layout, and a great way to provide extra relaxation for your sanctuary. Walk-in showers are also great for luxurious forever homes because as you age, you may need more accessibility features in your home. Fewer steps, ledges and latches help with functionality and clean lines.
Tile Design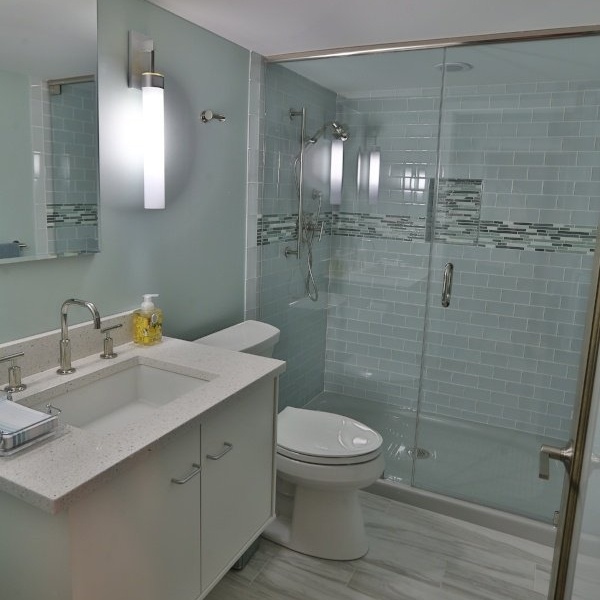 A remarkable way to complete any high-end design for your luxury bathroom remodel is to tile your shower with an intricate mosaic tile design. Mosaic tile is extremely popular in backsplashes and shower tiling. These tiles can be coordinated with any color pallets and compliment both minimalist looks and sleek, modern style choices.
Symmetrical His & Hers Corners
If your bathroom is already spacious and you're going for a grand luxury feel, your powder room should have both his and hers wash areas! Two symmetrical showers in each corner of the bathroom are the perfect way to compliment dual vanities, and there's plenty of separation and space for both spouses to get ready in.
Double Duo – 2 of Everything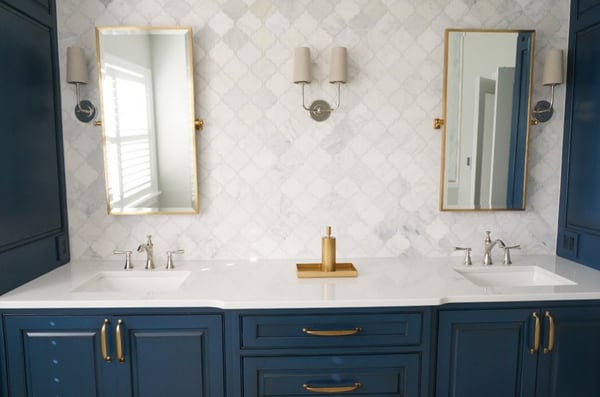 If you and your spouse often find yourselves conserving water and showering together, a double duo shower would be perfect for your bathroom remodel design. Especially if your morning routines tend to collide, two showerheads, two soap stations and doubling any other luxurious touches you intend to include is an efficient and beautiful way to design your shower.
---
More bathroom ideas from our blog:
Best Bathroom Features Your Won't Ever Grow Tired Of
What Materials Should I Use to Remodel My Bathroom?
How to Make a Small Bathroom Feel Bigger
---
Step-Up Showers
What better way to step up your luxury bathroom remodel than with a step-up shower design? A great design element to give any luxury bathroom a grandiose feel is a set of steps leading up into your large, spacious shower. This look is complemented well with large glass paneling, grout-less travertine tiling or marble stonework. This is a great way to separate the space from an oversized sitting tub and leave plenty of room for other luxury pieces.
Etched Glass Design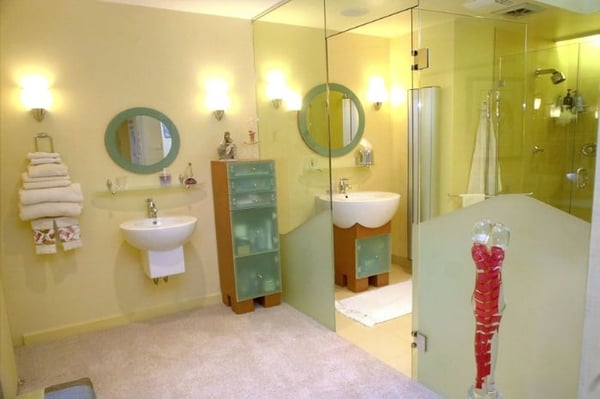 While space and layout are very important features in your luxury bathroom remodel, high-end design elements are the perfect finishing touches to complete your look. Etched glass walls are beautiful features that provide both beauty and privacy in a shower. Etched glass is a gorgeous way to add modern, eye-catching beauty to your luxury shower.
Frameless Open Shower with Dual Showerheads
If you're looking for a roomy space to shower, a frameless design is a beautiful way to achieve this look. With large clear glass panels, you can almost miss the shower itself with the spacious, open layout. The illusion of showering in an open room provides relaxing freedom. This style is complimented well with dual showerheads that double as a warming feature for spacious showers that could get drafty.
Stone or Marble Bench Seating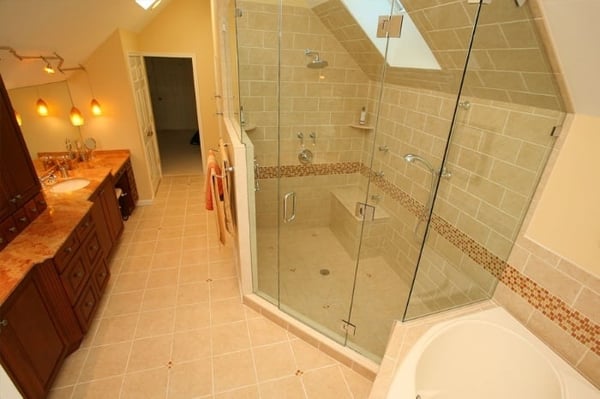 You may not be able to build an entire sauna in your luxury bathroom, however, you can design the next best thing to achieve your very own spa oasis. An oversized shower with stone or marble bench seating inside is the perfect way to steam the stress away. Whether you prefer large, clear glass paneling for shower walls or a matching marble or stone design, your personal steam room can be customized to any shape or size you desire.