Flooring is one of the most important things to consider when remodeling your kitchen. Hardwood and laminate are two popular flooring choices for any room, but how about the kitchen? Let's put them both to the test. Laminate vs. hardwood - which is better for your kitchen?
Cost of Laminate Flooring vs. Hardwood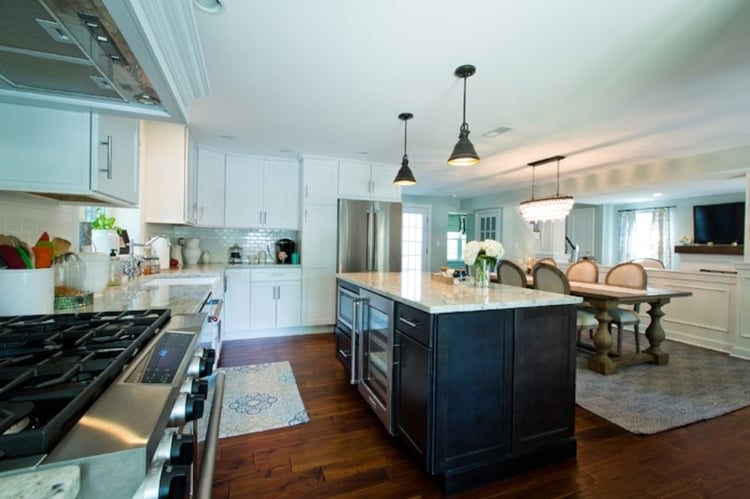 In terms of price, comparing hardwood and laminate is like comparing apples and oranges. Hardwood is much more expensive. Laminate is certainly the less expensive option. However, as the old saying goes, you get what you pay for. There's nothing quite like high-quality wooden flooring throughout a house.
Remodeling your kitchen can come with a hefty price tag. Wooden floors certainly won't help drive your estimate down. In some cases, you can cut the cost of your flooring by 50% by going with laminate flooring. Plus, laminate flooring comes in all shapes and sizes. For the kitchen, we definitely suggest using water-resistant laminate flooring.
Let's be honest, the kitchen can be messy. Whether you spill orange juice while rushing to get ready in the morning or you can't seem to keep crumbs off of the floor, laminate flooring is much easier to clean. In fact, they make specific laminate flooring to withstand wetter areas like kitchens, baths and mud rooms. Which means cleaning your kitchen floor is as simple as using a mop with cleaning solution.
Although your laminate flooring is water-resistant, it's still important to clean up your mess right away. You definitely don't want to soak your floor to the point where there is standing water, either. For best results, mop to the point where you can let it air dry in just a few minutes.
Quality of Laminate Flooring vs. Hardwood in the Kitchen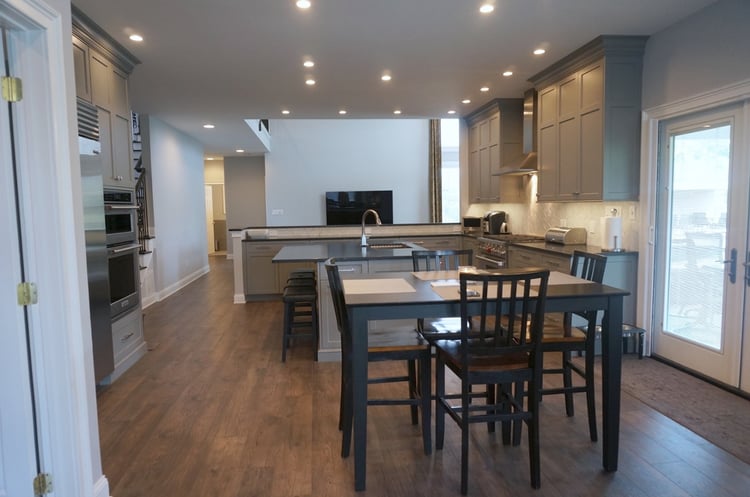 When comparing laminate flooring vs. hardwood quality, hardwood has the edge in most scenarios. However, the kitchen is a bit different. As mentioned previously, laminate flooring is much easier to take care of. The one kicker though is that it just doesn't last as long.
Laminate floors last roughly 10 years while hardwood floors can be resurfaced and refinished over and over again. In terms of quality, it's hard to beat hardwood. It just requires more work to maintain. For example, you can only clean hardwood with certain cleaning solutions.
If you don't take care of a hardwood floor it starts to fade or cloud. Unlike water-resistant laminate flooring, you really have to make sure you don't let your hardwood floor get wet. The best thing to do when cleaning hardwood or laminate is to make sure you vacuum and sweep before you mop.
Is it Harder to Clean Laminate Floors or Hardwood Floors?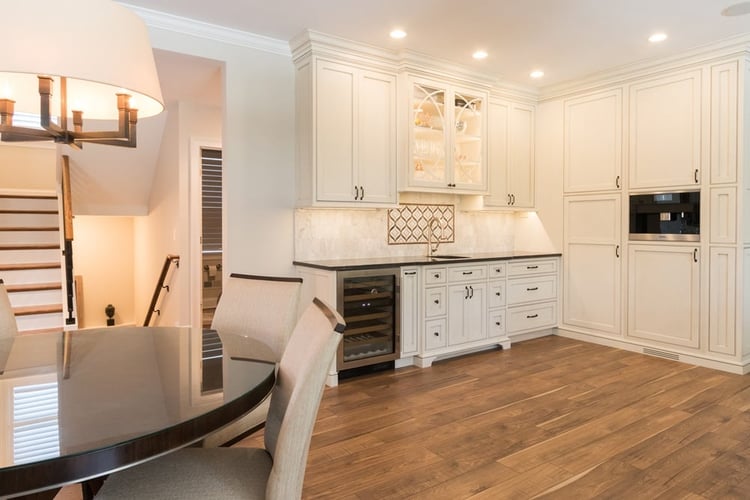 Cleaning laminate and hardwood floors are both easy tasks. However, hardwood flooring has more stipulations. It's not as simple as mopping your floors once in a while. In order to maintain your beautiful hardwood flooring, you have to use a special hardwood cleaning solution, a hardwood vacuum, and you have to be really careful not to expose the wood to too much water.
Laminate, on the other hand, is much easier to clean. You can mop laminate with pretty much any cleaning solution. However, like hardwood, you want to avoid standing water at all costs. Also, laminate can not be buffed or refinished. You also shouldn't use wax or pine-scented cleaning solutions. Save those for the hardwoods.
Does Having Hardwood Floors Really Impact My Home's Value?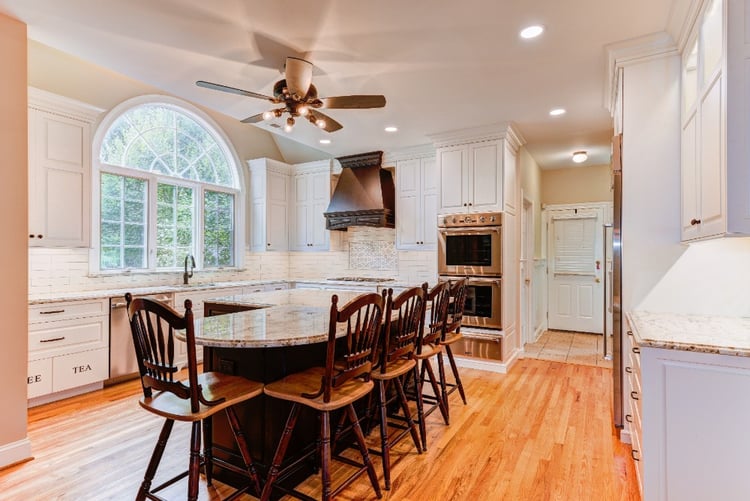 Hardwood floors absolutely impact a home's value. It especially increases the home's value if your hardwood floors have been taken care of over the years. Hardwoods can last forever. It's also a timeless flooring choice, which means it will never go out of style. Although it might not be everyone's first choice in the kitchen, hardwood flooring definitely adds to your home's value.
So, Laminate or Hardwood for My Kitchen?
After evaluating the pros and cons of each flooring choice, you can make a case for either one. It mainly comes down to cost and personal preference. If you want the beauty of a hardwood floor and don't mind paying extra and spending a bit of additional time maintaining it, then hardwood is the choice for you.
If you are looking to create some room in your kitchen remodeling budget in the short term, and you're willing to sacrifice the longevity and durability of hardwood, then laminate is a great choice.
Let Us Help…
Remodeling your kitchen can be an intimidating task. Whether you're trying to figure out where to start, or you've already planned out every detail, give us a call. We truly take pride in turning your current home into your dream home.
Flooring for your kitchen? Check!
Now you have to decide on the other must-haves for your kitchen remodel. For a little guidance, download a copy of our FREE wish list!