Homeowners use their decks or patios to entertain, relax or a little bit of both. It's understandable why homeowners are always interested in taking their living areas to the next level. If your budget is determining exactly how much upgrading goes on in your outdoor space, check out these budget-friendly DIY projects that can help give your space a facelift.You have plenty of options to improve your outdoor space. Homeowners don't always need to have a new deck or patio installed to fall back in love with their space. Small changes can make a big difference. Here are some of our favorites.
Trim Up Your Greenery
We love examples like this. This work requires some patience but focusing your attention on replanting or trimming the greenery in your yard can make the space look and feel like new. Greenery can be much easier to maintain than flowering plants and will look better more of the year. Look for evergreens or hearty vines that can weather our eastern Pennsylvania winters.
Pruning your existing greenery can help give your outdoor space a more manicured look without having to plant any new trees or bushes. Plus, well-taken care of greenery can be a big help with shade, privacy and ambiance in any area.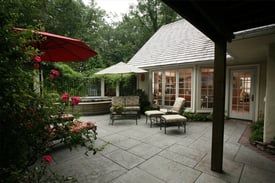 ---
Furnish Your Outdoor Area for More Living Space
You don't have to totally redo your patio to spend more time outside! Try adding some fresh furnishings or new accessories to revamp your existing set up. We love how our clients have decorated their outdoor spaces with fresh chair cushions and table place settings.
When you are choosing your outdoor furnishings, look for materials that are water resistant if you are going to leave them out and uncovered all the time. Synthetic wicker, treated woods and wrought iron could be good options for your outdoor area. Make sure you cover your furniture when we are expecting snow - except for natural wood products. Locking in the moisture can damage the wood.
---
Use Your Green Thumb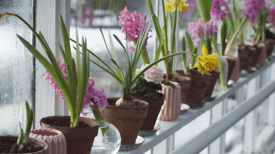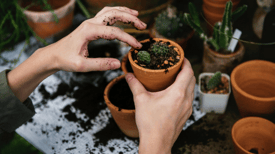 Adding new potted plants can really spruce up your back deck or patio. Using pots and planters is a great option for us in eastern PA. Since we have a shorter growing season and earlier frosts, potted plants can be brought inside during the winter, or more easily replaced in the spring. Try planing your favorite herbs or flowers for a little movable personality on your patio or deck.
If potted plants are too much maintenance for you, you can transform your outdoor areas with some new shrubs or ground coverings. Your local nursery can help you find just the right plants for your yard depending on the light, covering and soil.
---
Apply a Fresh Coat of Paint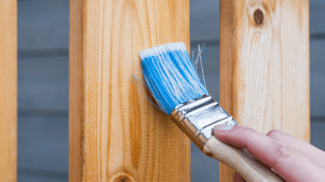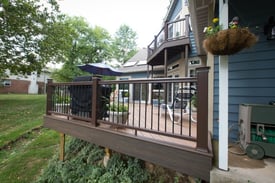 A fresh coat of paint or stain can make your deck look brand new, even if it's 40 years old! Make sure you buy the right type of paint or stain so it also protects your deck for years to come. In eastern Pennsylvania, our decks get the wear and tear from heat in the summer and freezing temperatures in the winter. The right paint, stain or sealer can help protect your deck and make it easier to clean.
---
Power Wash

Giving your deck or patio a deep clean can make it more inviting. No one wants to spend time in a dirty area! If your pets, kids or surrounding nature has turned your outdoor oasis into a muddy mess, a power washer can work absolute magic.
---
Looking for other tips and backyard inspiration?
Check out our blog and portfolio of recently completed projects!