Hey guys! I'm standing in front of the Chalfont project in Bucks County where we are getting drywall up today. This video is a tour of the progress we've made since our last tour. As a recap, what we're doing here is finishing the downstairs as an in-law suite for homeowner Lisa's mom and dad and remodeling the upstairs for Lisa to have her own space. Since our last check-in, we've finished the demo phase where we tore down lots of walls to open up the house to make the living areas flow better and give more accessibility for multigenerational living. We've framed out the new walls and you'll see the beginning of drywall in the video. We apologize in advance for the mess but when the dust settles, you can see just how improved the new floor plan is for this home.
UPDATE:
Top Floor Master Suite Remodel Tour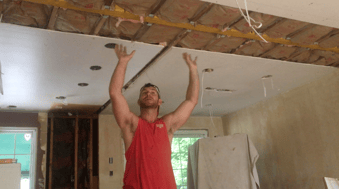 We've knocked out a bunch of walls so it looks so nasty in here right now but we're on our way to making it pretty. Because we took out some load-bearing walls, we put in this big beam that's going to carry all of these ceiling joists that are above our heads. Now, Lisa has a great open concept living space that flows from the living room to the kitchen. As we pan around in the video, you'll see that the drywall is going in. The trim and doors and stuff like that will be installed tomorrow.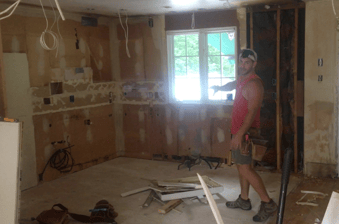 Now, since our last check-in, we've had a couple changes to the contact. For one, we're adding this really cool, modern, linear fireplace that will be faced with tile and all that good stuff. We'll even set it up to have a TV mounted above it.
Then across the room is Lisa's newly expanded kitchen with a little dining area. In the middle of this nice big kitchen, we'll have a big island. It's going to be 4 feet wide, by 6 feet long with stools on two sides. There will be a range against the back wall with the microwave above, the sink will be centered on the window and the refrigerator will be all the way to the right. We have some pretty crown molding going in around the ceiling.
Watch the video below to see our plan and progress for the rest of the top floor including the barn door in the master bedroom, budget-saving ideas in the bathroom and guest bedroom. ↓
UPDATE:
Bottom Floor In-Law Suite Tour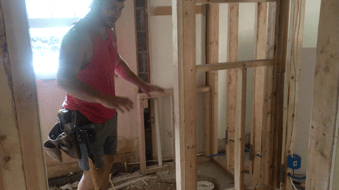 Downstairs we've framed out the new in-law suite. We're going to add a door at the entrance so Mom and Dad really have their own space. The in-law suite will also have its own master bathroom with a custom tiled shower, shelving, toilet and more. Again, it's just ugly right now with all of the equipment and materials down here since we've had to knock down and reframe a lot of the walls. You're going to see this really brighten up over the next week or so.
The in-law suite bedroom will be pretty spacious with enough room for the bed, night table, sitting area with a couple chairs and a television mounted on the wall. We're replacing their exterior door and enlarged this existing window to let in more natural light and make the space feel even more open. We've added a big closet for them with some humongous doors - they're going to 7 feet tall on sliders so they can access shelving above.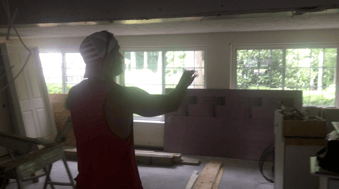 Do you remember the bar from the first video? We removed that gap wall and pillars and added a beam to support the existing addition so everyone in the home is safe. In this new open space, we'll have a television, desk and couch.
We're also redoing the downstairs kitchen for Mom and Dad. This is another change to the original contract and taking a bit more of my time but it's definitely worth it to give the customers what they want. We're going to get all new cabinets and countertops. It's going to be looking really great pretty soon!
Check out my video from our walk-through below. ↓
VIDEO:
Interior Renovation and In-Law Suite Tour
Watch all the VLOGs from this project!
The Chalfont Project Part 1: Total Interior Remodel + In-Law Suite Tour
The Chalfont Project Part 2: Total Interior Remodel + In-Law Suite Tour