Kitchen renovations are exciting. They're especially exciting if you're the type to spend months, maybe even years, planning exactly how you want your new space to look. As time goes on, kitchen trends come and go. Whether you plan to renovate your kitchen every 10 years, or 30, it's important to take a look at some of the hot new trends.
Speaking of which, here are five of 2019's hottest kitchen trends you may want to consider for your project.
Dark Color Schemes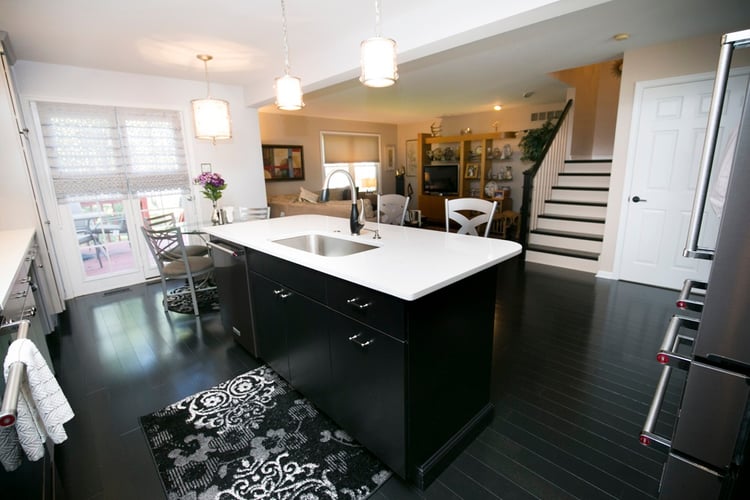 One of the most important things in a kitchen renovation is going with a timeless design. The fact that a kitchen renovation is even on your list of things to do probably means that you think it's out of date. Whether you're updating the kitchen in a home you just purchased, decided you're unhappy with the design you chose last time, or you're trying to increase your home's value, it's important you pick something that's going to look just as good in 10 years as it does today.
One common theme we're seeing in recent kitchen renovation projects is a dark color scheme. This means dark stone countertops, darker cabinets, and darker appliances. However, it's a specific type of dark we're seeing recently. It's not the shiny dark hues that were popular a few decades ago. The new trends are all focused on a more matte or leathery finish. The matte finish proves to be very sophisticated and satisfies even the most modern of design eyes.
Freestanding Furniture Islands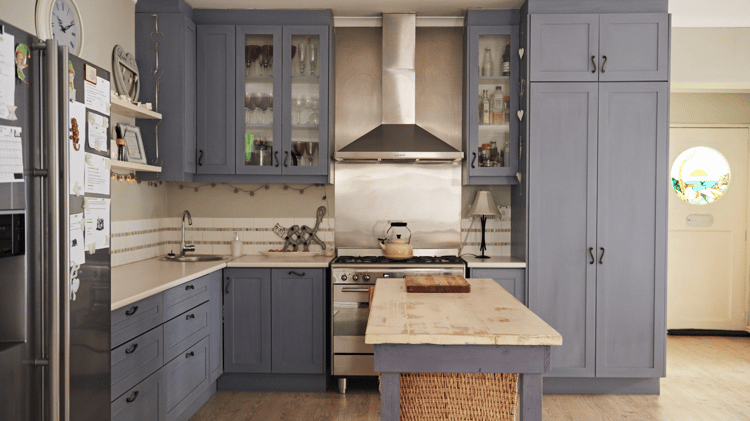 The freestanding island using a furniture piece is a terrific trend that will certainly last (see the photo above, which although is not our project, is a great example). A kitchen island is such a versatile piece of your kitchen renovation puzzle. You can design your island to completely stand out on its own or to blend in with other aspects of your kitchen. The idea of a freestanding island is extremely exciting from a design standpoint because you can custom build one or restore an old antique island. Either way, the island is a must-have in your kitchen renovation project.
One important thing to note is if you are going for a modern feel to your kitchen, you don't have to sacrifice the island. Whether you opt for a wooden island or a metal island, both can be designed and finished in a way that will make your kitchen pop, and function, for years to come.
It's Okay to Mix Metals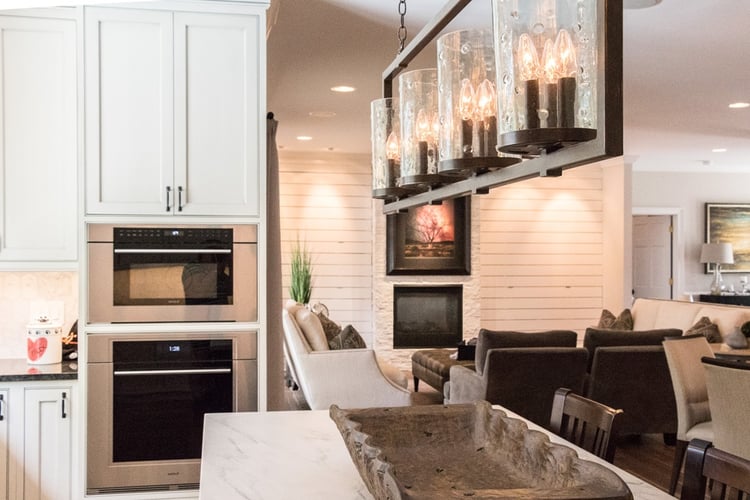 Mixing metals has always been a design sin. However, 2019 is the year mixing metals has become totally okay. However, like most things that seem too good to be true, there is a catch. Style guru Emily Henderson offers some guidelines when mixing metals.
She says the mixing has to be intentional and spaced out evenly. Her main example is, don't mix a polished nickel faucet with a brass pot filler. It's important the faucet family matches in your kitchen. If you want, you can always mix up the knobs and handles.
Hoods that Stand Out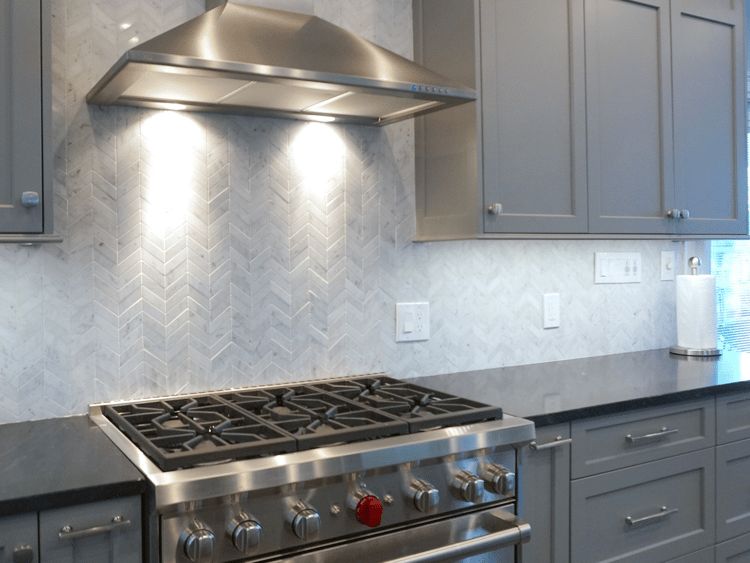 Kitchen designers have made it their life's work to hide kitchen hoods. Well, somewhere along the way, designers decided that those kitchen hoods can look pretty neat and provide a great pop of visual interest to your space. When thinking about a kitchen renovation consider having some fun with your kitchen hood.
You can pick just about any finish or have it painted any color. The hood in your kitchen is a great opportunity to bring out other aspects of your kitchen as well. For example, are you really happy with the backsplash you chose behind your stove? If it's a really cool pattern, help it stand out with a solid matte finish on your kitchen hood.
Mirrors in the Kitchen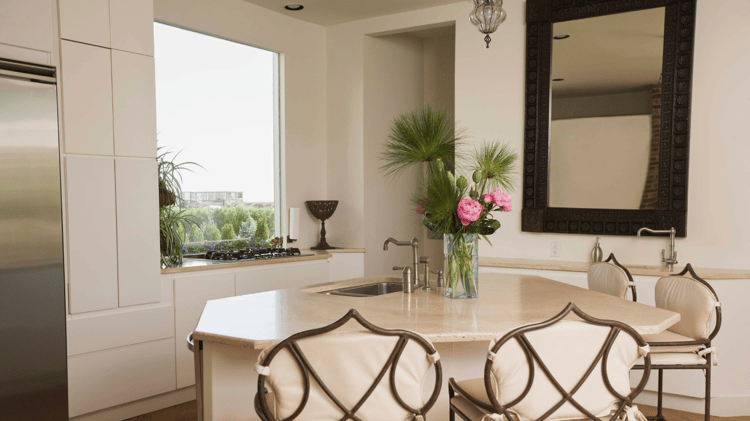 Believe it or not, mirrors in the kitchen are all the rage right now. There are plenty of people out there who will tell you their kitchen feels like it's too small. So, what's the most popular way to make a room look bigger? Hang a mirror on the wall (like in the photo above, which is not our kitchen project, but the perfect illustration nonetheless). The kitchen renovation experts are catching onto this trend and the results look amazing. The one downside is that you'll have to make sure that the mirror is squeaky clean at all times. Lastly, don't get just any old mirror. Have some fun with it for the ideal design aesthetic.
Let Us Help…
Even with this list of current kitchen trends to refer to, remodeling your kitchen can be an intimidating task. Whether you're trying to figure out where to start, or you've already planned out every detail, give us a call. We would love to help you bring your vision for your kitchen renovation to life!
Before you meet with your kitchen renovation contractor, grab a copy of our FREE wish list template, and fill it out so you have a completed list of your must-haves on-hand for your consultation!