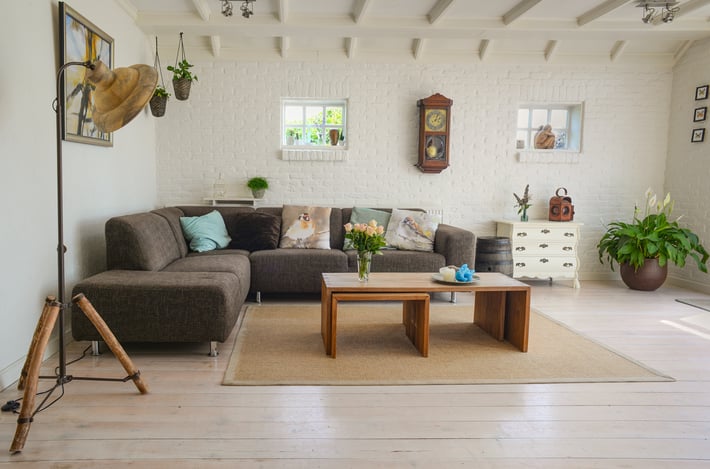 Garages are desirable features for many households. But not all of them are used for the sole purpose of housing vehicles. Many homeowners leave their cars parked in the driveway, freeing up their garages for different purposes. If you're considering adding on to your home to create more living space, you might want to first take a look at your garage. The garage could provide many potential uses ranging from a home gym to a home office and more. Below are 14 garage addition and remodeling ideas to make your garage space more than just a place to park your vehicle.
1. Home Office Update
Chances are you've been using your garage as a storage area for things like lawn equipment, tools, unused furniture, and toys.
But, if you've been thinking about starting your own business, you might be able to turn your next garage remodel job into a home office complete with new doors, windows, lights, drywall, floors, and insulation. You might even consider replacing your overhead garage door with a couple sets of French doors to bring in the light and give your new space a little extra charm.
2. Personal Gym

Many people resist going to the gym for their daily workouts. The reasons range from inconvenience to fearing judgement from other fitness fanatics. The often hefty membership fees from the boutique and specialty gyms don't really help either. With these impediments, why not simply turn your garage space into your own personal gym? Some people might argue that creating a home gym is too expensive, but in reality, you only really need a few pieces of equipment to get you started. Here are some options we've seen our customers start with after their home gym remodel:
Padded floor mats
Wall racks for equipment storage
Mirrored wall panels
Designated spaces for weight benches and cardio equipment (treadmills, stairclimbers)
3. Man Cave
A garage is the perfect space for you to build your dream man cave. This is the perfect space to work on your favorite hobbies and trades, without having to worry about making a mess, or keeping hazardous tools away from your young kids. AND it's out of the house in case you get a little rowdy on game days.
Realistically, it doesn't take much to make a man cave. If you have a concrete slab floor, you might want to raise it to add insulation, and then seal it. Adding insulation to the walls, then drywall will help keep the warmth in and cold out. Then, add in a sofa, some chairs and an entertainment system. Of course, you may want to indulge in some extra luxuries like:
A refrigerator and mini bar

Extra electrical outlets for entertainment television and games

Cabinets for storage

A bathroom
4. Outdoor "Addition"
Transform your dated garage into a family-oriented lounge full of personality and color. Add in white rafters and a ceiling to give it an open and spacious feel. You could also equip your outdoor living garage space with accent lighting, a grill suitable for indoor use, and a television, of course, for watching games. This is the perfect space to entertain guests after a weekend little league game, or while watching Sunday football with your neighbors.
5. Mudroom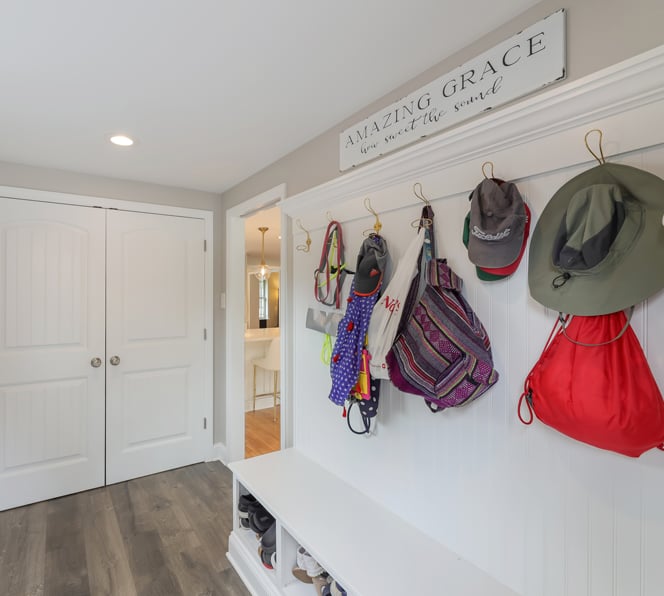 A mudroom is the secondary entrance of a home and typically includes areas for :
Hanging coats
Storing shoes in cubbies
Hanging bags
A bench to sit on while taking your shoes off
Spaces for sports gear
If you were to turn your garage into a mudroom, it would take care of a lot of the odds and ends that you use on a daily basis that require extra space. Storing these essential items in one spot will keep other areas of your home looking tidy, while also keeping you and your family more organized. You can warm up the area by painting it with a bright color or rug to make it cozier.
6. Media Room / Theater
Another creative garage conversion is a media room. This is a great option for movie buffs and sports fanatics who love watching on the big screen. For instance, you could turn your garage into your own theater, complete with:
Dramatic lighting
A big screen
Upholstered seating
Surround sound
Add in some colorful artwork to keep the space bright when you have nothing playing on screen.
7. Play Area

When you're busy and you need a way to keep your kids entertained, your garage could make an excellent play area. They can sprawl their toys out and play quietly amongst themselves. Add in a solid support beam where you can hang a couple of swings. Invest in a storage system for toys and a soft carpet for them to play on. Add cushioned flooring to handle the rough and tumble play children often partake in.
When the weather is nice, you can leave the garage door open so your children can play both indoors and outdoors. You can modify your garage to store all their toys without affecting the resale value of your home since garage storage space is desirable.
8. In-Law Suite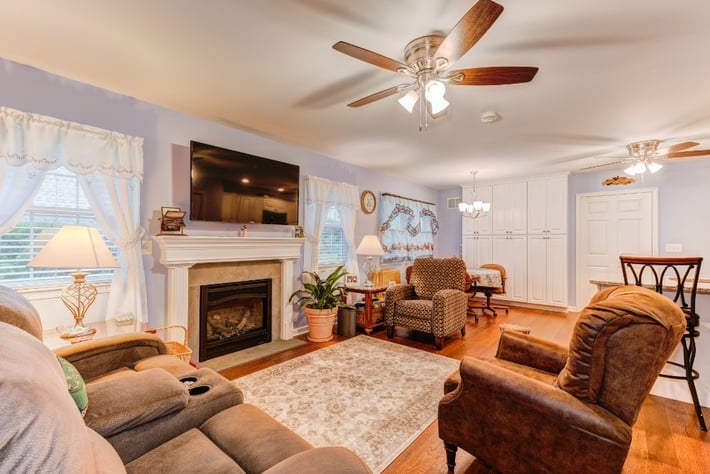 In-law suites garage renovations are extremely popular, especially with the aging baby boomer generation. Are your parents getting older, but you don't want them living in an assisted living facility? A garage turned into a custom in-law suite designed with your loved ones in mind provides them with autonomy and privacy, while keeping them close to you.
Creating an in-law suite in a garage space allows you to house them and provide them with a safe space to live while you care for them. Having them live with you (but not live with you) will give you peace of mind and you can see them whenever you want while they still retain their independence and you your privacy. This remodel project will require more of an upfit, with insulation, HVAC, windows and doors, flooring, adding plumbing for bathroom and kitchenette. A reputable general contractor can guide you through your options here.
9. Game Room
A game room is similar to a man cave, except it's family friendly. Most of the same things you'd put into a man cave, you can add to a garage game room, but with more family-friendly games and fewer masculine decorations. Throw in some family photos, area rugs, a game-themed decor or some artwork to warm up the space. You now have a space for family game or movie night.
10. Guest Room
A two-car garage makes the perfect guest suite. You'll want to install insulation to keep it warm during the winters. Add in a space heater and a lot of blankets. Be sure you check with your city's zoning laws before you make the conversion since some cities prohibit a freestanding structure or building. A guest room could turn your one-family house into a two-family house.
11. Workshop

If you like to fix and create things, transforming your garage into a tool area or craft room is a great idea. A garage makes a perfect workshop for any hobby whether it be:
Woodworking
Painting
Gardening
Robotics
Crafting
Build yourself a workstation where you'll store all of your tools in an orderly fashion. It's also a great place for you to leave any unfinished projects undisturbed until you're ready to work on them again. So, the next time you work on your project, be it a craft or something you're repairing, you won't have to worry about misplacing your tools or leaving a mess. Not to mention, while you are working on your projects, you'll be getting some fresh air, too.
12. Music Room

Have you ever heard the term "garage band?" There's a reason why they got that name. Garages provide a great space for you or your kids to practice their music without the rest of the family being bothered (particularly if your garage is detached and your little one is a terrible musician). For an attached garage, add soundproofing boards for the walls to keep the noise (uh hem music) from traveling throughout the rest of the house.
13. Bedroom
If you have an attached garage or it's close to your house and there's no current living space above it, you might want to consider building an addition above to create another bedroom. You won't be taking over the garage space, and when you build "up" you can gain that additional square footage in your house. Plus, when you add a bedroom, you don't need to worry about plumbing or running pipes, just be sure it includes a window and a closet, or it wouldn't be considered a bedroom on the property value.
14. Hybrid Room
What if you have multiple needs? Then turning your garage into a hybrid room is what you need. For example, you can divide your garage into a few different zones. You can have a laundry nook, a sewing/crafting station and a mudroom/storage area. Use your imagination.
Utilize vertical storage to maximize the amount of stuff each zone will contain. You can fill each zone up, but they'll still remain organized. Also, if it's not within your budget for flooring, you can use interlocking foam tiles (the kinds you see children playing on) for added color and safety.
Turn to Tilghman Builders for Your Garage Addition
Some of the best garage renovations are those that take versatility, creativity, and long-term use into account. By creating a space that's modern, updated and leaves enough room for other garage improvements, you really can't lose.
We can help! Reach out to our team today for your garage addition by calling 215-357-3206 or completing our online form.
Looking for more Garage Addition inspiration, click the button below to peruse our portfolio!