Do you want more space in your forever home? Do you not have the budget or physical space to build a new addition to your home? Don't worry, you have options! Your garage could have the solution you're looking for.
Think about your garage. It's a bare-bones structure, a big empty box that can be whatever you want (as long as local building codes allow). Your garage, whether it's attached or detached, doesn't just have to be a place for your car, tools, or storage. Your garage is a blank canvas where you can use to flex your imagination and creativity - or solicit the help of a great design-build team - to find the best way to maximize the space for what your family needs.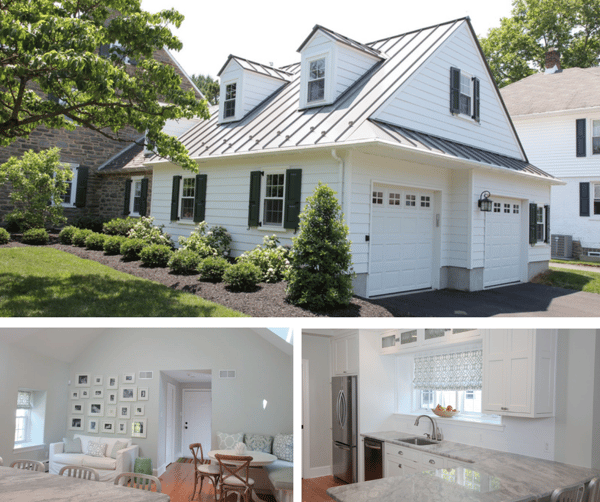 Should You Convert your Garage into a Living Space?
Transforming your garage into a living space is one of the most popular ways to utilize your existing space. We recommend converting your garage into a more livable space to homeowners who want, rather need, more room for family, friends or activities. PLUS - compared to building a new living space, converting your garage can save you time in the construction process, leave you with a bigger budget for features and finishes rather than building the structure, prevent you from losing a part of your yard and makes the existing square footage of your home more efficient.
3 Reasons Why You Should to Make Your Garage, Livable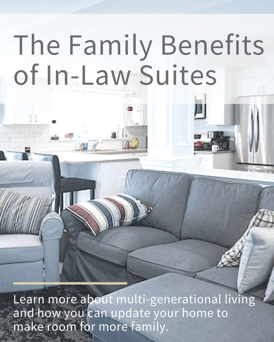 Your family needs to make room to accommodate more family members. Many families convert their garages into in-law suites to give Grandma and Grandpa their own living space close to the rest of the family because of the

benefits compared to assisted living facilities.

You need office space, a family room or guest bedrooms.

You're interested in making some extra money. Your new space can be rented out or made available for Airbnb-ers.
Keep in mind, depending on the size of your existing garage, you may be able to add living space without sacrificing your protected parking spot - a hot commodity during winter snowstorms.
Let's dive into what you need to create a living space in your garage.
Requirements for Garage Living Spaces in Pennsylvania

Windows

- Windows aren't just a nice idea for your garage living space, they are required for any room considered a bedroom. Building code requirements aside, natural light and airflow are too important to be overlooked and can actually make your space feel bigger.

Heating & Air - There needs to be a reliable method of heating and air conditioning in your converted space - especially in our eastern Pennsylvania winters. The type of heating should be chosen with your contractor based on the existing structure and your budget. Ductless wall units, baseboard heating, propane heading, ducts and more each have their long-term and short-term benefits to your budget and comfort.
Insulation - You'll want to be able to consistently keep the space at a comfortable 70˚ F during the coldest months of the year. Garages aren't typically built to trap warm or cold air. Insulation is your best friend in efficiency and comfort, especially in your garage living spaces. Insulation doesn't just involve the fluffy pink stuff you're used to. Make sure your doors and windows are well insulated and sealed to protect your living space from the elements.
Electrical & Lighting - This seems obvious but your converted garage space needs lighting and a way to control those lights. This is typically something that must be added to existing garages. When planning your project and budget, make sure you consult an electrician for safe wiring and accessibility. There are few things worse than having to run extension cords across the room. Make sure the converted space has outlets distributed evenly across the walls.
Plumbing - If your garage doesn't already have plumbing, like most, this will be a necessity for your newly converted living space. You don't want to have to go into the main house to get a glass of water or go to the bathroom. If you are planning for your garage to function as an independent living space like an in-law suite, you will need to budget space and cost for a full bathroom and kitchen. The bathroom and kitchen don't have to be huge, but they should be fully functional - and the closer you plan your new plumbing to your existing plumbing, the less it will cost



Unique Ideas for Making your Garage Living Space Comfortable and Attractive
Garage Living Space Idea #1
Dress up your garage door
What do you want to do with the garage door? Talk to your contractor about design options here. This will influence the rest of the project, so take care of it first. Your floor plan, design and functionality will revolve around this decision. If you want to keep space in your garage for parking, keeping your garage door will be necessary. Will you have a different entrance for the living space? Whatever you decide, remember garage doors take up a lot of space, a fourth of the wall space in most cases and typically aren't well insulated or sealed.
Garage Living Space Idea #2
Play with flooring options
Work with a designer or a design-build firm to explore your flooring options. We've seen some really cool concrete floors that have been stained and sealed. But standard concrete garage floors aren't meant to be warm or soft to a barefoot. Many of our clients see the benefits of traditional flooring options for comfort and design to match the aesthetic of the rest of their home.
Garage Living Space Idea #3
Tape off different floor plans
Maybe you have enough space for a studio apartment setup. Maybe you want to have a bedroom closed off from the rest of the space. What arrangement is best for your budget when planning plumbing, HVAC, windows and entry points? Do you want to add a deck for a little extra space? Do you want to have a dual purpose space for a home office and a movie room? Ask your contractor about what square footage you need to accommodate your wishlist and try to envision the space. Even tape off the walls and furniture to see how it would all fit.
Garage Living Space Idea #4
Hide the ugly stuff
Consider adding walls or closets around things like furnaces or water heaters to make the space feel more like home. Some new drywall and a fresh coat of paint can go a long way to making your space feel more homey and less like a garage. This can also help contain some unwanted noise.
Let's Get Started on Your Garage Project
If you have any questions about converting your garage into a living space or any other home improvement projects, let us know! Our team is always happy to help. Our experienced team has proudly served families throughout Bucks County, PA and Montgomery County, PA! Click here to view some of our recent projects!