When choosing the right look for any room in your home, including your master bathroom, it's common to be overwhelmed by the many different style options. There's shabby chic, coastal, traditional, modern, among many others. The first obstacle is understanding what the different styles mean. And the second obstacle is figuring out which style you like best.
Today, many people are looking for something "modern" for a clean, eye-catching and trendy bathroom. However, homeowners can easily confuse the style "modern" with others like "contemporary" and "ultra modern." So, to clear up any possible confusion, here's a little bit of information about the trend of a modern master bathroom design.
Modern style can be mean different things to different people. Some people immediately picture chrome and weird pieces of art, which can scare them off from choosing a modern look. Here's the thing - when we refer to modern design, some concepts include simplistic geometrical shapes, neutral or basic colors and natural materials. Modern can also simply mean "updated", using design trends that are in pace with current trends.
The actual definition of modern design refers to an era that has already passed, specifically the time period in the early to mid-twentieth century. Modern design is defined as a style of decor which focuses on minimalism, neutral colors, clean design lines and environmentally-friendly materials.
This design style has recently become super popular for styling bathrooms, transforming them to be both long-lasting and eye-catching. If you're thinking about choosing a modern style for your master bathroom design, below are some tips to creating the perfect, modern oasis for your home.
Embrace Simplicity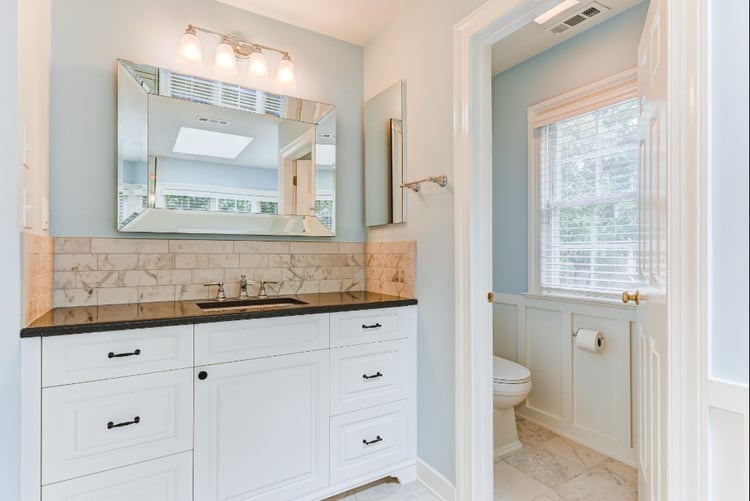 Use simple geometric shapes like squares and rectangles when choosing materials, with bright, neutral colors, like white and gray. Natural materials like stone for the backsplash add a nice touch to the overall décor. For accents of color, natural elements like plants and flowers bring pops of color while bringing a homey, less sterile touch to the bathroom.
Keep Things Open
Another feature common in many modern-style bathrooms is utilizing an open floor plan, typically using glass to keep the space feeling airy and open, even in small spaces. Transparent glass shower walls, and large glass mirrors are easy looks that complement other geometric shapes and neutral tones. Basic squares paired with a monochromatic color scheme and minimal décor elements for small pops of color are a great look for any master bathroom, regardless of shape or size.
Warm & Welcome
Not all bathrooms have to be cold, white and sterile to be modern. A modern master bathroom can be warm and inviting, too. You can still implement geometrical shapes, but instead of squares and hard edges, focus on egg-like shapes for sinks and tubs, while choosing a color scheme that is warmer but still neutral, such as nudes and beiges.
Wood and stone are materials that are also typically used as modern design elements as well, with chosen décor such as wooden frames, beige candles, etc.
Ultra Modern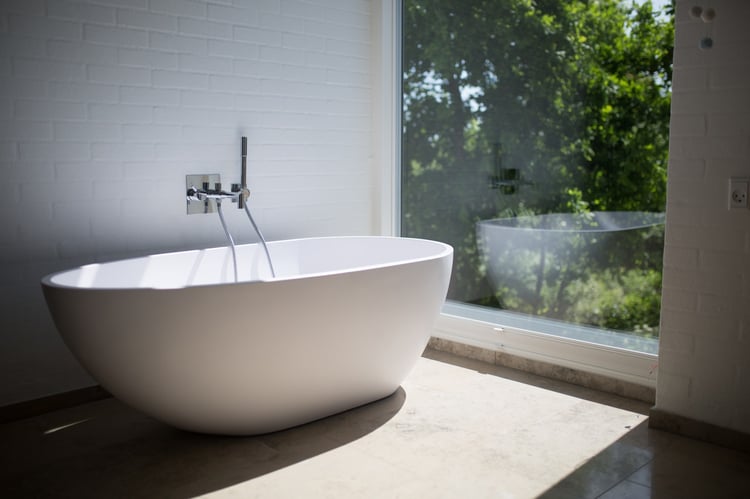 If you really love the modern style, and are looking to achieve the kind of master bath that is so modern, it blows everyone away, ultra modern may be perfect for you. This look can be achieved by making key pieces to your master bath basically disappear. For instance, installing a floating vanity or enormous, wall-sized windows with tons of natural light to make the bathroom seem like you're practically outside. A freestanding tub is another ultra modern design feature, like in the photo above. Although this isn't one of our projects, it's a perfect example of ultra modern features.
Essentially, an ultra modern master bathroom design is the essence of "minimalism" and every element appears to occupy as little space as possible.
Incorporate Darker Elements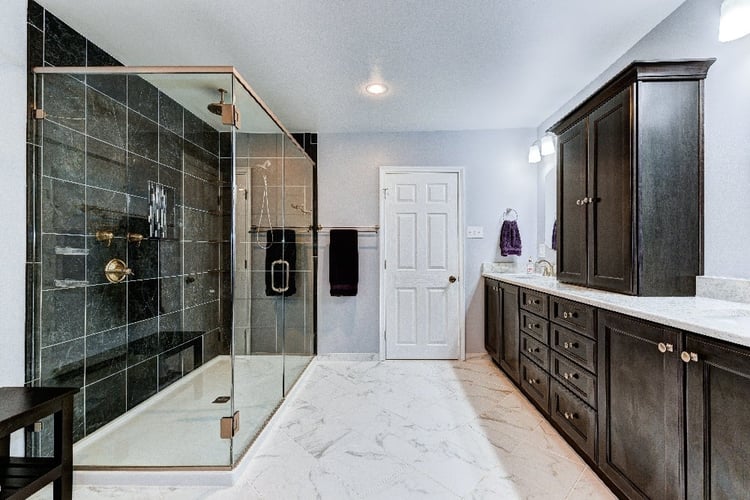 If you prefer a darker color scheme, this modern look could be right for you and your master bathroom design. Not all modern bathrooms have to be white, gleaming and bright. You can easily darken up a modern bathroom by incorporating dark grays, and using slate as the material of choice. After all, these are still neutral colors and natural elements.
Additionally, black tubs and toilets can also be implemented for a sleek, dark look.
Ready to transform your master bathroom into the modern oasis of your dreams? You now have the tips to make it happen. But, if you would like some help from a professional, our team of homebuilders are experts in bathroom remodels, and would love to assist. Contact us anytime.
Looking for more inspiration for your master bathroom remodel? Check out our portfolio to see some our favorite completed projects.