Families come to us when their homes, both old and new, need updates. From home renovations to home additions big and small, we help families in the Bucks County and Mongomery County areas turn their current home into their dream home. Whether they have an outdated kitchen, not-ideal floor plan or a need for more space, our builders work to find the best solution for our clients' budget and long-term needs. Check out some of our favorite before and after projects below.
WANT TO SEE MORE? Check out our before and after project gallery here.
---
Kitchen Remodel
This kitchen was part of our Linda Vista project. This family's kitchen was original to the house and simply wasn't serving their needs as well as it used to. We added on to the house to give more space to an otherwise cramped area to give the family more room. The updated cabinets, countertops, floors and applicances gave the kitchen a personality that more closely matched that of the family, and gave them a better place to spend time together.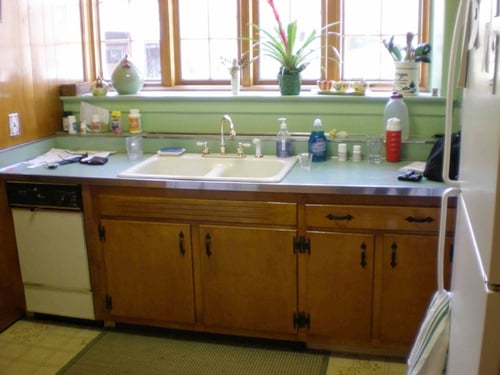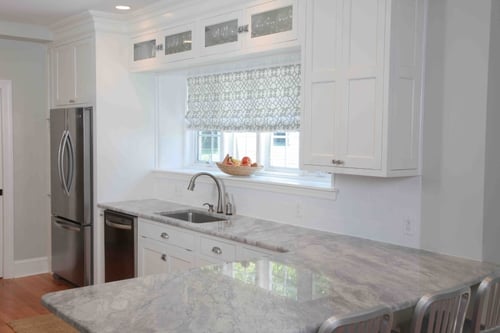 ---
Second-Story Addition
This addition is a great example of how we can help you accomodate your growing family. Sometimes, our clients have simply outgrown their house. If you love your home but don't have the right space, you don't have to move! With a home addition, you can keep your neighborhood and commute to schools and jobs the same. If you don't have space on your existing lot (like this family), we are happy to come out and assess your home for an addition. You can be a candidate for a second-story addition regardless of if you have an existing second-story or not, and we will always do our best to make sure your addition look natural.
Whether you need more rooms for you growing family or you are bringing in other family members to live with you, we can make sure the space we add is built to last. Many of our additions projects are built to provide universally accessible spaces for young children and aging adults. Check out some of our universally pleasing features here.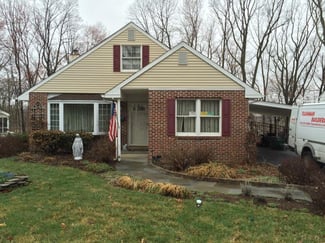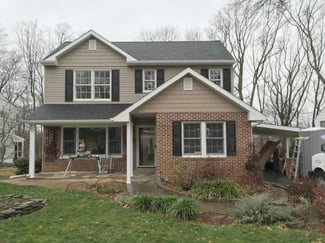 ---
Master Bedroom and Master Bathroom Renovation
Looking to update your master suite? This family bought thier home for many great reasons, but wanted their master suite to have added functionality and personality. Your bedroom and bathroom should be your sanctuary! We added more storage with modern, colored cabinets and updated the look of the space with beautiful tile work and countertops. We worked closely with the family to ensure the design and finishing touches matched their style and the rest of the house for a timeless elegance.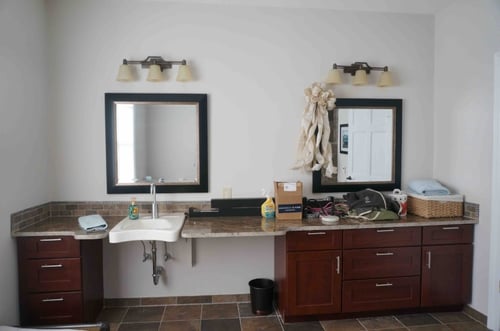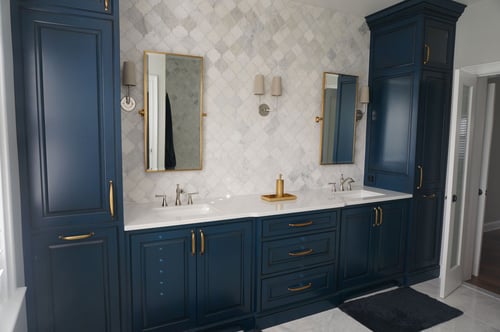 ---
Outdoor Living Space Addition
Adding livable space outside is a great way to add value to your home by adding square footage. We've completed outdoor kitchens, pool houses, garages with livable space and more. This project we particularly enjoyed doing because the addition needed to keep with the asthetic of the existing home and neighborhood but we didn't have an existing outdoor space to base our designs on. Again, we worked closely with the homeowners to ensure they were getting the space they wanted while keeping the history and integrity of the home. We absolutely love these columns and railings and can't wait to see how the family uses the space!
This outdoor living space addition was part of a larger project to update and add space to the first floor. In addition to the covered deck, we added a breakfast nook off the renovated kitchen and living space.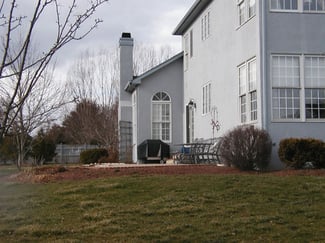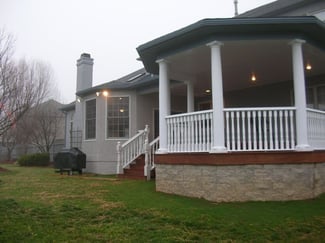 ---
Want to see more of our projects' before and after photos?