If you're looking to finish your basement or renovate your existing space, your end goal should be to make the area feel like a natural extension of your home. This is especially true if you're planning to utilize the space as a guest suite. It's a far cry from the purpose basements served originally -- as just a place to keep the HVAC system and other mechanical equipment. Limited lighting, dampness, and low ceilings make the basement a somewhat intimidating place.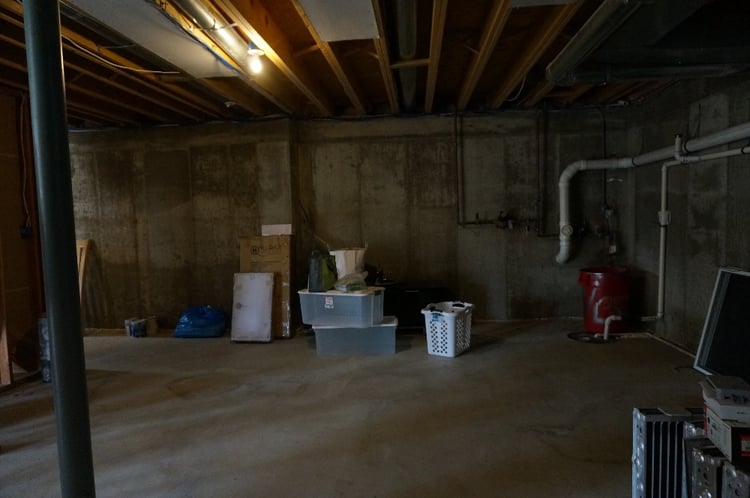 So, when you're finishing or remodeling your basement, what can you do to make your space feel welcoming for your guests? Plenty of things actually. Let's take a look!
How to Create a Homey Basement Space
First, we can't stress enough how important it is to waterproof your basement. Since basements are located below ground, they are more likely to take on water than other areas of the home. Failure to properly guard against this can lead to water damage and mold growth over time.
Once you've taken the necessary steps to waterproof it, there are a lot of things you can do for your basement remodel project to make it feel like an extension of your home and a perfect place for guests to stay. Here's a look at five basement design tips.
Tip 1: Brighten it Up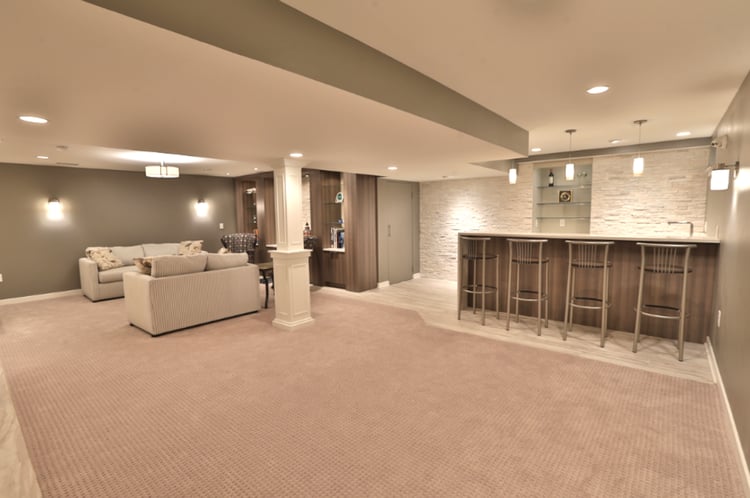 It's a fact - unfinished basements are dark and dreary places. Whether you're finishing with drywall or wood paneling, go for either a light paint or lighter shade. If you're painting, we don't recommend using plain white. Instead, use pale tones (there are lots of shades available) for your basement design to give the area warmth and brighten it up.
Tip 2: Maximize Natural Light
Basements tend to be dark, but some are equipped with windows (even small ones) that can let in natural light. Once you brighten up the area with the right shade of paint or paneling, maximizing natural light is important, even if it's just a narrow glimpse to the outside. Don't be concerned with covering the natural light you do have with heavy window treatments. Use light or white shades or blinds that can be closed for privacy, but otherwise let the light in. Or keep curtains sheer so they don't block light, and hang them at a longer length, to trick the eye that they ceiling is taller. You'll still need to install some type of overhead lighting to supplement, but a basement design that optimizes the natural light can help create the open and welcoming space to make your guests feel right at home (and not in a dark cave).
Tip 3: Add a Full Bathroom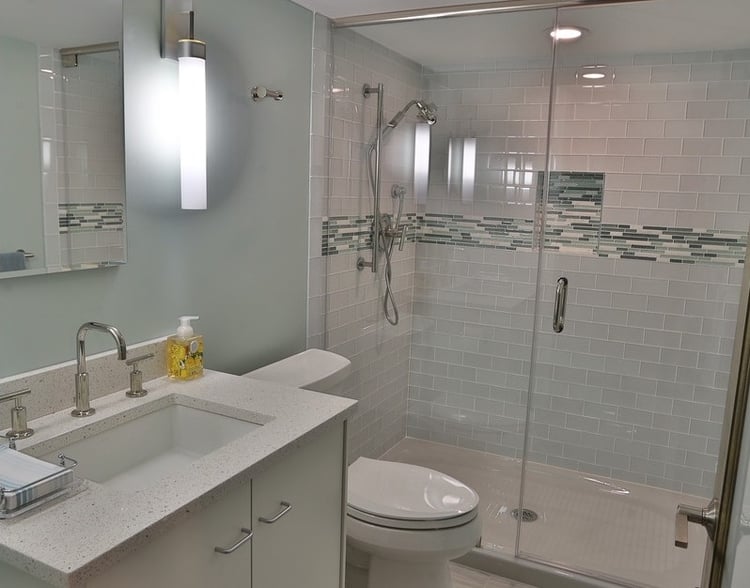 Ideally, each level of your home should have at least one bathroom — and if you're going to finish your basement to serve as a true extension of the home, you'd best consider adding a full bathroom down there, too. That way, guests don't have to trek to other floors of your home when nature calls. Also, with the addition of a full bathroom and true bedroom (with a window and a closet), your new basement guest suite will help increase the value of your home.
Tip 4: Pick the Right Flooring
Being that basements tend to have more moisture problems than other areas of the home, many homeowners choose durable flooring like vinyl that looks great and does a nice job of resisting moisture. The new styles of luxury vinyl plank that look like wood are an ideal basement flooring option. But keep in mind that basement floors can get cold, so a heated floor system or large area rugs can add warmth to the living areas.
Tip 5: Add a Fireplace
Though it can be a bit of an initial investment, one of the best ways to ensure a cozy basement for your guests is to have a fireplace installed. Even though a basement fireplace can cost several thousand dollars, it's a great touch for those who will spend a lot of time in the space.
Once you make the decision to invest in a basement remodel, it's important to do it right and create the perfect living space that you and your guests will love and feel comfortable in. You'll also need to select the right contractor to make sure the end project is the beautiful space you envisioned. For more information, contact us today.
As you're planning for your basement remodel project, you'll need to pick the perfect finishes, materials and other basement design elements to create your dream space. Our free materials guide can help! Get your copy below.