For any basement project, the cost will vary. But here at Tilghman Builders, we value transparency. So, we wanted to provide a ballpark range and how it can fluctuate as the project scope changes. Keep in mind that while it may be tempting to select a contractor based on price alone, finding the balance of cost and quality is more important.
Generally speaking, the average cost of a full basement renovation project in eastern Pennsylvania can be anywhere between $50,000 and $150,000 depending on the size of the project, complexity, and the number of add-ons (think bathrooms, kitchens, finish choices, etc.). Below, we've detailed estimates for common components in a basement renovation. While not all of them will be applicable to your project, the goal is to give you a general idea of costs so you can make informed decisions when planning your basement renovation.
First, Why Do you Want to Renovate Your Basement - What Are Your Goals?
What do you want out of your basement renovation? Determining this is key. Are you simply looking to finish the basement to later build it out? Are you building a multi-generational apartment for your aging parents and grown children? Consider creating a checklist that defines your must-haves and your wishes. You might be surprised by what's within your budget.
Basic Finishing
The first step in basement renovation is making it habitable. This means waterproofing and insulating the walls, hanging drywall, and installing flooring to create a true room and not just the unfinished foundation.
Waterproofing
Waterproofing will discourage mold growth and moisture accumulation in your basement. The cost of waterproofing your Pennsylvania basement is pulled from a number of factors. Does the foundation need to be fixed because of leakage? How much moisture is present in the surrounding soil? Depending on the needs of your unique basement, a drainage system may be required. Foundation repairs and leak sealing are other factors that could impact pricing.
Insulation
Insulation will help with moisture and temperature control in your basement. The cost of installing insulation varies as it really depends on how big the space is and how much material is required. There are different types of insulation to choose from. We at Tilghman Builders generally install rigid insulation board against the foundation wall, then build a wooden 2 x 4 wall up against the insulation.
Remember, waterproofing and insulation are investments. The money you pay up front will come back to you over time with lower energy bills and fewer problems (and associated costs) down the line.
Framing and Drywall Installation
Finishing walls is a necessary step, but are you planning to create an open concept or create separate rooms? Think about existing pillars in your basement space – do they need to be worked into walls or will they stand alone in the general space? All of these decisions affect how much framing and drywall are needed.
Flooring
Whether this involves covering the concrete slab with plywood, rolling out carpeting, or laying down tile, flooring is an important part of creating a habitable basement. If you're planning on your basement truly being a livable space, you'll want to install some kind of flooring. You wouldn't have your kitchen or living room without it, so why would you leave it out of your basement?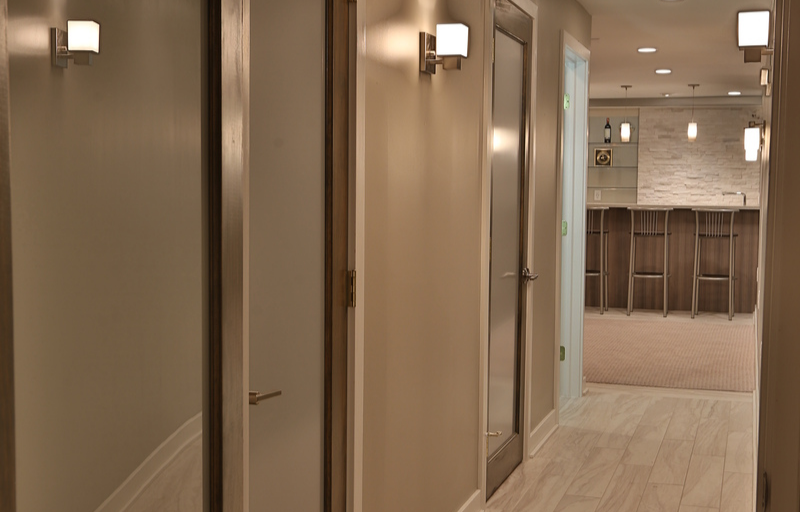 Electrical Wiring and Panel Installation
Is your basement currently wired for electricity? In all likelihood, it probably is, but depending on your add-ons, you may need to add additional wiring and electrical outlets. New rooms will require electrical for lighting fixtures, ceiling fans, outlets, HVAC systems, and more. So if you're planning on creating the ultimate gameday space, for example, you'll need this additional wiring and panel installation.
Pennsylvania Building Codes in a Basement Bedroom
Designating a bedroom in your Pennsylvania basement comes with a huge requirement: egress windows and doors. These are easy-to-open windows and doors that function as an emergency exit. According to Pennsylvania building code, emergency egress windows require a minimum width of 20 inches and minimum height of 24 inches. This process could be as simple as installing a window, or as complicated as carving out the foundation wall and grading the surrounding land. The price of this requirement will vary by location, but regardless, it is a definite expense if you intend on adding a bedroom to your basement.
Bathroom
If you're planning to install a bathroom in your basement, there is one word you have to take into account when budgeting: plumbing. While this may not always be the case, generally plumbing needs to be completely reworked when adding a bathroom to your basement. A top factor in cost is the location of the main sewer line. If this starts above ground level, then the installation of a sewage ejector pump may be required.
Kitchen/Kitchenette
Adding a kitchen or kitchenette to your basement living space is a wonderful idea if your goal is to entertain in the space or offer a separate apartment for in-laws, aging parents, or grown children. The cost of this addition, like everything else, depends on what you want to add. Generally, kitchens include a sink, a dishwasher, a refrigerator, and a stove (which could run on gas or electricity). Before selecting your appliances, understand what will be required for installation. Running a gas line, for example, is a separate expense, so it may make more sense to stick with an electric stove.
High-End Features & Finishes
Aside from structural needs and the general size and layout of your basement space, high-end features like wet bar installation, wine cellars, and more can rack up the price. Additionally, high-end finishes like luxury bathtubs and marble countertops are also added costs. If you've got the budget, these are incredible home additions. But if you're trying to stick to the more frugal and conservative route, you may want to review your options and prioritize by level of importance. The cost range for these items is entirely up to you.
A few common high-end features and finishes include:
Stainless steel appliances
Wet bar
Wine cellar
Luxury bathtubs and showers
Hardwood flooring
Decorative moulding
Let Us Help
Here at Tilghman Builders, we specialize in home remodeling and renovations, serving homes like yours in Bucks County and Montgomery County for over 35 years. If you're considering renovating your basement, give us a call for a consultation. We look forward to creating a basement you will love.