Over the years, basements have been known as a musty, unused and (to most kids anyway) a scary dark space where the holiday decorations and old sports equipment are kept. However, with the competitive real estate market and need for expanded living spaces, homeowners are looking at their basements in a new light. In fact, basement remodeling is all the rage as homeowners are realizing that these large spaces just under their feet can be put to great use and add value to their home.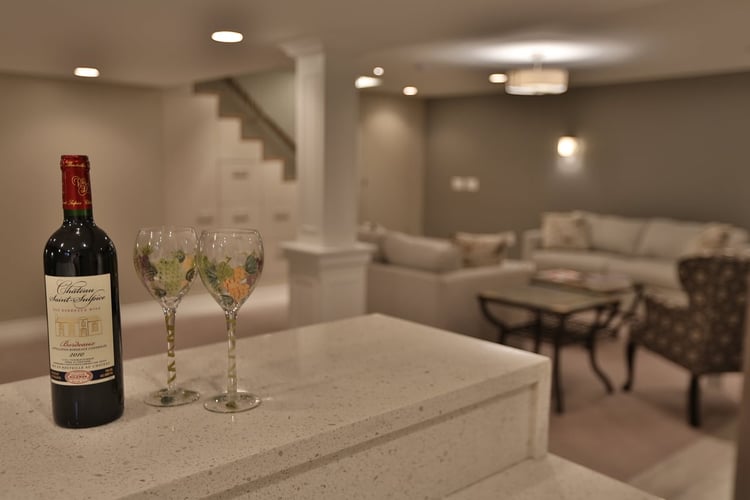 In previous years, basement remodels were designed to add extra storage or to create a designated kids' play area. Sometimes an extra bedroom was added, and if plumbing was available, a powder room to go along with it. Now, homeowners are becoming much more creative in their dream basement vision.
Today, it is common to come across basements renovated into game rooms, home theaters, guest bedrooms or independent in-law suites just to name a few. Some even include all of the above, depending on the amount of available square footage.
The most beautiful thing about a basement space is the freedom that comes along with it. A basement can be remodeled to become just about anything. Whether it's simply one big room of open space or built with a door to the outside creating a new entrance to your home, a basement has all the potential to be so much more than extra storage.
To help meet that potential, here are four of the hottest design trends (that will surely become must-have features) for your basement remodel.
Trend 1: Extended Living Areas
It has become increasingly more common for homeowners to treat a basement as an extension of the upstairs living space. That means the basement finishings, style and aesthetic maintain the same feel as the rest of the house. It's almost as if you're simply stepping into another common room, eliminating the division you typically feel when walking into a basement space.
That creates the ability to build a comfortable guest suite for in-laws and visitors, an additional entertainment area for game days, or an inviting gathering space with a wine cellar and bar stools.
Trend 2: Open Concept
Just an open concept layouts have become favored in home design, the same open concept designs are extending to basement designs. They are both convenient and aesthetically pleasing layouts perfect for flexibility within the space. Several different concepts such as game rooms, wet bar areas, family sitting area, in-home movie theater, etc. are all easily implemented into an open concept basement.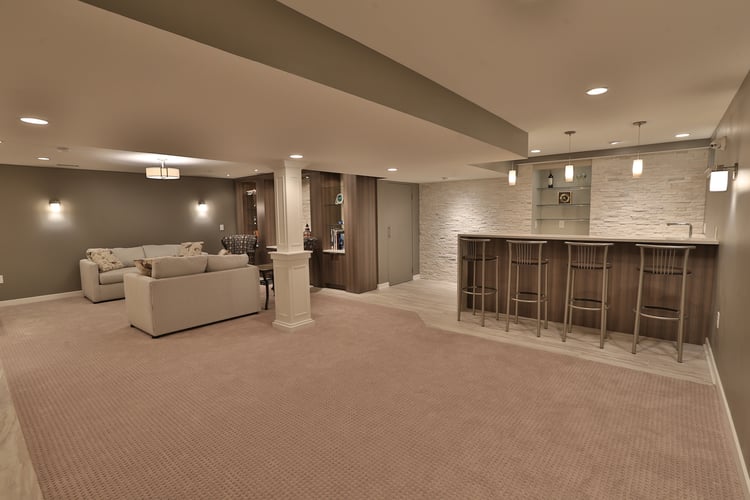 If you have a smaller basement, it can actually feel larger with an open concept floor plan, maximizing the amount of square footage without reducing usable space with unnecessary walls. By using perception to create additional space, you allow more freedom for creating the perfect in-home sanctuary.
Trend 3: Walk-In Basements
With walk-in basements, all of the foundation walls are not necessarily submerged underground. This style of basement will have some sort of doorway, and is ideal for homes which are built on a slope or hillside. Plus, the design brings huge advantages for the homeowner.
In fact, a walk-in basement receives lots of natural lighting, which is a super desirable feature. And since it is typically equipped with a door, this type of basement is great for walking out to a pool or patio with a grill area. It is also very common to use a walk-in basement as a second entry, especially if it is intended for guest usage and contains a guest suite, or for renting out to tenants as an apartment.
Ideally, the space will already be built as a walk-in basement, however it is possible to renovate to accommodate this style or something similar, if the foundation and land allow for it. However, it does require a lot of planning, research and meeting city construction codes, but in the long run, adds a lot of value and benefits to a home if done well.
Trend 4: Light and Airy Design Elements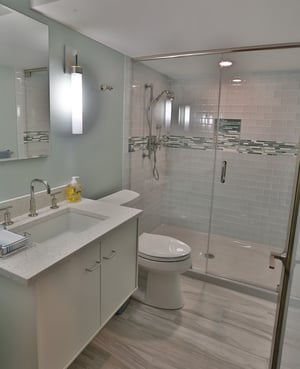 When choosing a design for your basement remodel, it's important to keep a few factors in mind. No matter what you plan to use your basement for, remember that this space is underground. That means it is totally different from the other levels of your home. It may or may not have a usable powder room or immediate access to plumbing, windows with natural light, drywall, etc. These are all crucial elements to keep in mind so you can make sure your basement maintains a sense of comfort, utility and a beautiful aesthetic.
Some helpful design pointers for a gorgeous, homey basement include:
Installing a beautiful up-to-date powder room
Using a light and airy color palette
Installing multiple windows in order to maximize the natural light coming through
All of these steps are very important when it comes to remodeling your basement to go from dark and uninviting to light, airy and - well - inviting.
There you have it - four basement remodeling trends that will help you turn your basement into the entertaining space, overnight guest oasis, or home theater you've been dreaming of. And if you need help bringing your vision to life, contact us! We would be more than happy to assist.
Feeling a little stressed about budgeting for your basement remodel, and other home renovation projects? Check out our free guide below for some tips to help put your mind at ease.