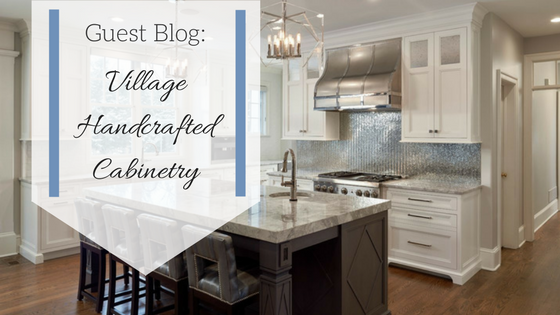 The pure definition of teamwork is a group of people coming together to get a job done. While we do have an amazing team that makes up Tilghman Builders, part of our team reaches beyond that to the vendors and partners we use, who help us perfect an addition or renovation.
Village Handcrafted Cabinetry is a vendor we trust in and do business with often. We met up with Joe Trave, Partner & Director of Sales, and asked him a few questions on his business and what homeowners can expect when it comes to picking out cabinetry.
Q: Tell us a little about your business
Village Handcrafted Cabinetry started as a sole proprietor in a small shop and has now grown to a 50-person company. We design, build, and install any type of cabinetry that you can dream of. I mean it - bring us a picture and we'll build it. What sets us apart is our ability to custom finish match to any sample since we have more than just a standard line of colors, and we give the customer full flexibility.
Q: What do homeowners looking to remodel need to know?
The most important questions we ask ourselves in the early stages of design is "What is the style they are trying to achieve with their home?" Is it traditional or transitional? Modern or old-world? Or maybe it's European style, which would include heavy wood and more detail. Going even deeper we need to find out the color of the cabinets they are looking for. Some people want bright, like white. We've been noticing, however, that light gray is a very popular option right now. These are the types of questions we like to have clients answer when we first talk with them as well as a budget range they would like to stay within. We show clients a lot of pictures of previous projects we've done, so they can focus on a style and look. It can be hard for clients to visualize so it is really helpful to be able to show them a picture and have them tell us, "Yes, I like that." or "No, I don't like that."
Q: What's the most popular type of cabinet?
In our area, recessed panel is very popular right now. It's a very cottage-esque style. We are selling a lot of recessed panel doors in both a frameless style, which is more of a contemporary look, or a beaded inset style that is much more traditional.
Q: How do you help with the design portion of installing custom cabinets?
After we meet with a new client and get a general idea of what they want, we use a couple different CAD programs (Computer-Aided Drawing) to give the clients different versions of a design. Then, we can start to hone in on that design and give them a full-color rendering of what it is going to look like; similar to what you see on HGTV.
Q: For a homeowner, what's the difference between working with an independent interior designer and using your in-house designers?
We have project managers/designers on staff, but we also work with a lot of interior designers. If a client is working with their own interior designer who is helping them with other things that don't involve us, we welcome the collaborative effort. We believe that when we're working with designers it is really important to create an environment of mutual respect.
Q: What's the biggest misconception about buying cabinets?
We get this viewpoint all the time of people saying, "I can't afford a custom kitchen." In actuality, you can! We are very competitive with the builders we work with, so customers really do get good value coming right from the factory. Because we make the cabinets, there is no middle-man. Some of our clients have bought our custom cabinets for a price similar to that of semi-custom cabinets from other places.
Q: What's the coolest custom feature you've ever designed?
We've done some very cool custom hidden doors and hidden access panels; for a safe, or documents, or firearms. We really enjoy creating these hidden niches that can hold all kinds of things.
Q: What's something you do that most people don't realize you do?
Something that not many people know about us is that we do a lot of antique barn wood. We build full kitchens that might look old and aged on the outside but on the inside are brand new. The drawers would run perfectly but the exterior would be repurposed barn wood. Sometimes, we use timbers as old as 200 years.
Q: Knowing that you work with a lot of other contractors, what do you like about working with Tilghman Builders?
We like working with Bob and Joanne, first and foremost, because they are great people. They are very honest and fair with their sub-contractors. At times, you can get into a relationship with a general contractor/sub-contractor where they demand things and it's about the position of power. But Bob and Joanne and their team, Eric, Tony and Junior are amazing. We really enjoy working with them. If the kitchen is the primary project, we are often brought in during the early stages of a project. The kitchen is so critical to the construction that the Tilghmans don't want to go too far until they have a solid kitchen plan. Sometimes, we may reach a point where we have a plan solidified but some of the other details aren't finished. However, this way we can get the Tilghmans a working plan, so they can start putting their plumbing and electrical locations in.
Learn more about Village Handcrafted Cabinetry on their website here!
See our work with Handcrafted Cabinetry below!