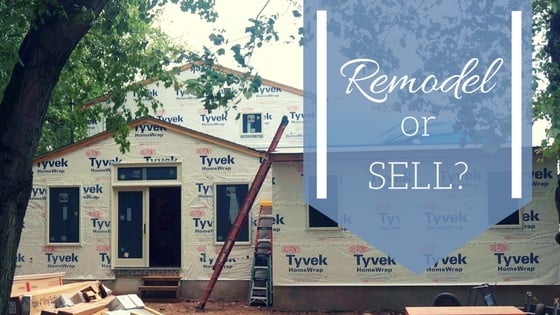 Choosing between remodeling and selling is a big decision with lots of considerations. We work with many families facing this same question. Often, our customers love their neighborhood but have just outgrown their home. While a tough decision, we've laid out considerations below to help guide you toward a decision that works best for your budget, your family, and your lifestyle.
The Cost of Remodeling Vs. Purchasing a New Home
This will be a big factor in your decision. We are all aware that remodeling costs money, with months of planning and working with a contractor to get the project completed. A reputable contractor will be glad to speak with you about the options for expanding or renovating your home, and can give you ball park costs for the elements you are considering.
Moving, however, also comes with its own sets of costs. Add up the costs of packing, moving services, and loan financing, but also keep in mind the extra costs that will sneak in. For instance, you may have to replace the carpeting, fixtures, etc. before you can list your home. Make your best effort to include everything it will cost in time and money to sell your home and buy a new place. Then estimate what you may get for your house and how much cash you will have for a down payment.
The two options could have very different costs, or if they are similar, you'll also need to...
Compare Your Current Home Value to Updated Homes in Your Area
Get an appraisal of your house as it is and then research the sale price of homes in your area that already have the improvements you're thinking of adding. If, when you finish this project, the gap between the current value of your home and it's future value isn't far off, then it's worth thinking about a remodel. However, if your house is already at the top price point for your area then it's doubtful you'll get back the money you invest in your renovation. It's also important to consider what renovations will add value to your home and what renovations won't.
Quality of Life
You may dream of having a big beautiful house – but let's expand that dream a little further. Do you see kids playing in the cul-de-sac? What about walking them to school or a bus stop? This isn't just a place to sleep at night, this is where your family will live. Putting cost aside, you should keep the following in mind when considering whether to remodel or move:
Neighborhood quality of life
Work commute
School district
Traffic on street
Location of home and neighborhood
Size of yard
Many homeowners are advised not to remodel beyond the value of their neighborhood, but if you find that the quality of life in your neighborhood will suit your family's needs for the next 10 years, then the combo of an improved home in a neighborhood you already know and love may be the best choice for your family.
Choosing to Remodel?
It's possible to build the house you live in into the home of your dreams with the right contractor. If you want to stay in your home, renovate for your family's needs rather than those of a future buyer of your home. Our personalized Design/Build process helps to create a plan focused on what will work for your home, family, and budget. From the design to the finished space, we handle the entire design/build process. A design–builder or design–build contractor is a single entity contracted to perform design and construction services on a given project. Throughout the years, we have perfected our design/build process by focusing on the following three factors:
1) Make the client's experience as simple and hassle-free as possible
2) Keep the project on schedule and on budget by eliminating surprises
3) Deliver outstanding craftsmanship and quality

Questions about renovating or remodeling your home? With our budgeting eBook, you can figure out how much you need to save for home improvements. For any questions, feel free to contact us. You can count on us to offer an expert opinion and a price estimate for your project.
This blog was originally published on November 30th, 2016 and was updated on January 10th, 2022 for clarity.