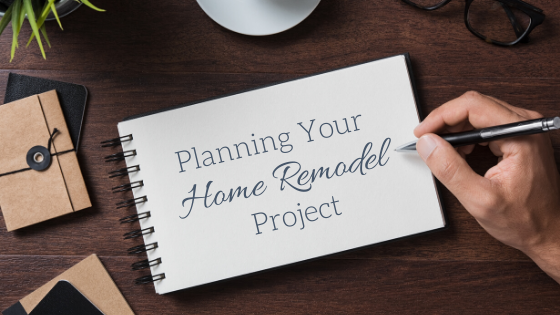 You can picture the home you want in your head -- maybe you need a larger kitchen, an extra storage room, or even a bedroom for your mother-in-law. Whatever the case may be, you want to remodel your Pennsylvania home. Depending on the remodel you have in mind, the project scope can get pretty massive. With that being said, take a breath because there's no need to feel intimidated, especially if you have the right contractor at your side.
1. Financing Your Home Renovation Project
Before you begin, you first need to assess your budget and determine the financing method you'll use for your project. This is the key component to effectively planning your home remodel. Determine how much you have to spend and account for rainy days and potential roadblocks along the way, it helps to have a cushion for any sudden expenses. Consider hiring a financial advisor to help you assess your options and make an affordable plan catered to your income. A financial advisor can help you understand your assets and can help you navigate the process and ways to get the funds you need to start building.
2. Determine Your Home Improvement Wants, Needs, Splurges, and Compromises
If you've gotten to this point, it's likely you have at least a basic idea of what you're looking for in a remodel. To really iron out the details, however, you need to sit down and make a list. Start by asking yourself these questions,

Are you adding a second-story to your home for a master suite, or outfitting the lower level to accommodate your mom in her elder years? Maybe you are converting the scarcely-used sitting room into a much needed kitchen update and expansion. Determine what you wish to gain from the remodel and the reasoning behind it to get started.
What needs to be done to reach that end goal?
Will you need to take down an exterior wall, pull off the roof, or dig foundation? This question should address the depth of the remodel and will allow you to get a better idea of potential complications and expenses.
What details are you willing to forgo or compromise on if budgeting calls for a cut? What components will you not compromise on/what would you splurge on?
When push comes to shove, in what areas are you willing to sacrifice from your wishlist? Maybe you can go without the rescued wood plank flooring and swap it out for a similar-looking luxury vinyl plank. Maybe you don't need that jacuzzi tub.
Is your heart set on the latest tech for your entertainment space? Are granite countertops a must? Consider your budget but never forget, you should be happy in your home and it is ok to allow yourself a few splurges. Prioritize your wishlist and determine what are the most important features.
3. Hiring A Home Remodel Expert
Once you have a solid idea of what you want and have secured a budget to work with, the next phase in the home remodeling process is to hire a contractor you can trust. Be careful about falling into the age-old trap of "if I do it myself I will save so much money!". The truth is, hiring an expert is an investment, but also an insurance policy! An expert can anticipate roadblocks, navigate regulations, give you an accurate cost estimate using their years of experience in the industry, and ultimately keep the home remodel process on schedule and within your budget.
Here's the key: A reputable design/build contractor can help you through ALL of the steps above. For our clients, we act as their consultant for the whole process, after financing. We know it is important to work through all of the scenarios of remodeling options, budget and timeframe.
We'd like to walk you through our Tilghman Builders process so you understand what to expect, in this superior process created with the homeowner in mind.
When working with a contractor, you want someone who not only understands that a project of this size can get stressful, but who takes it upon themselves to create the smoothest experience possible for you. As a design-build contractor, we handle every aspect of the home remodel process from inception to finished space. That means that all stages of the design, including working with an architect, as well as the complete construction, is handled by our team so you have a seamless experience.
We keep it pretty straightforward here at Tilghman Builders and guarantee the following for every project we take on:
1) Make the project easy and hassle free for our clients
2) Eliminate surprises and keep the project on schedule and on budget
3) Deliver superior workmanship and quality
Our Design-Build Process comes in three stages -- Goal Setting & Estimates, Design, and Final Pricing, Permits, & Build. We work with you every step of the way discussing scenarios (ensuring you get the best one), keeping the project moving and giving you accurate timeframes, all while staying within your budget. Take a look at the three stages of our Design-Build process below.
Stage 1 - Goal Setting & Estimates
This is the first contact with the home you are looking to improve. We use this opportunity to get to know you, hear your vision for the remodel, take basic measurements, and get our brains working on the best way to meet your goals.
We pride ourselves on our project estimate accuracy. We provide you with a rough estimate of the total cost of your home renovation that will be within 5% of the cost after completion of the plans and final pricing. We take everything into account when making our estimate, not just foundation, but the projected price of appliances, windows, flooring options, and more.
We spell out the design and process details and draw up a construction agreement. We provide you with a proposal and fixed costs only when the detailed design has been completed.
Stage 2 - Design
Second Home Visit - Field Survey - Design Approach
Once you've approved the Construction Agreement, we visit your home a second time to conduct a field survey, confirm measurements, and decide on a design approach.
Together we review the Preliminary Design. During this step we confirm that your design criteria is being met and we make revisions where necessary. Once the design has been set, we guide you through the selection of products such as cabinets, carpeting, tile, countertops, windows, doors, roofing and more and make vendor recommendations from our vetted list. We will then recommend showrooms and supply houses you can visit to select your products,.
Once the Preliminary Design has been approved, our architect draws up the final construction plans. This process takes anywhere from 2 to 5 weeks after the field survey.
Stage 3 - Final Pricing, Permits, & Build
Final Pricing and Proposal Development
Once the Final Construction plans have been confirmed, we will be able to give you the final pricing for your renovation project.
Together, we review the final proposal. In this stage we walk through the process with you, discuss the fixed prices, and answer any questions you may have.
Upon approval of the final client proposal, we assign you a Project Manager who then gets to work obtaining all the necessary building permits.
Once we have all the needed permits, the home remodel begins!!
Remodeling your home is a big undertaking, but you don't have to be intimidated. Our team at Tilghman Builders is here to help you through every stage of the process. We specialize in home remodeling and renovations, serving homes like yours in Bucks County and Montgomery County for over 35 years.