With the year on its wind down, you may be looking to change things up a bit and eventually start off the new year with some home design and decor updates. Or maybe you're looking to start the planning and design stages of a new addition or home remodel. In either case, we've put together a list of trends that are beautiful, functional, universal and add value to your home. Remember though, to always choose something that you love, and quality, because not everything that's "on-trend" or "in-style" will work for you or will last the use of time.
Outdoor Kitchens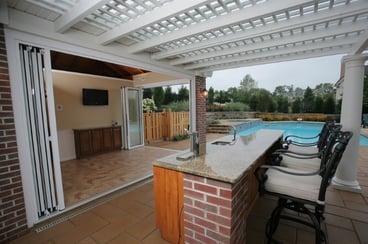 Outdoor kitchens and living spaces are quickly popping up everywhere. They are great for infusing all aspects of party prep and delivery without having to constantly run back and forth with food or be stuck inside cooking while everyone else is outside. While the time for being able to build an outdoor functional space is coming to a close this year, it just so happens to be a perfect time for you to gather inspiration, and finances to be able to add this great space to your yard this coming spring. If you already have an outdoor kitchen then great! One way to extend your outdoor season is by purchasing a propane heater. The warmth provided is a great way to enjoy cooler fall days or even warm winter ones!
Darker Colored Cabinets
Is an interior kitchen remodel in your future? Are you trying to figure out what color cabinets to use in the never-ending option pool? Darker colors such as navy, evergreen, and dark grey are making their way to the stage. If you're looking to add a touch of richness to your kitchen, or remodel the entire thing, then try a darker cabinet color out for size. This style can be made classy, bold, or even rustic by incorporating it with different countertop textures, fixtures and/or floors. Open layouts or naturally well-lit smaller spaces compliment the darker cabinet color and showcase this beautiful design choice. If you're not looking to take over the whole kitchen with darker cabinets, then opt for just the island or peninsula to create a pop of color.
Seamless Flooring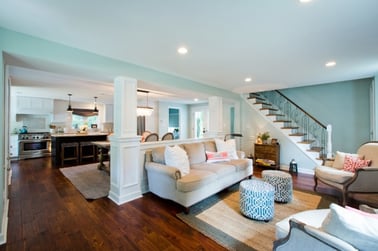 When it comes to any type of living space, whether it be separate rooms through archways or open layout, seamless floors are a positive everywhere. In houses with separate living spaces that are connected by archways, seamless floors (one type of flooring throughout multiple spaces) can make the rooms feel as though they are not truly separate and function more cohesively. No more tripping over thresholds, and no more unwanted defined spaces. This can be especially important if you're putting an addition onto the house and don't want it to feel out of place. If you happen to have an open layout, seamless floors can stretch the eyes farther, making the space seem even larger, and createing a cohesive sense throughout the space. No matter your floorplan, seamless floors are comfortable, beautiful and make accessibility for all ages easier.
Accent Ceilings

Accent ceilings can add an interesting look and unique aesthetic to your home. Trey ceilings, crown molding, colored paint, tin appliques, wallpaper, wood panelling, architectural light features, and textured finishes are some of the types of features you can utilize. Whatever you choose, this can be an easy way to draw eyes upwards, making the room feel taller and giving everyone something to gush over.
Quartzite Countertops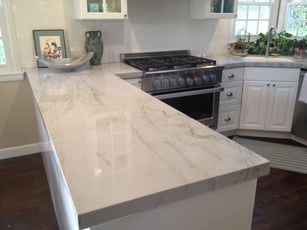 Trying to figure out what kind of countertop to install for the finishing touch on your newly remodeled kitchen with darker cabinets? Quartzite countertops are making strides in the kitchen world. Don't be fooled though, quartz countertops are a composite material, quartzite is the real deal natural stone. That being said, it does require a bit more TLC with an initial sealing and an additional one or two each year, but that's a small price to pay for this stylish, durable and high performing choice. You can even find this stone in light colored hues due to the presence of natural minerals when it was formed.
Read more in our blog "5 Components of a Long-Lasting Kitchen"
Matte Black Finishes and Fixtures

Are you in the design stage of a kitchen or bathroom remodel and wondering what style of fixtures to use? For a touch of bold sophistication, try adding matte black light fixtures and finishes. You might be thinking that this style only pairs well with modern designs, when in fact you can incorporate this finish in traditional designs by using curves to your advantage; think old style street lamps for lighting and curved faucets.
Relaxing Spaces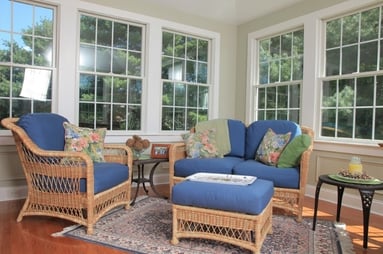 If you're planning a remodel, or addition, make sure to think about incorporating relaxing features or spaces for downtime. Adding a sunroom in cold climates creates more room for dining or relaxing and gives the sensation that you're enjoying your time outside even if the weather may not allow for that. Conversely, adding window seats to a large window and filling it with pillows and blankets could be a great option if the addition of a sunroom is out of reach. Hanging a hammock with lots of pillows and blankets can be great for afternoon siestas, while creating a space for a cozy reading nook complete with a comfy chair or couch, bookshelf and natural lighting is great for escaping reality. Sweeping curtains from a canopy above the bed can lend a romantic feel to the bedroom, and adding a picture window and ledge next to a bathtub is great for relaxing in a bubble bath while being able to take in the outdoors. Mind you this concept only works if you don't have immediate neighbors!
Textured Fabrics

Simply adding some texture to your blankets, pillows, or bedspread can add a cozy and warm aspect to your home. Try corduroy, velvet, woven/knit, or wool to name a few. Using rough textured elements in contrast to smooth and soft features adds visual interest, and these can be easy additions if you don't have the budget to buy the upholstered couch or armchair you've been looking at.
Faux Finishes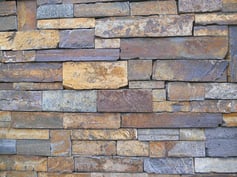 If you don't have the funds to update your home design and decor with the real deal right away, try faux finishes. Nowadays there are plenty of faux options that look beautiful such as removable wallpaper, faux wood beams, stick on tiles and decals, faux stone or brick, even faux-finished fixtures. Just remember that putting in quality finishes and fixtures initially will always cost you less in the long run.
Brass
Brass is coming back in style and taking over the more popular nickel and brushed silver finishes. From accents on furniture, cabinet knobs and pulls, to bed frames, brass is a quality material with warmth and durability that is sure to last the test of time.