This family came to Tilghman Builders with three projects in mind—a garage conversion, a bathroom remodel, and a kitchen renovation. Four years and three completed projects later, they now have their dream home—spacious and welcoming—perfect for hosting family gatherings.
At Tilghman Builders, we understand that plans change and visions evolve. Every home has unique features, and every family has specific goals to meet and challenges to overcome. We spoke with Eric Tilghman and homeowner, Arlene, to find out how each of these projects came to life.
Garage Conversion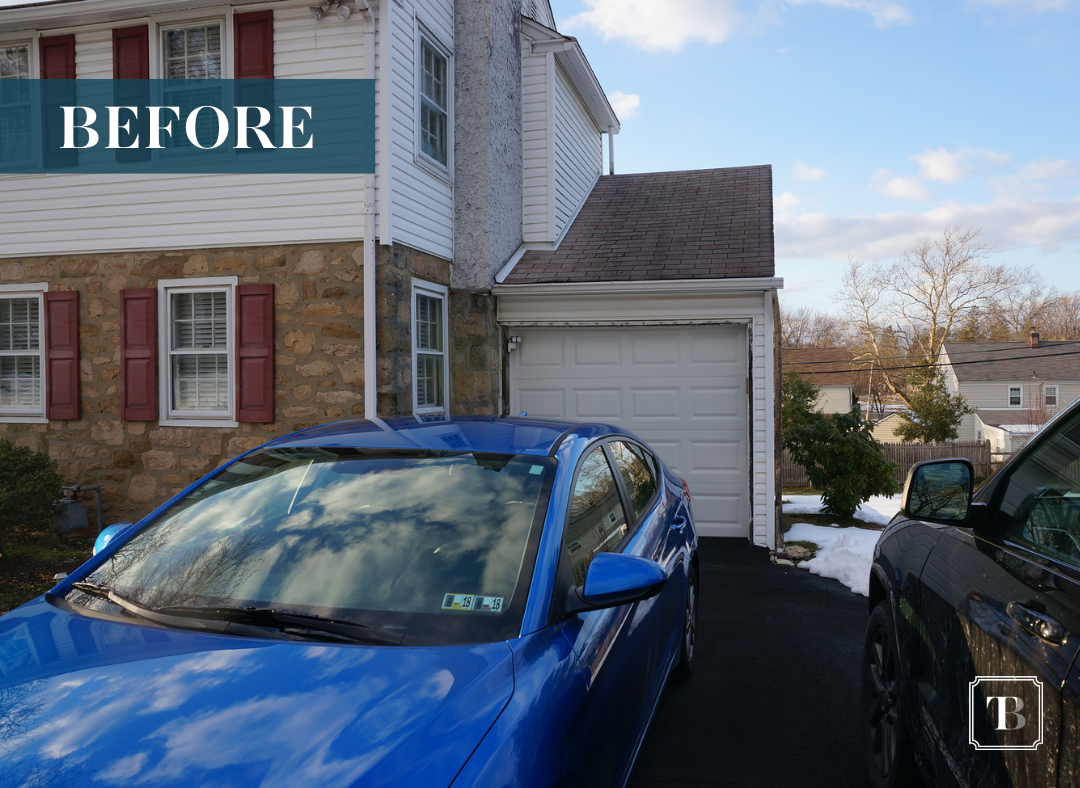 What was the original vision for converting the garage?
Homeowner Arlene: We initially had a very different layout in mind that included a walk-in closet, bay window, and office space. It was something much bigger.
Eric Tilghman: This wonderful family needed more living space and was willing to give up their garage to make it happen. They knew what they wanted when they came to us, but we did work with them on finalizing a design that fit their budget and their needs.
How did this vision change?
Homeowner Arlene: Bob Tilghman was honest about what our budget could get for us. Joanne Tilghman listened to what was important to us–more storage space, a guest bathroom, and most importantly a family room to watch TV and just hang out. Joanne designed a room that surprised us. It was nowhere near what we imagined and definitely much better and functional.

Eric Tilghman: We always planned on vaulting the ceiling, but we were able to vault it even more than we initially thought. We ended up creating a faux cathedral ceiling that really made the room feel larger and more open. We also added a porch portico, decided to go with siding instead of stucco, and upgraded the front door.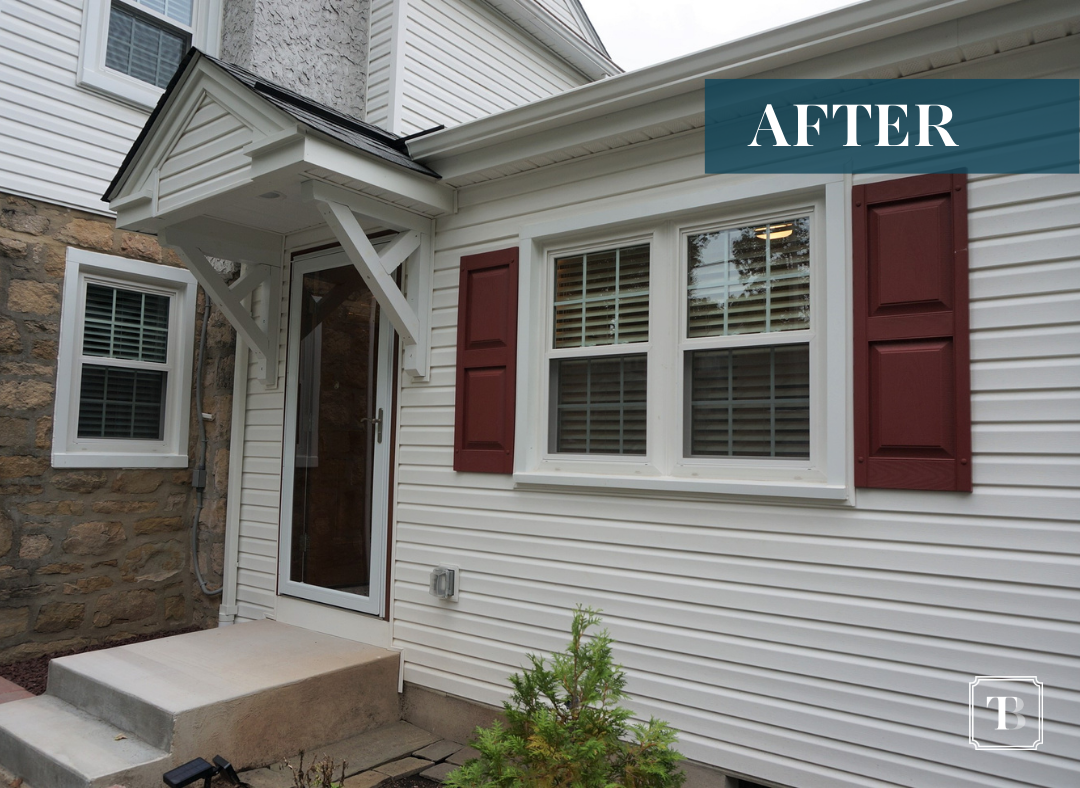 How did Tilghman Builders guide you through the process?
Homeowner Arlene: Eric was the lead carpenter for this project and was great at communicating what was happening each day and why. The bi-weekly meetings were the most helpful as we were able to bring up our concerns and ask more questions. This was our first renovation so we didn't know what to expect. Tilghman Builders was patient and answered our questions. They explained every step and asked us what we wanted.
How are you enjoying this space today?
Homeowner Arlene: This space has definitely changed our lives. After the addition was complete, we found ourselves spending more time in the room, hosting more family get-togethers, and seeing the potential throughout the house.
Bathroom Renovation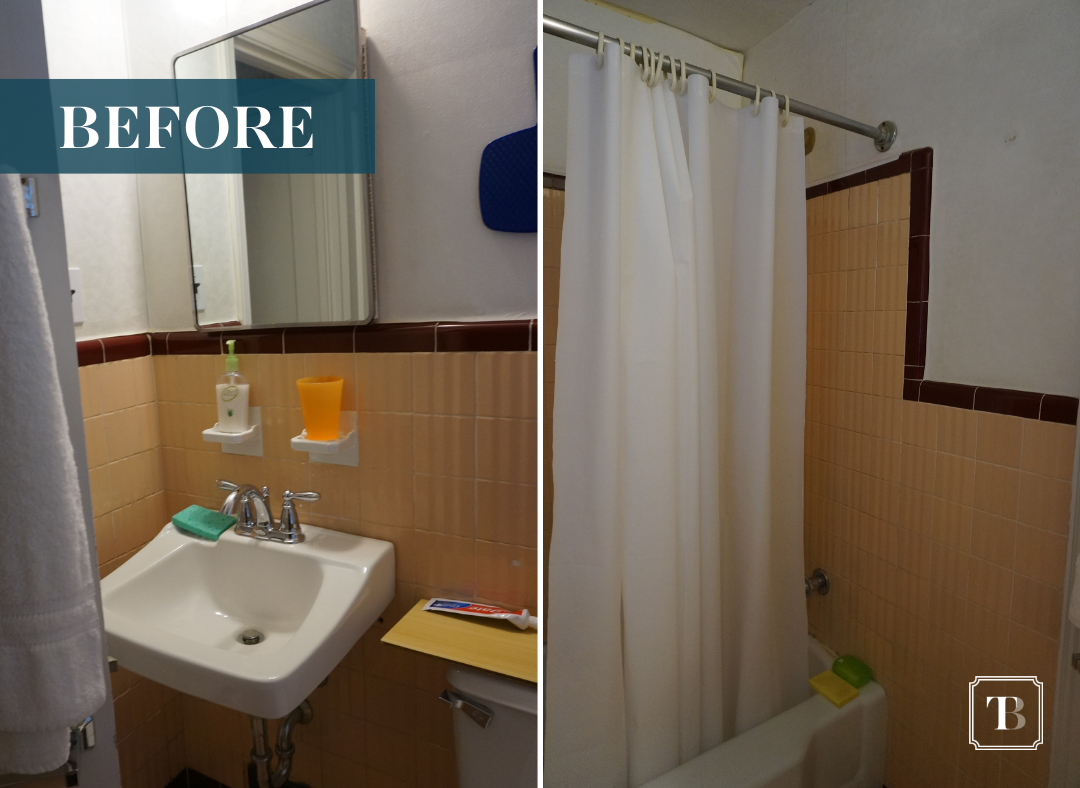 What was the initial vision for this bathroom renovation?
Homeowner Arlene: We wanted to simply update our bathroom which was the original from the 1940s.

Eric Tilghman: For the bathroom, it was about freshening it up and giving it a facelift. It stayed small, but we did gain a little extra room by converting the tub into a shower.
How did this vision change?
Homeowner Arlene: This was a straightforward project so there wasn't much change from our initial vision. In addition to the bathroom, we asked Bob to re-insulate our attic and create a built-in area for coats, hats, and shoes at the entrance to our home.

Eric Tilghman: We did select an open vanity for this bathroom, which does give the illusion of more space and adds a modern touch.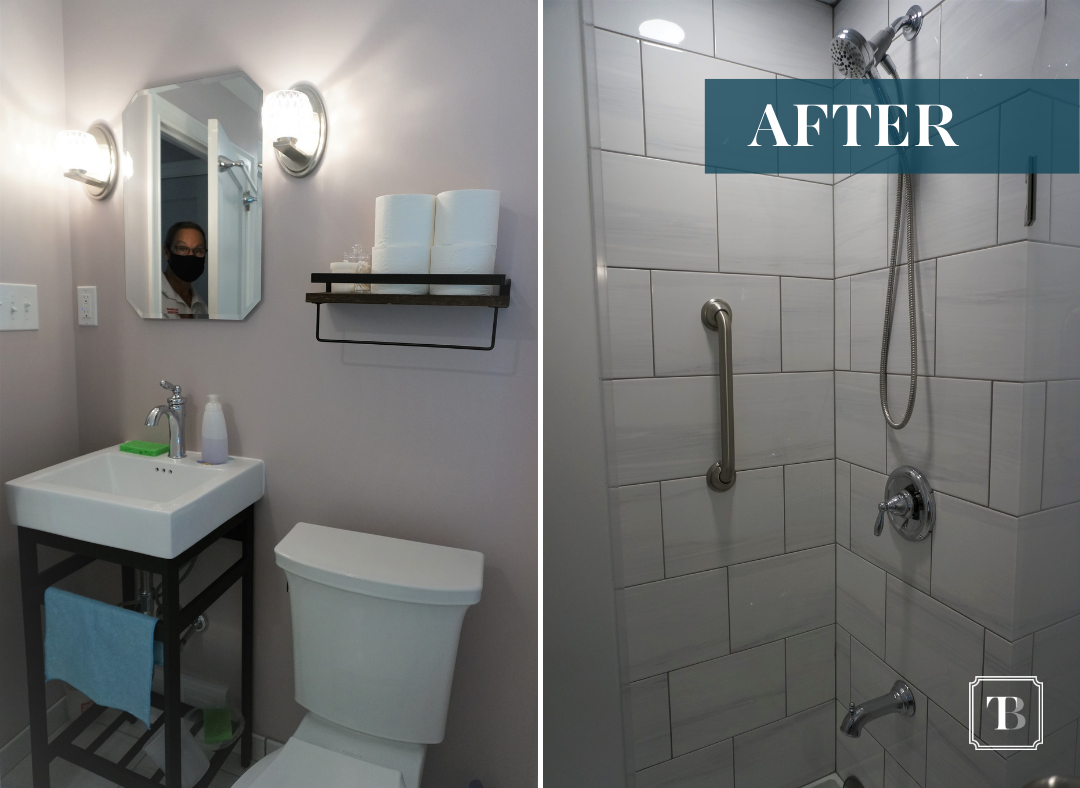 How did Tilghman Builders guide you through the process?
Homeowner Arlene: This was a much shorter and "easier" project. Bernie, our lead carpenter, explained the work. Bob still had the bi-weekly meetings even though it was only a 5-week project. That helped us feel better.
How are you enjoying this space today?
Homeowner Arlene: The bathroom has been transformed into a room that's up-to-date. It now has an exhaust fan, new pipes, and new drywall. It even feels like there's more room in the tiny space.
Check out more of our interior bathroom projects here.
Kitchen Renovation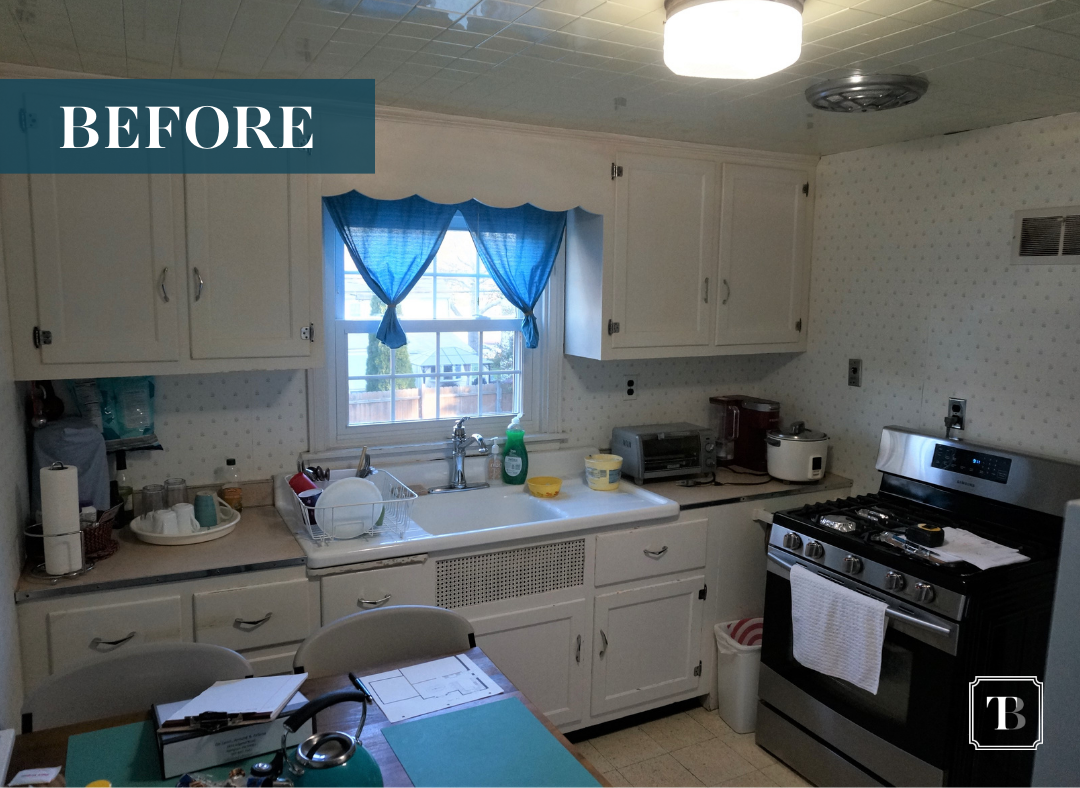 What was the initial vision behind the kitchen renovation?
Homeowner Arlene: This project started out as a basic kitchen renovation with the possibility of expanding the room. We wanted more counter space and an area to move around.
Eric Tilghman: The kitchen was original to the house and was cramped—very little walking room, one wall, really limited storage, and counter space, and no natural lighting. The whole space was probably 11 ft. by 11 ft.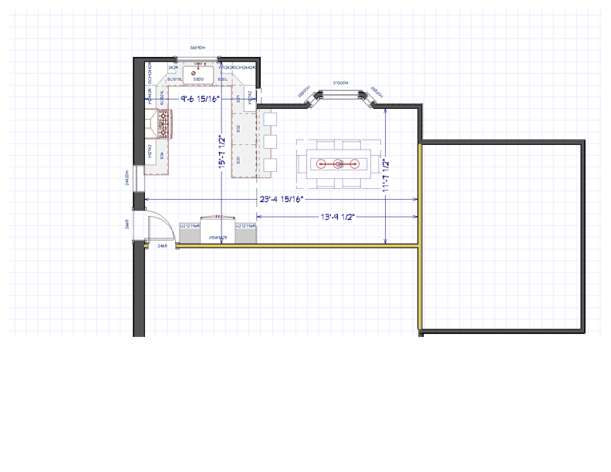 How did this vision change?
Homeowner Arlene: We quickly realized that the only way to get a modern kitchen was to expand a few feet out to the back and to have an open-concept kitchen/dining room. We later added new floors throughout the first floor and new trim work. It turned into a full first-floor renovation.
Eric Tilghman: As in many 1940s homes, this kitchen was very small and not built for function. To open up the space, we actually expanded the kitchen by 5 feet (we had initially discussed only 3 feet) on the side of the home and tore down the wall between the kitchen and the dining room. Arlene and her family opted not to install a dishwasher, so we were able to add even more cabinetry for storage, including cabinetry in the peninsula that divided the kitchen and dining room.
Most of the product selections were entry-level in price but this did not impact the final aesthetic or function! Plus, the cabinet selection had a faster lead time. Arlene and her family requested floor-to-ceiling cabinets on the refrigerator wall, optimizing storage and making a bold visual statement. They opted for glazed herringbone tile, a stainless steel range hood and matching appliances, and a farm sink. We used frosted glass in each wall corner cabinet to break up the look of all cabinet doors. Because it came with a lifetime warranty, they did choose to upgrade their countertop to Cambria. And while they had not planned to replace the kitchen window, they changed their mind near the end of the project and installed an awning window to more easily let in fresh air. This kitchen transformation—in both aesthetic and function—was really fun to see!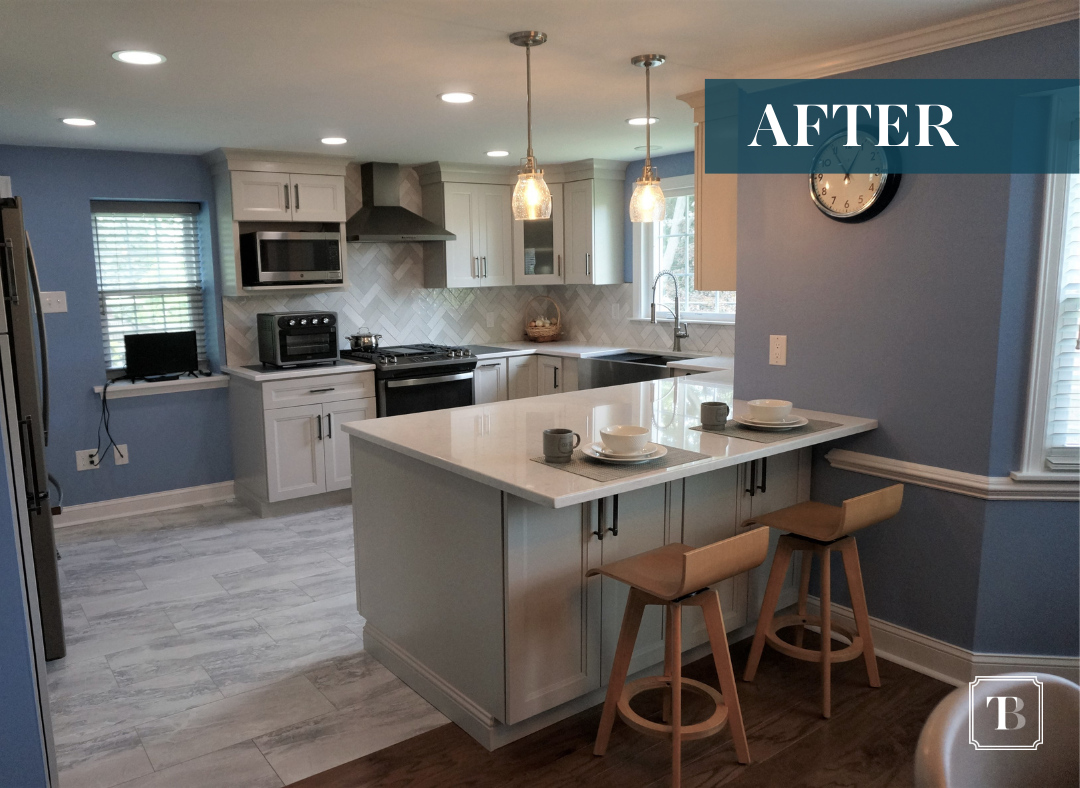 How did Tilghman Builders guide you through the process?
Homeowner Arlene: This was the most stressful project to date and the most fun. Our lead carpenter, Jesse, explained the challenges we were facing with an older house and how he would work around them. He was so easy and a joy to work with on this project. Tilghman Builders was clear at guiding us through the selection process—advising us when certain items had to be finalized, and details to consider. We spoke with some of the subcontractors before and during renovations which helped us have a better understanding of what to expect for the next few weeks.
How are you enjoying this space today?
Homeowner Arlene: This is the most transformative project. We find ourselves gathering around the kitchen more. Our family gatherings are centered around the kitchen/dining room. We finally have the home we've been dreaming of for years.
Learn more about how we plan home renovations and remodels here.
Additional Renovations/Results
What was your favorite part of the projects?
Eric Tilghman: We really enjoyed working with Arlene and her family! Watching them transform their home into something that's more modern, stylish, and functional was a real pleasure. They knew what they wanted when they came to us. We just helped them get there. Seeing a nice, deserving family get the end product they had dreamt of and worked hard for was really satisfying.
Homeowner Arlene: Working with Tilghman Builders on these three projects was a delight. Bob and Joanne listened carefully to what we wanted and delivered exactly what we asked. Their staff of carpenters was always polite and friendly. Everyone went out of their way to get the job done right. We know that Tilghman Builders will create a beautiful space for us. They make a stressful situation less overwhelming by communicating their process and being transparent about what is feasible.