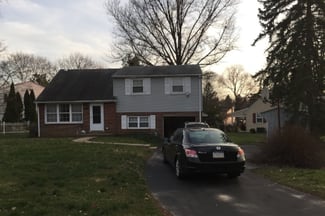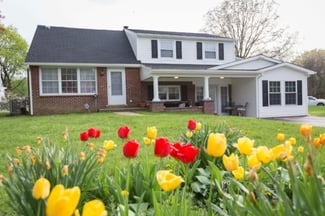 We know a remodel is a big and time-intensive decision. That's why we interviewed our lead contractor Eric Tilghman on a recent job we completed building an in-law suite home addition. He answers the frequently asked questions most people have when it comes to renovations, and can hopefully help you plan ahead for what to expect in your own remodel. View the project portfolio here.
What were your design inspirations for this project?
ERIC TILGHMAN: Paula, my client, made it clear from the beginning that she really wanted extra storage. Space was tight and we maximized pretty much every square inch of that addition. So after she made it clear that she wanted a lot of storage, we came up with some ideas, like wrapping the window around the sink with cabinetry and adding bookshelves and built-ins throughout.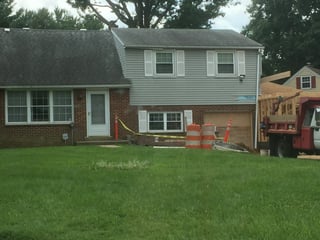 What special features did you include?
There was a little area underneath the stairs that we turned into a cubby to give her more storage space.
We added some attic access to give more storage above.
Lots of cabinetry! We spent a lot of time on the cabinet layout to maximize her storage. There are cabinets that go above the window - these are 12" tall cabinets that most people would never have thought to put there. Now, this window is surrounded by extra storage and makes the kitchen look updated and spacious.
We built the fridge into the wall to allow for a little more floor space. This space was tight so we had to get creative in order to give our client more space.
We had to install a steel beam in the living area, as well as two columns for support. We dressed the columns up in a creative way and built a knee wall in between. I came up with the idea of making the wall a little wider than it needs to be and to put some cabinetry in there, and after that, it snowballed into other decorative and storage ideas. Our client added bookshelves on the back side of the knee wall so if you're looking at the television you have the bookshelves and a nice ledge.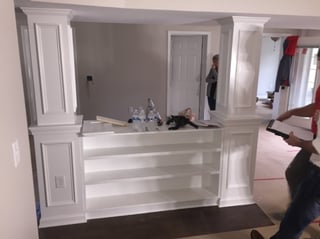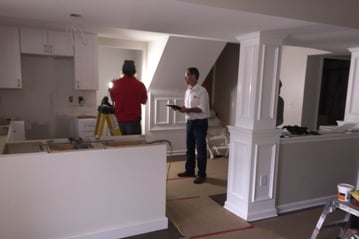 Was this an in-law suite?
ET: Yes, it is an in-law suite, however, it isn't a traditional in-law suite. Our client's mom owns the house, and has an illness and needed her daughter and her daughter's husband to move in. So this addition was made for Paula and her husband to be closer to her mother. See examples of other in-law suites we've built for eastern Pennsylvania families here.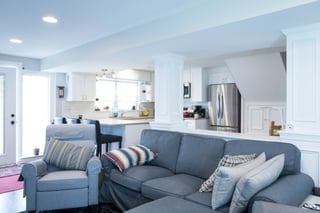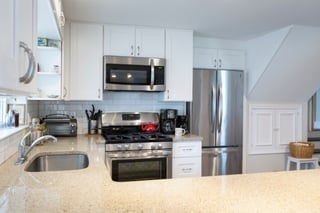 What was your schedule? Did you have any deadlines that you had to meet?
ET: The deadlines that we encountered weren't from the customer but from our company's strict stress-free policy. Bob (my boss and Dad) makes sure we're on a tight schedule and we stick to that no matter what job we do. There may be change orders and things that can go awry, but all things considered, we stay right on track. Learn more about other standards we hold our project to.
How long did the renovation take?
ET: We finished the first week of November and we started July 21st. This is a normal amount of time for a project this size. (3-4 months)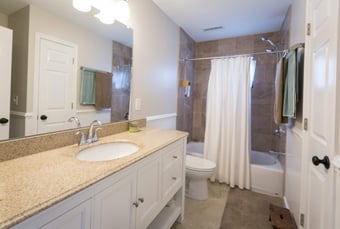 What was your favorite part of this project?
ET: My favorite part of this project was probably our client. She was amazing and really understanding and just an all-around good person. I also loved the space we were working on. It's normal for us to build an addition and then go inside and do a bunch of protection and plastic, then knock down the walls to connect the addition with the existing house. This job was different. There's a basement door off of their kitchen and that remained closed the duration of the remodel and I didn't have any business on the other side of the house. We had this awesome space to work in and easy access from the driveway.

How was the project supervised?
ET: Bob and Joanne start with the clients, then I meet them at the pre-construction meeting where Bob and Joanne hand the job off to me. They give me the schedule and contract proposal, and from then on I am the Foreman working directly with the client and the crew.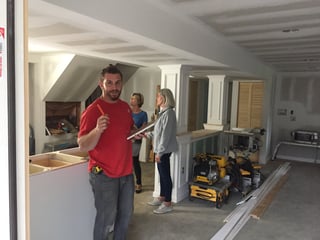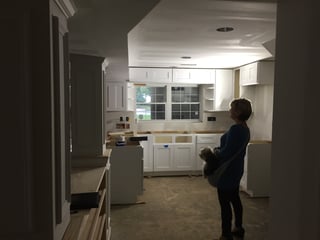 This project was a little different than most because the mom upstairs has an illness and didn't remember us every day. She'd most often forget who we were and not understand why we were there but over the course of the project I became close with her and made sure I wore my red Tilghman Builders shirt and she started remembering us because of that.
Towards the end of the job, the client and I work together to make sure everything is on track and they are satisfied, and we come up with a final punch list. This is anything that's leftover that we need to take care of. Our crew works to finish the renovation with this final list in mind.
Did you hit any roadblocks or delays and how did you overcome them?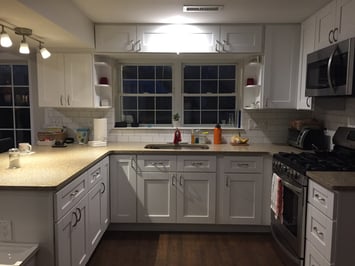 ET: Yes, we have to plan for delays in any project. The roadblock on this job was trying to gain access to the main house. Even on jobs where you think you don't need to go into other parts of the house, there are instances when it's necessary. The electrician can come on site and realize he needs to go upstairs and undo an outlet, so getting access to the main house was important but sometimes unplanned.
The second delay was a supply problem with the granite. The countertop provider ran out of the granite that the client picked, and we found out 2 days before they were supposed to install it! This put us back about a week and a half but we waited for the granite to become restocked and installed and in the end, everyone was very happy with the result.
Was the customer happy with the overall product?
ET: Yes, absolutely. She was overly thrilled every day when she walked in, which was uplifting for us.
What sets Tilghman Builders apart?
ET: I would say the relationships we build with the clients and the trust they instill in us. We do great work and we work hard to relate and communicate with the customer. We spend a lot of time focusing on the experience we give our clients and hopefully it's an enjoyable and stress-free one.