Creating an open and inviting space for relaxing at home or entertaining guests is the ultimate goal for many homeowners. Whether you're looking to renovate an existing space, or are considering an addition, there are many ways that you can optimize space to get the most out of every square foot Take a look at 7 creative ways we've utilized space for our clients.
1. Get Organized with Cubbies
It's no secret that cubbies are a great way to create useful storage space. You can class up this standard feature with decorative baskets that are both beautiful and functional. Store shoes, keys, coats, toys and other items easily and efficiently. Cubbies can be added to existing spaces or incorporated in the design of future additions.
In the Jade Home, we added built-in cubbies and coat hangers to the mudroom area to create a functional and beautiful space for storing coats and shoes.
2. Add Storage Under the Stairs
Basements are a great feature in any home, but left unfinished or unfurnished, they can quickly become a "catch-all" for furniture, clothes, and other items that can't find a home in your main living area. If you're looking to finish your basement or make it a living space, consider adding storage under the stairs. Not only does it look beautiful, but it will help you stay organized!
In the Wheatshef basement project, the homeowners were looking to create a functional basement. We added the under-the-stair storage to help them maximize their square footage and create a designated space for storing items.
3. Save Space with Pocket Doors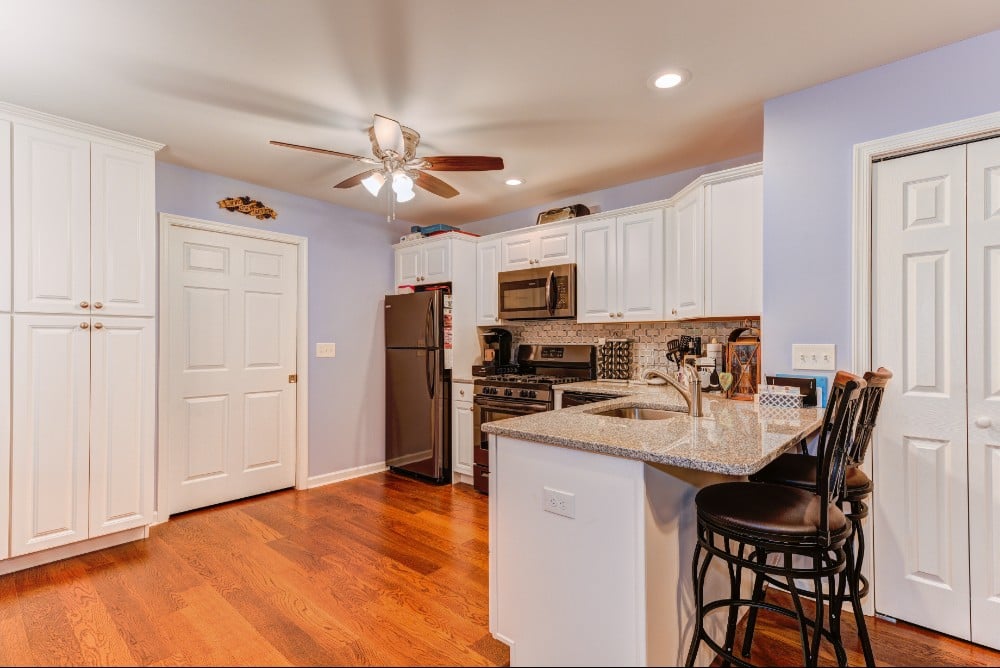 If you're working in a tight area, doors can be cumbersome. They may swing into adjacent doors or counters, or simply take up too much space when open. If this is the case, we recommend using pocket doors, which maximize entry way space by sliding neatly into the wall on a built-in track rather than swinging open on a hinge.
In the Willow Grove in-law suite, we used pocket doors throughout the addition to make the most of every inch of space. The pocket doors here at the entry to the bedroom glide easily and make the best use of the small kitchen area, clearing up space for the refrigerator and kitchen cabinets. We especially like to use pocket doors on bathrooms and closets, so you don't lose any precious square footage in already-tight areas.
4. Ditch the Shower Doors

Bathrooms are another area where space is crucial. If you envision a spa-like retreat rather than a dorm-style closet bathroom, then consider adding a frameless shower.
In the Collins home, we installed a gorgeous walk-in shower. In order to optimize space and create a larger shower, we used a pony wall and glass, rather than a traditional swinging shower door. Not only does this make entry easier, but it allowed us to create a larger shower that looks simply stunning.
5. Maximize Your Utility Spaces

Keeping laundry areas, closets, and pantries organized can be a nightmare for many homeowners. These spaces are the most likely to succumb to the clutter, with the laundry room being the biggest trap for under-utilized space. Detergent, hangers, hampers, clothes... it's no wonder that many of our clients come to us in need of a storage solution. A simple fix for the clutter catastrophe is adding countertops with built-in storage space.
In the Green Valley home, we installed beautiful granite countertops with adjustable bins underneath. We added an adjustable rack above the counter and cabinetry around the washer/dryer combo for maximum storage. The overall look is clean and lovely and we're sure laundry no longer feels like a chore in this home!
6. Utilize Window Space
If you are interested in a home renovation project, windows are a great place to consider adding some storage and function. Window seats/benches and built-ins can turn dead space into an instant reading or homework nook. Adding pillows and decorative touches can make this not only a space-saving solution but also a lovely feature of your home.
In the Oreland Mill project, we added built-ins and a window bench to the bay window off of their kitchen area. Now the family can enjoy an afternoon snack or tuck into a book while keeping the cook company.
7. Built-Ins Everywhere

What better way to save space and add storage than with built-ins. They are practical and can be added to any room in your house. Adding built-ins to your kitchen can give you an easy and elegant way to display utensils, books, and glassware. In the living room, they can create focal points and impressive displays for your entertainment center.
For the Oreland Mill project, we added built-ins to the dining area to store school bags, art and school supplies, and even incorporated a pull-out desk. Building around the window made this not only a great use of space, but a beautiful focal point in this home.
Deciding to renovate or make additions to your home can be a difficult process. At Tilghman Builders, we help you navigate through it. From initial planning and design through construction, we've got the industry expertise and the team to get it done right. Interested in learning more about Tilghman home additions and renovations? Check out our portfolio.